GIRLS HOOPS: Ironwood Ridge over Catalina Foothills 48-45 in OT
November 29, 2016 by Andy Morales, AZPreps365
---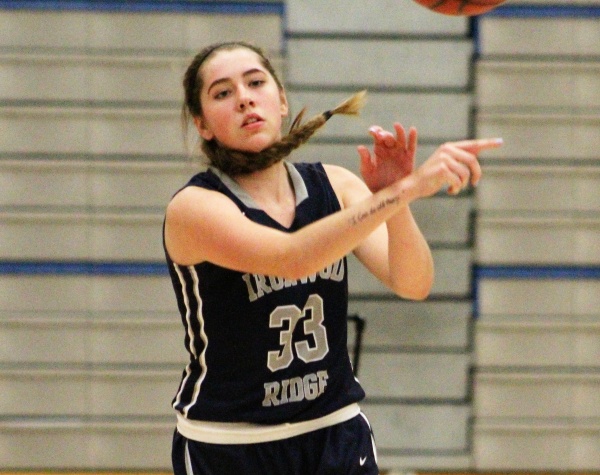 Catalina Foothills senior Kelsey Siemons poured in 25 points, pulled down 11 rebounds and blocked four shots but it wasn't enough to overcome Ironwood Ridge at home in a 48-45 overtime loss Tuesday night.
Ironwood Ridge (2-0) was led by junior standout Natalie Bartle who scored 19 points in the game including a deep 3-pointer with 1:46 left in overtime to draw the game even at 44-44. Bartle went on to sink two free throws to give the Nighthawks a 46-44 lead with 43.8 seconds left.
Freshman guard Bella Hamel made a free throw to cut the lead down to 46-45 with 9.4 seconds left but Nicole Feltman put the game away for Ironwood Ridge with a breakaway layup with 2.3 seconds left in overtime.
Bartle is creeping towards 1,000 career points and she will spend the last two years of her career with a new coach with the retirement of highly successful head coach Nikki Simpson (82-38).
Ken Leikem will be taking control of a program that went to the semifinal round in 2015 and the second-round last year. Leikem was a two-time all-state quarterback for Flowing Wells in 1981 and 1982 and his twin daughters, Kirsten and Tristany, were state champion tennis players at Flowing Wells.
His younger daughter, Lyndsay, was a standout basketball player at St. Mary's and Flowing Wells before moving over to Indiana where she graduated in only three years. She is finishing up her grad work and her college eligibility at the University of Missouri-Kansas City.
"I'm really enjoying it," Leikem said after getting two wins on the young season. "We have a great group of kids and they are playing as a team. As you could see, we are getting everybody involved. We are just having fun."
The Nighthawks led 14-7 after the first quarter and it looked like this game was going to be another big loss to Ironwood Ridge by Catalina Foothills (2-3) but Siemons capped a 7-0 run with a 3-pointer of her own to give the Falcons a 23-22 lead at the half.
Ironwood Ridge beat Catalina Foothills 53-22 last year, 56-31 two years ago, and 53-23 the year before that. Siemons is the only athlete at Catalina Foothills to play in all three of those games.
"We came into this game with an open mind, knowing it was going to be tough," Siemons explained. "We lost to them by big margins in the past and it didn't fall for us tonight but we played well."
Bartle hit a deep shot as time expired in third quarter to give Ironwood Ridge a 33-28 lead heading into the fourth quarter but the Falcons refused to fold. Feltman put the Nighthawks up 35-28 but Catalina Foothills slowly chipped away with Audrey Nicholson making four straight free throws to cut the lead down to 39-38 with 14.7 seconds left in regulation.
Bartle made two free throws to increase the lead to 41-38 with 12.6 seconds left but Siemons hit her second buzzer-beater to send the game to overtime.
"Almost everyone on our team is new to varsity," Siemons added. "We have such a small team (10 players) so we have already become close and we have meshed. We seem to have higher energy this year and lots of passion on the court."
Bartle plays club ball with several of the girls on the Falcon bench so she knew this game was not going to be as easy as it was in the past but she also likes what she sees from her team this year.
"Our new coach wants us to play fast-paced and I think it will help us this year. As for me, I hope to be a better leader on the court also," she added.
Third-year coach Michelle Gallagher led the Falcons to a 2-2 record at the preseason Queen Creek Turkey Shootout prior to the game against Ironwood Ridge. The team will travel to Buena (3-3) on Friday. Ironwood Ridge will travel to Vista Grande (0-1) on Thursday night.
---