BOYS HOOPS: Catalina Foothills takes lead in region play with win over Salpointe
January 19, 2017 by Andy Morales, AZPreps365
---
There is no such thing as an "upset" when two top region opponents play each other this time of year and such was the case when No. 8 Catalina Foothills beat No. 2 Salpointe 52-41 Thursday night at home. The win gave the Falcons a 3-0 lead in the 4A Kino Region while the Lancers fell to 3-1.
Salpointe came in with an 11-0 record in power-ranking games and Catalina Foothills was 8-3 but the bulk of those wins came outside of conference play. This is the time of year when the rankings begin to take shape heading into the playoffs. Rankings will shift accordingly.
We also have the added variable of shifting rosters due to transfers becoming eligible at midseason and, in the case of Catalina Foothills, an influx of players who were unavailable earlier in the year due to football playoffs.
Salpointe added Desert Christian transfer Ryan Grabosch last week and the 6-foot-4 sophomore has already paid off with seven big points in a 43-42 win over Sahuaro at the MLK Classic on Monday to go with valuable playing minutes Thursday night.
Catalina Foothills starters Jimmy Stewart and Max Michalczik were busy helping the Falcons make it to the 4A state football championship game and that final took place on Nov. 26., causing the two to miss preseason drills and the first five basketball games of the year.
Granted, Catalina Foothills went 4-1 at that point but team chemistry is built in preseason. The Falcons went on to play for the championship of the Cactus Jam over the winter break and are now riding a four-game win streak. Chemistry is now in place.
The Falcons missed their first seven 3-point shots on Thursday night and Salpointe built an 11-4 lead after the first period. University of Arizona interest Majok Deng scored six points to pace the Lancers early.
Salpointe was also struggling from outside but Cameron Miller hit a 3-pointer to give the Lancers a 14-6 lead one minute into the second period. That was the last bucket the Lancers would score until Deng hit a 3-pointer with 40.2 seconds left in the second. In the meantime, the Falcons started to find their range.
Phoenix Katz hit a couple of buckets, senior standout Jared Irwin scored five points including a 3-pointer and freshman Hayden Moser and junior Sam Beskind hit back-to-back 3-pointers and the Falcons found themselves up 21-14.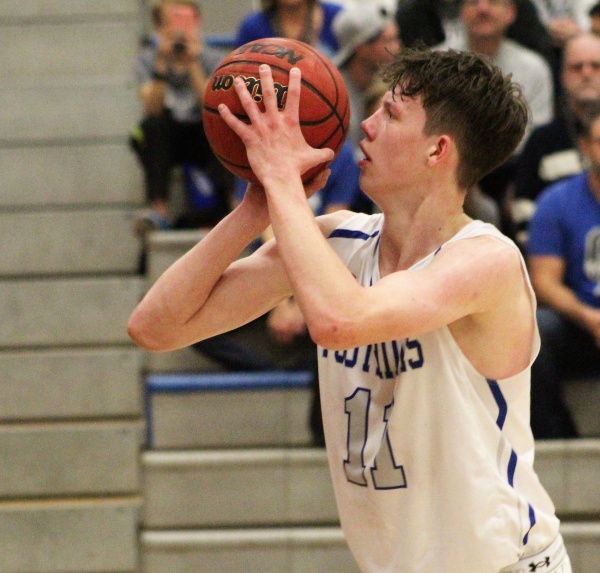 Only a sophomore, Katz proved to be the "X' factor in the game with 14 points on the night but he still gives credit where it's due and is grateful for teammates Beskind and Irwin.
"I wouldn't call myself a leader yet," Katz explained. "I'm just doing what needs to be done to get the win. Jared and Sam are our two best players and they always get me the ball when we need to."
But, as the cliché goes, basketball is a game of runs and the Lancers turned a 21-14 deficit into a 28-21 lead in a flash. Deng hit his 3-pointer and Miller scored to cut the lead down to 21-19 at the half and then Rylan O'Brien hit a 3-pointer and he was followed by long-range shots from Isaac Cruz and Miller again.
In real time, the 14-0 run by Salpointe came in a two-minute time span. That sort of run may be fun for the fan base but head coach Brian Holstrom was concerned on how quickly the shots were coming when the Lancers offense is built on motion, floor position and time. In essence, the Lancers were cashing in too quickly and that pace was hard to maintain.
"They have a really good defense and we went stretches where we didn't run our offense," Holstrom explained. "Even our big shots were quick and a little rushed. We found out that will not get it done."
Holstrom's worries came to fruition and the Lancers went cold again while the Falcons went on another major run to take a 39-34 lead with 6:30 left in the game. That 18-6 run was tempered a bit by another 3-pointer from Deng and the Lancers were able to draw even at 41-41 with 3:38 left but Irwin, Beskind and Katz took over from there.
Irwin hit a 3 to put the Falcons up 44-41 with 3:12 left and the team went on to score the last 11 points of the game for the 52-41 win.
"This is the best feeling," Katz added. "I'm speechless right now."
NOTES:
Beskind and Irwin were named to the All-Cactus Jam team over the winter break and Deng was named to the Visit Mesa Basketball Challenge All-Tournament Team.
Michalczik was an All-Southern Arizona first team selection for football and he missed the start of his official visit to NAU this weekend to play in the game against Salpointe.
The 4A Conference does not have a play-in tournament. There will be eight automatic bids and eight at-large selections and the tournament will start on Wednesday, Feb. 14. The higher-seeds will host the first two rounds. Both Salpointe and Catalina Foothills are looking to remain in the top eight along with No. 6 Rio Rico of the Gila Region. No. 12 Walden Grove appears to be the only other 4A team from Southern Arizona headed for a playoff spot at this point.
Salpointe hosts Catalina Foothills in two weeks, on Thursday, Feb. 2.
---