HOOPS: Nick Rosquist breaks 2,000 career points
January 28, 2017 by Andy Morales, AZPreps365
---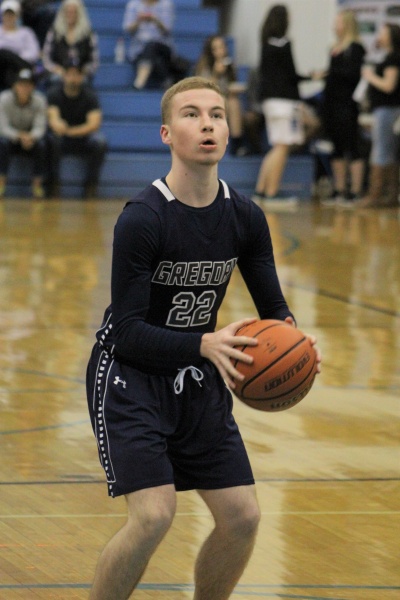 The Gregory School standout Nick Rosquist broke 2,000 career points in a 68-49 win at Desert Christian Saturday night. Rosquist finished with 31 points and five 3-pointers to give him 2,018 career points. He is now fifth on the All-Time scoring list from Southern Arizona.
"It's a great feeling and a great accomplishment," the senior said after the game. "It never entered my mind in my freshman year that I would be here and it still hasn't hit me yet. We still have a few more games and playoffs."
Scoring 2,000 career points offers you entrance into one of the most exclusive clubs in all of Southern Arizona. Former Santa Rita standout Terrell Stoglin belongs to it as does former Cholla star Chuck Overton. Sunnyside powers Deron Johnson and Jermaine Watts are also charter members.
How exclusive? Former Amphitheater standout Tim Derksen missed it by only 21 points. Sean Elliott? No. Lafayette Lever? No.
There are rumors of others reaching this mark in small towns across Southern Arizona but stories of legends passed on through word of mouth are impossible to verify. Plus, teams didn't play 30 games a year in the "old" days.
Some of the bigger names never reached this mark because the nature of the game. Very few head coaches on the boy's side place freshmen on varsity and even fewer let them play. Players need that fourth year to help get them over the top. Also, no one ever really kept track and the majority of the head coaches have not been interested in keeping accurate stats. Plus, "MaxPreps" was not around.
On the girl's side, seven standouts have reached that mark with former Catalina Foothills and University of Arizona standout Julie Brase scoring an incredible 2,913 career points. Tucson's Alexis Cortez scored 2,479 in her remarkable career with the Badgers.
Brase was unique in that she sat on the bench to avoid running up the score. That would not happen today. Former Estrella Foothills standout Corey Hawkins leads all scorers with 3,154 career points and former Wildcat Mike Bibby scored 3,002 at Shadow Mountain. Brase would easily shatter the state record if she played today. It wouldn't even be close.
The most exclusive club is 2,500 career points and four of the ten to do that played at Arizona including Brase, Bibby, Jerryd Bayless (2,888) and Daniel Bejarano (2,642).
---