BOYS HOOPS: Catalina Foothills beat Salpointe to claim region championship
February 2, 2017 by Andy Morales, AZPreps365
---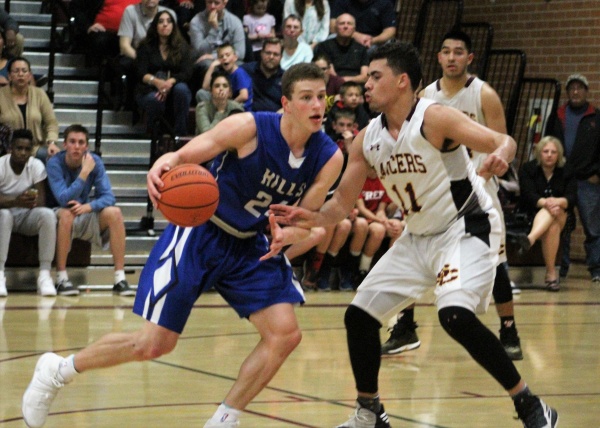 The state basketball playoffs are less than two weeks away and teams are busy wrapping up region championships, hoping to get the automatic berth that comes with the title. Each conference has its unique playoff qualifying rules but the 4A Conference is pretty straight forward with a 16-team bracket made up of eight region champions plus eight at-large berths.
No. 5 Catalina Foothills claimed the 4A Kino Region title with a 56-48 win over No.3 Salpointe on Thursday night. The victory gave the Falcons a 7-0 record in region play and a 14-3 record in power-ranking games.
The Lancers are now 13-2 in ranking games with a 4-2 record in the region. The Lancers still have three games remaining on their schedule and should still be in a position to host a first-round playoff game even with the loss to Catalina Foothills.
No. 6 Rio Rico claimed the 4A Gila Region championship last week. No. 15 Walden Grove is the only other team from Southern Arizona within striking distance of the playoffs but the Red Wolves finish with No. 19 Nogales and No. 3 Salpointe.
The Falcons have accounted for both of the qualifying-losses suffered by the Lancers this year.
In the first win, the Falcons used several runs to hold off Salpointe and the team pulled off another win over their rival in similar fashion.
Down 17-10 with 4:01 left in the second quarter, the Falcons went on a 17-4 run to take a 27-21 lead with 5:48 left in the third but Julien Whetton fueled a 13-5 run by the Lancers to take a 34-32 with 1:45 left in the third. The sophomore poured in seven points in the stretch.
The teams battled back and forth from there with the Falcons clinging to a 48-46 lead with 1:28 left in the game but a big 3-pointer from Phoenix Katz gave the Falcons a 51-46 lead with 1:02 left and Catalina Foothills went on to win the game 56-48.
Katz led the Falcons with 14 points, Spencer Lewis added 12 and Sam Beskind scored 10. Salpointe senior guard Isaac Cruz scored 14 points and Rylan O'Brien and Whetton scored nine each to lead the Lancers.
Catalina Foothills 56, Salpointe 48
CF: 8-10-18-20: 56
SC: 10-9-15-14: 48
CF: P. Katz: 14; S. Lewis 12; S. Beskind: 10 (1-2); J. Stewart: 9 (3-4); J. Irwin 5 (5 (2-2); C. James 4 (2-2); M. Michalczik 2. 3-Pointers: P. Katz 2; S. Lewis 2; S. Beskind; J. Irwin. 56 (8-10).
SC: I. Cruz 14 (0-1); R. O'Brien 9 (2-2); J. Whetton 9 (2-2); C. Miller 7; M. Deng 6 (0-2); L. Hampton 3 (1-2). 3-Pointers: C. Miller; J. Whetton; R. O'Brien. 48 (5-9).
---