BOYS HOOPS: Marana Mountain View comes back to beat Carl Hayden 59-53
February 10, 2017 by Andy Morales, AZPreps365
---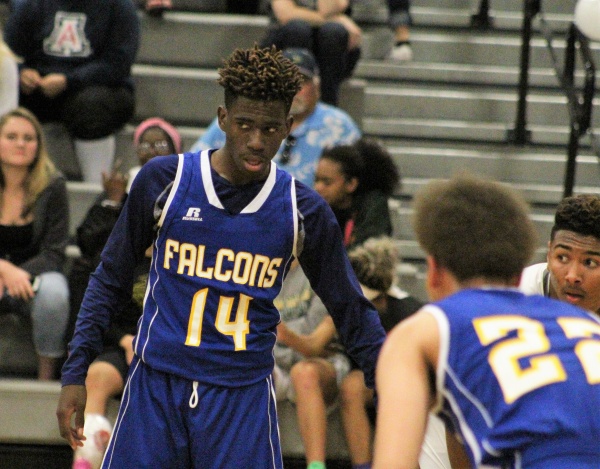 No. 13 Mountain View came back from a first-half deficit to beat No.20 Carl Hayden 59-53 in a 5A play-in game held in Marana Friday night. The Falcons led 24-11 with 7:12 left in the second quarter and 32-24 at the half.
Richard Mitchell, Isaiah Rhymes and Jonathan Lamb combined for 20 points in the opening period to pace Carl Hayden early but the Mountain Lions slowly chipped away at the lead.
"I never had any doubts even after our bad start," Mountain View freshman Evan Nelson said. "We started to lock down on defense and took care of the ball more."
The Falcons appeared to get to every rebound and took advantage of numerous second chances in the early going but Mountain View went on a 12-6 run to close to within 38-36 with 2:53 left in the third, highlighted by a 3-pointer from Julian Molina.
The Mountain Lions had several chances to take the lead but the Falcons held them off for a 42-38 advantage heading into the fourth. While the Mountain View defense stepped up, Lamb was still able to penetrate and score and he put in six points down the stretch to try to match the play of Nelson.
"I wanted to go out there and lead my team," Lamb explained. "We started rushing shots and that helped them. I wanted to go out as a leader."
Lamb led his team with 18 points and Rhymes added 16 and Mitchell scored 12 but Nelson poured in 14 points in the second half to finish with a game-high 22.
Molina scored 20 for Marana and his bucket with 7:03 left in the game tied things up 42-42 and a 3-pointer from Drew Cotton with 5:56 left gave the Mountain Lions their first lead of the game at 45-42.
Mountain View would eventually take a 51-46 lead with 2:56 left but two turnovers led to two layups for Lamb and the Falcons were down 51-50 with 2:05 left.
Lamb would hit another shot with 1:12 left to make it 53-52 Mountain View but Nelson hit on a couple of free throws to make it 55-52 with 45.7 seconds left. Terrence Green scored with 26.1 seconds left to make it 55-53 but that was as close as the Falcons would get down the stretch and Mountain View pulled away with four free throws for the 59-53 final.
Carl Hayden finished 16-11 on the year and Mountain View improved to 17-8. The 17 wins is the best the program has had since the 16-15 campaign of 2008. That team lost in the 5A-Division II quarterfinal round.
"We got a region championship and we did a lot of good things so far," Nelson added.
Mountain View 59, Hayden 53
HAY: 22-10-10-11: 53
MV: 11-13-14-21: 59
HAY: J. Lamb 18; I. Rhymes 16 (2-4); R. Mitchell 12 (4-12); T. Green 3 (1-2); I. Chapman 2. J. Lamb 2 (0-4); K. Knox 0 (0-2). 3-Pointers: I. Rimes 2. 42 (7-24).
MV: E. Nelson 22 (7-9); J. Molina 20 (4-5); D. Cotton 9 (2-10); T. Anderson 2; T. Smith 2; M. Ybarra 2. 3-Pointers: J. Molina 2; D. Cotton. E. Nelson. 59 (11-21).
---