Xavier, Yuma Catholic, Ft. Hills win soccer titles
February 12, 2017 by Jose Garcia, AZPreps365
---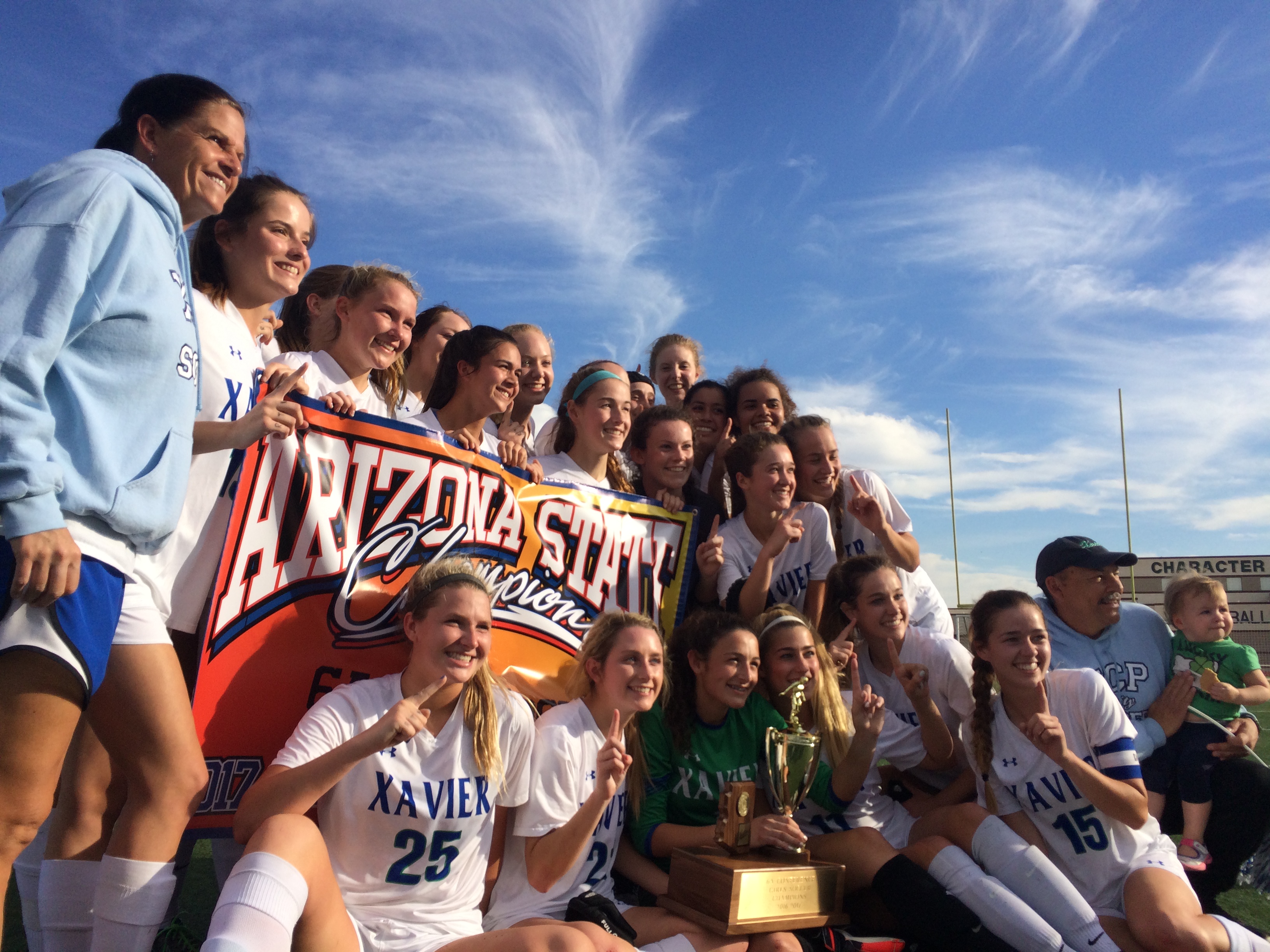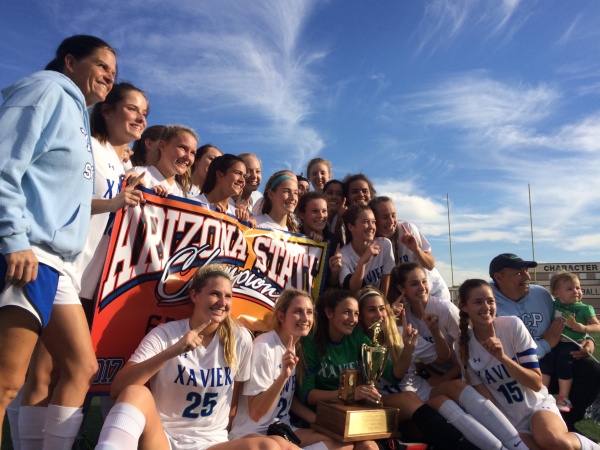 Coach Barb Chura thoroughly enjoyed the 2016-17 journey with her team.
It got off to a rocky start when a group of players picked club soccer over Xavier this season, but it didn't break the spirit of the players who represented Xavier this season. It likely brought them closer together.
That bond was solidified by a trip the team took to play in a tournament in California this season.
"There's something about this team," Chura said. "They have that it factor."
They sure showed it Saturday at Campo Verde High, the site of the 6A Conference girls basketball championship match.
Xavier's opponent, Desert Vista, was the defending champ, but a new defending champ emerged after Xavier's 2-0 victory. Chura has had more talented squads, but she's never had a team with the chemistry the 2016-17 team developed.
Saturday's game didn't come down to X's and O's, Chura said. It just came down to grit, and the player who typifies that style of play the most for Xavier, Quiqui (pronounced kee-kee) Hita, was determined to score the first goal while in traffic.
After a throw in in the 47th minute, Hita pounced on a bouncing ball in the box. It hit the crossbar first, but it eventually went in.
"This was a roller coaster of a season," said Hita after the game. "I've never experienced most of these emotions in one year."
Sophomore Kyla Ferry made sure that Xavier (17-1-3) finished this season on a high note when she scored the second goal, a 25-yard right-footed rocket Ferry set up without much resistance in the 57th minute.
"This was one of the best team's I've coached," Chura said. "This particular team had all of the ingredients."
Yuma Catholic three-peats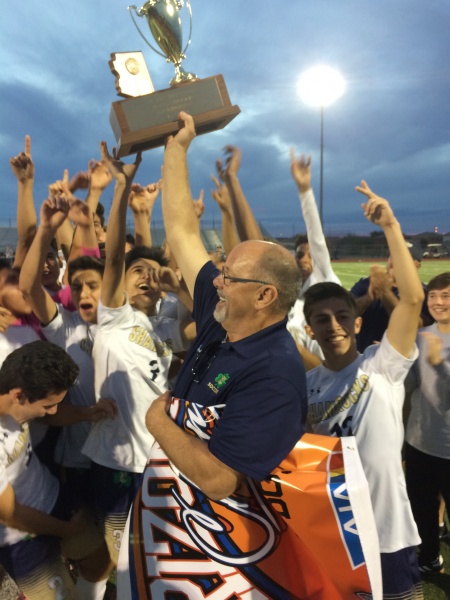 Yuma Catholic vowed not to feel the way it did after its game on Dec. 16, when its 37-game win streak was snapped by Lake Havasu.
But that loss was good for the soul of Yuma Catholic, a very young team that needed a reality check to understand what was at stake for the two-time defending state champ.
Yuma Catholic wound up not dropping another game after that loss, capping its season with its third consecutive title. But the 3-0 3A Conference championship win at Williams Field High Saturday came against another team, NFL Yet of Phoenix, that deserves some praise. The boys soccer team of NFL Yet, a second-year Arizona Interscholastic Association member, was the first team to represent its school at a AIA state championship game.
But Yuma Catholic didn't allow its opponent to enjoy its surroundings for too long, scoring two goals within the first 16 minutes of the game. Both goals were scored by its leading goal getter, Ramon Urbano, upping his season total to 28.
David Castanon assisted on the first goal after a cross, and Ernie Gutierrez's through pass led the to the second goal.
"Egos and immaturity got in the way," Yuma Catholic coach Ralph Evans said. "But we matured."
With only one senior on this season's team, expect Yuma Catholic (17-2-1) to be a favorite in its quest to become just the second boys soccer Arizona program to win four consecutive titles.
Fountain Hills defends title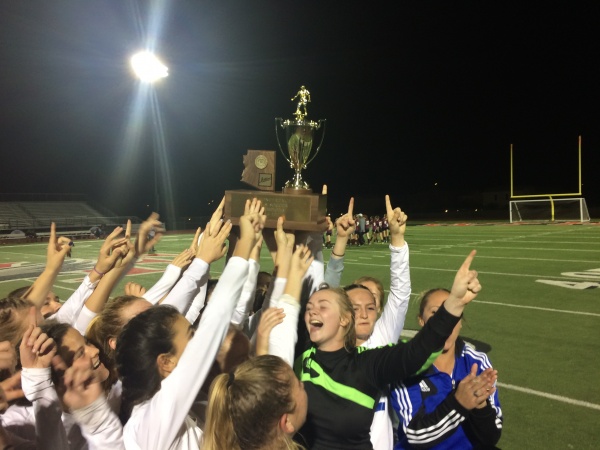 Fountain Hills' girls soccer team wore shirts this year with a target.
As the defending state champ, Fountain Hills was in the crosshairs of its 3A Conference foes. But that target remained intact after Saturday's 3A final at Williams Field.
Fountain Hills (17-3-1-) only lost to non-3A opponents this season. The last 3A team to take a shot at knocking down Fountain Hills, Trivium Prep of Goodyear, failed to do so Saturday during its 2-0 state championship loss at Williams Field.
The girls soccer program is Trivium Prep's first team to reach a AIA title game. The Goodyear team not only faced the defending state champ, but it also had to contend with the best player in 3A, Erika Yost.
Yost didn't disappoint. In her final high school game, the Oklahoma-bound commit scored both her team's goals, raising her season total to 52.
"This year I had five captains," Fountain Hills coach Alison Mabery said. "I've coached them since they were in 6th grade. They brought a lot of leadership. This was their team."
The five seniors are Yost, who scored a goal in each half, Danica Kerr, Meagan Coveney, Courtney Dunham and Charlotte Tornee, who helped Fountain Hills win three state championship during their careers.
"I'll never forget it," Yost said. "I'll never forget my high school experience."
---