GIRLS 5A HOOPS: Alyssa Perez scores 30 to help Marana get past fairfax
February 14, 2017 by Andy Morales, AZPreps365
---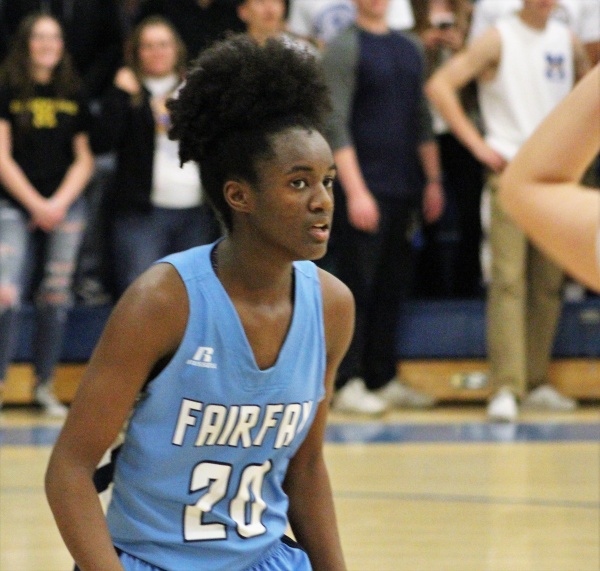 No. 5 Marana was pushed to the limit by No. 12 Betty Fairfax Tuesday night but the Tigers rallied behind 30 points from junior guard Alyssa Perez to avoid elimination with a 48-43 victory. Marana (22-4) will advance to play at No. 4 Chaparral (25-4) in the quarterfinal round set for Friday night at 6:30 p.m.
Chaparral beat No. 13 Campo Verde 72-32 to set up the game with Marana.
Marana struggled with turnovers and poor free throw shooting early on, allowing Fairfax to keep things close and both teams went to the second quarter tied 9-9.
The Tigers built a 15-9 lead in the opening moments of the second but Fairfax put on a devastating press which led to a 10-0 run and a 19-15 lead with 2:03 left in the first half. Stampede sophomore Ma'Kayla Dickerson scored six of her team-high 17 points during the run.
"This has been a fun year and I think we did pretty well," Dickerson said. "This game was fun and exciting."
Dickerson won two state track titles as a freshman. She took second in the Division II 100 meter hurdles, won the 300M hurdles and the 200M. Dickerson also took fourth in the high jump.
Perez scored four points down the stretch to tie things back up at 19-19 but Dickerson scored as time expired to give the Stampede a 21-19 lead at the half.
Perez had a productive nine points in the first half but she passed up on several shots, hoping to find a better opportunity for a teammate, but she took control of the game after the break.
"When we run, we do better as a team," Perez explained. "I started to take it to the basket because they were calling fouls."
Almost in a blur, Perez scored 12 points to fuel a 15-4 run to help Marana take a 34-25 lead with 7:43 left in the game but Fairfax battled back and cut the lead down to 38-36 with 3:03 left. Perez scored six more points to help keep the Stampede at bay and Marana came out with the 48-43 win.
Besides the 30 from Perez, Quinnesha Mitchell scored eight points to help lead Marana. Mitchell and Mele Hala'ufia combined for nine blocked shots to help control the inside. Dickerson scored her 17 points and Jakayla Lowery added 11 for Fairfax.
Fairfax finished 20-4 on the year.
Marana played the game in the "old" gym on campus which provided for a more exciting atmosphere for the teams and the fans. The program is thinking of moving all of the games to the gym in the future.
Marana 48, Fairfax 43
BF: 9-12-4-18: 43
MAR: 9-10-12-17: 48
BF: M. Dickerson 17 (5-6); J. Lowery 11 (0-3); D. Nunn 7 (2-3); D. Delco 4 (2-2); A. Matthews 4 (4-6). 3-Pointers J. Lowery; D. Nunn. 43 (13-20).
MAR: A. Perez 30 (6-8); Q. Mitchell 8 (2-4); B. Slaughter 4 (0-2); M. Hala'ufia 4 (0-2); J. Wengert 2 (0-2). 48 (8-20).
---