4A BOYS HOOPS: Salpointe vs. Catalina Foothills
February 22, 2017 by Andy Morales, AZPreps365
---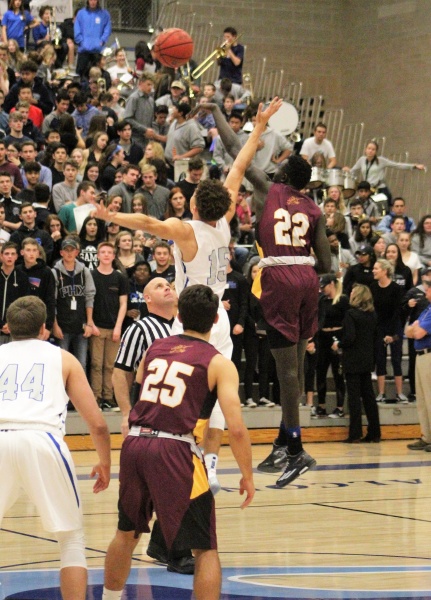 No. 2 Salpointe will play No. 3 Catalina Foothills Thursday night in a 4A semifinal game scheduled to be played at Amphitheater at 7 p.m. The winner will advance to the championship set for Saturday afternoon.
HISTORY
The Salpointe Lancers (21-9) have played in three state championship games with the last coming in 2013. The Lancers fell to Paradise Valley in the Division II final (45-39) that year and it was head coach Brian Holstrom's (148-64) third year at the helm.
The Lancers fell in the D-II second round last year.
The Catalina Foothills Falcons (22-5) have never made it to a final appearance but the Falcons appeared in back-to-back semifinals in 2009 and 2010. This is head coach Doug D'Amore's (86-31) fourth year with the Falcons.
The Falcons made it to the D-II quarterfinals last year.
THE STREAK
Everyone talks about this being the third time the two teams have met this year but the Falcons have actually beaten the Lancers nine times in a row with the last loss coming in January of 2012. D'Amore is 6-0 against Salpointe and Holstrom is 2-10 against Catalina Foothills.
This year, Catalina Foothills won 52-41 on Jan. 19 and 56-48 on Feb. 2.
THE PLAYERS
Salpointe comes with seniors Isaac Cruz, Cameron Miller and Alec McCall along with junior. Rylan O'Brien and sophomore Majok Deng while Catalina Foothills sports seniors Jared Irwin and Jimmy Stewart along with juniors Spencer Lewis and Sam Beskind and sophomore Phoenix Katz.
Max Michalczik (Catalina Foothills) and Julien Whetton (Salpointe) will also see plenty of action.
---