4A BOYS SEMIFINAL: Salpointe 57, Catalina Foothills 55 (OT)
February 23, 2017 by Andy Morales, AZPreps365
---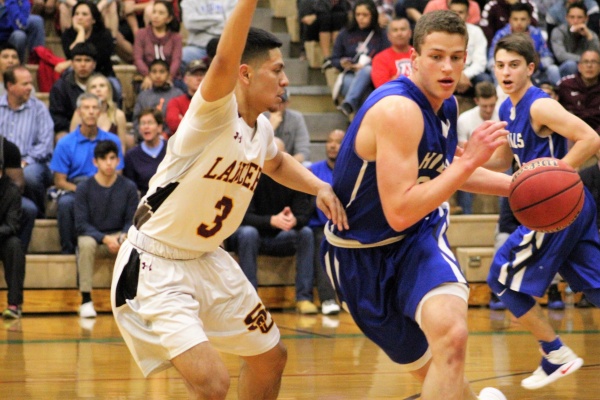 No. 2 Salpointe beat No. 3 Catalina Foothills 57-55 in overtime Thursday night to set up a 4A championship game against No. 1 Shadow Mountain on Saturday. While Shadow Mountain took care of No. 4 Moon Valley with ease, the game between Salpointe and Catalina Foothills went down to the wire.
Down 49-47, Salpointe senior Cameron Miller hit a 3-pointer to put the Lancers up 50-49 with 1:47 left in regulation. The shot capped a 7-0 run by Salpointe at a time in the game when the Lancers have fallen back to the Falcons in the past – nine times to be exact.
The Falcons (22-6) had a nine-game win streak going against the Lancers (22-9) dating back to January of 2012 and it seemed like all losses came in crunch time – unable to stop a late run by the Falcons, but not tonight.
Sam Beskind hit a couple of free throws to put the Falcons back up 51-50 with 1:24 left and Spencer Lewis hit another to give Catalina Foothills a 52-50 lead with 18.1 seconds left in regulation but Alec McCall came up big for Salpointe and scored with 5.6 seconds left to send the game to overtime.
The two teams traded a few missed shots but Beskind made a free throw to give the Falcons a 53-52 lead with 1:40 left in overtime but Isaac Cruz gave Salpointe a 54-53 lead seconds later. McCall hit a free throw to give the Lancers a 55-53 lead with 40.8 second left.
Beskind came up with a bucket to tie the game up 55-55 with 11.3 seconds left but that gave Cruz too much time and the senior guard hit a jumper from the top of the key as time expired to give Salpointe the 57-55 win.
Cruz put the game in perspective.
"I have nothing but respect for coach (Brian) Holstrom and those guys," Cruz said. "I mean they beat us nine times in a row. We came together after we lost to Sabino and we became family. We got our chemistry back."
The Lancers suffered a 43-47 loss to D-III power Sabino at home on Feb. 3, the day after the team lost to Catalina Foothills at home. The Lancers are now on a five-game win streak after those back-to-back losses.
One glaring statistic is in the free throw category. Both teams shot 15 times but the Lancers only missed on one attempt while the Falcons went 9-for-15. It was a factor Catalina Foothills coach Doug D'Amore pointed to but he, of course, did not want his team to focus on the negative.
"Thank you. That is what I told them," D'Amore explained.
"This freshman class came up with me when I started and I saw them develop and grow. None of us can think about what this means yet but in time we will look back and see how good this team was. This was my best team."
As mentioned before, the Lancers will be rewarded with a trip to the Gila River Arena on Saturday at 2:30 p.m. to take on Arizona legend Mike Bibby and Shadow Mountain in the 4A final. Bibby guided the Matadors to the D-II championship last year and he was an assistant coach on the 2014 championship team.
The Matadors beat Agua Fria 86-55 to win it all last year and the margin of victory just became part of the storyline for this year. Undefeated at 26-0, the Matadors beat Dysart 83-43 in the first round, Buckeye 111-43 in the quarterfinal round and Moon Valley 87-47 Thursday night. Still, Cruz feels the season is not over.
"We have one more game," Cruz added. "We have to believe we can do it."
Miller led all scorers with 18 points and Majok Deng added 12. Beskind scored 16 to lead Catalina Foothills.
Although Buena competes at the 5A level, Salpointe, Catalina Foothills and the Colts all flirted with being the top team from Southern Arizona this year. In the end, the Lancers have won the mythical Tucson City Championship. Whatever happens on Saturday, nothing can be taken away.
And, in the end, nothing can detract from the season the Falcons just completed. As D'Amore points out, three of his four seasons at the helm ended with a last-second loss. But seconds do not define a season – the journey defines a season.
And what a journey this has been.
---