4A BOYS HOOPS: Shadow Mountain wins fifth championship
February 25, 2017 by Andy Morales, AZPreps365
---
Most felt the 4A state championship game held at the Gila River Arena on Saturday was over before it started but No. 2 Salpointe put up a tough battle to stay within striking distance only to see No. 1 Shadow Mountain pull away for the 81-48 win.
The win was the fifth state championship for the Matadors, the third since 2014 and a repeat of the impressive victory from last year. In short, Mike Bibby has guided the Matadors to 54 straight wins against teams from Arizona. His five losses from last year all came to out of state teams in midseason invitationals.
If Bibby does retire as rumored, the former Univeristy of Arizona great will go out as one of the most successful to ever coach in Arizona which would be special since he is arguably the best high school player in state history with 3,002 career points at the highest level and a state championship as a player at Shadow Mountain in 1996 before going on to lead the Wildcats to a National Championship.
"I'm happy for the guys, they deserved it and worked hard for all this," Bibby said. "We have one of the best coaching staffs and they prepared our guys for this season. A lot of people didn't want us to win but we did it against all odds. I'm just happy for my guys."
Shadow Mountain pulled out to an 8-0 lead early on but Salpointe guard Cameron Miller scored seven of his team-high 21 points in the quarter to pull the Lancers to within 16-11. Miller was the only Lancer to finish in double figures and forward Alec McCall added eight.
"I thought we did our best and competed hard," Miller explained. "Our coaches prepared us for the game and the loss doesn't represent what we have accomplished all year."
The son of Arizona coach Sean Miller, Cameron seemed unfazed by the magnitude of the game, the opponent or the stage.
"I come out the same for every game," Miller added. "The shots just fell for me tonight."
Shadow Mountain guard Marcus Shaver poured in 29 points, including a wild 6-for-10 fom 3-point range to lead all scorers. Jaelen House added 19 and Jovan Blacksher put in 12.
The hot shooting extended the Matador lead to 44-26 at the half and 70-40 after three.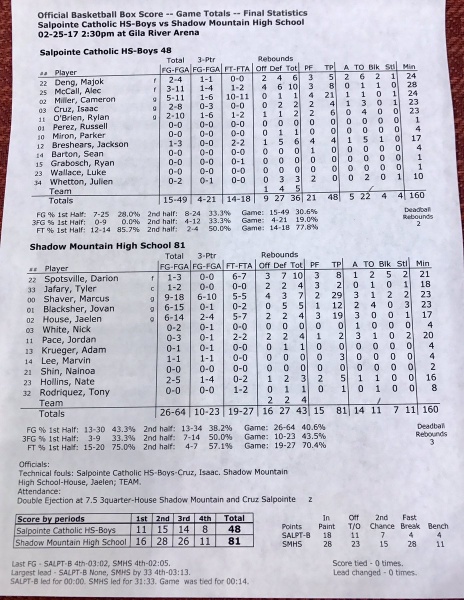 ---