BASEBALL: Desert View moves to 2-0 with win at Panther Invitational
March 1, 2017 by Andy Morales, AZPreps365
---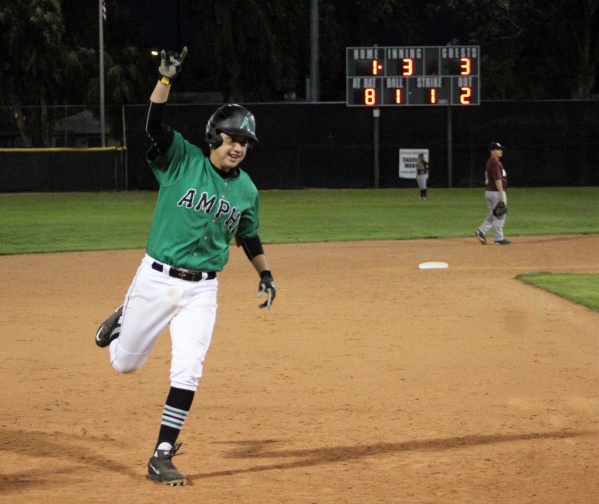 Desert View opened up play at the Amphitheater Panther Invitational with a 7-5 win over the host team on Wednesday night. The win came one day after the Jaguars held on to defeat Mountain View Marana 1-0 in a regular-season game.
Amphitheater (1-4) traveled to El Paso to take part in the Socorro Invitational to start the season and the Panthers will be one of three host teams of the Panther Invitational this week. Catalina and Desert View are also slated to host games heading up to the championship game scheduled for Saturday afternoon at Amphitheater.
Catalina beat Rio Rico 8-7 in other invitational game played on Wednesday night. The Trojans moved to 3-3 on the year while Rio Rico fell to 1-1. Sean Fanning had a home run for Rio Rico in the loss.
Desert View scored a run in the top of the first after Marcos Gomez doubled in Andres Mendoza but Amphitheater starting pitcher Ivan Murillo picked up three strikeouts to get out of the early jam. The Panthers responded right away on a triple from leadoff batter Ariel Ochoa that was mishandled, allowing Ochoa to score after rounding third base.
Julian Encinas singled with one out in the inning and Miguel Vega followed with a double but Encinas was thrown out at home trying to score on the double. Kevin Lazcano induced a pop fly to get out of his jam.
The Jaguars added two runs in the second off of a double from Ivan Gallego, an error and an RBI single by Flavio Valdez. Down 3-1, Vega delivered on a 2-run shot to tie the game up in the bottom of the third.
The Jaguars put the game away in the top of fourth by plating four more runs with a double by Valdez and a 2-RBI triple from Gomez fueling the outburst. The Jaguars were held scoreless the rest of the way and the Panthers chipped away at the lead with an RBI from DJ Joe in the fourth and another RBI from Joe in the bottom of the seventh but it wasn't enough and the Jaguars held on for the 7-5 win.
Lazcano picked up the win and Rene Brockman also saw time on the mound for the Jaguars. Gomez went 2-for-4 with a double, triple and three RBI and Valdez went 4-4 with a double and an RBI to lead Desert View.
Murillo picked up seven strikeouts in the loss and DJ Giffney threw in the seventh. Vega went 2-4 with a home run, double and two RBI, Joe went 2-3 with 2 RBI and Encinas went 2-4. Ochoa had a triple.
Panther Invitational Teams
Snowflake
Cibola
Douglas
Amphitheater
Rio Rico
Yuma
Desert View
Catalina
El Dorado (El Paso TX)
J.M. Hanks (El Paso TX)
Socorro (El Paso TX)
---