TENNIS: Early leaders from Southern Arizona
March 9, 2017 by Andy Morales, AZPreps365
---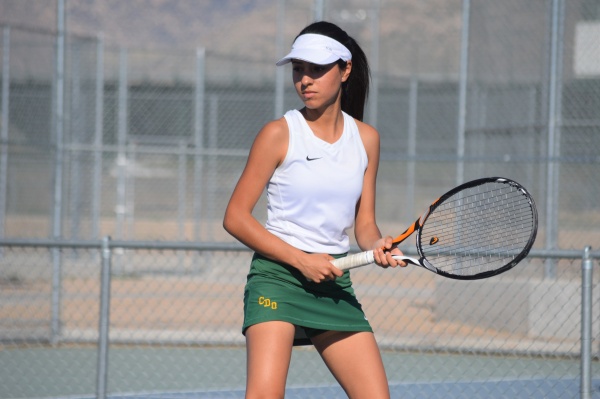 We are exactly two weeks away from the release of the first set of power rankings for boy's and girl's tennis but several teams from Southern Arizona have already started to set themselves apart from the rest.
On the girl's side, Division I is still pretty much jammed up but Ironwood Ridge (5-1), Nogales (4-0), Douglas (4-1), Salpointe (3-0) and Catalina Foothills (2-0) have all jumped out to great starts in D-II. Catalina Foothills defeated Ironwood Ridge 9-0 on Monday.
The Gregory School (4-1) and Sabino (3-1) have shot out front in D-III action.
Buena (4-0) and Mountain View Marana (4-0) control D-I in boy's action while Canyon del Oro (5-1), Salpointe (3-0), Catalina Foothills (2-0) and Nogales (3-1) are early favorites in D-II play. Tanque Verde (5-0) and The Gregory School (4-1) are tops in D-III. Tanque Verde beat The Gregory School 9-0 last week.
The Nogales girls beat Canyon del Oro 7-2 on Thursday with the Dorados taking both the top singles and the top doubles match. Lucia Manzano beat Melina Oropeza 6-1, 6-3 in the singles match and Manzano teamed up with Alyssa Camacho to take the top doubles match over Oropeza and Diana Garcia, 8-5.
Melina Oropeza's sister Emma Oropeza finished in the D-II quarterfinal round last year and is now playing at Pima. Manzo and former Dorado Hannah May teamed up to also make it to the D-II quarterfinals last year while the Apaches made it to the quarterfinals as a team.
Canyon del Oro (2-4) has not qualified for the state playoffs as a team since 2011.
16 teams will qualify for the various divisional state tournaments. Desert Christian is hosting the "Tennis 4 Tori Invitational" this weekend at La Mariposa in Tucson while The Gregory School is hosting the 1A Invitational in early April.
Nogales 7, Canyon del Oro 2
1: Lucia Manzano (CDO) over Melina Oropeza, 6-1, 6-3
2: Sofia Garcia (N) over Alyssa Camacho, 6-1, 6-4
3: Marian Lopez (N) over Caleigh Wall, 6-1, 6-4
4: Diana Garcia (N) over Tori Padillo, 6-1, 6-0
5: Lucia Lopez (N) over Kelsey Slanaker, 3-6, 6-2 (10-6)
6: Samantha Garcia (N) over Emily Hom, 6-0, 6-3
7: Manzano/Camacho (CDO) over Oropeza/D. Garcia, 8-5
8: S. Garcia/M. Lopez (N) over Wall/Padillo, 8-3
9: L. Lopez/Sa. Garcia (N) over Slanaker/Hom, 8-2
---