BADGER SOFTBALL CLASSIC: Tucson goes undefeated to win championship
March 18, 2017 by Andy Morales, AZPreps365
---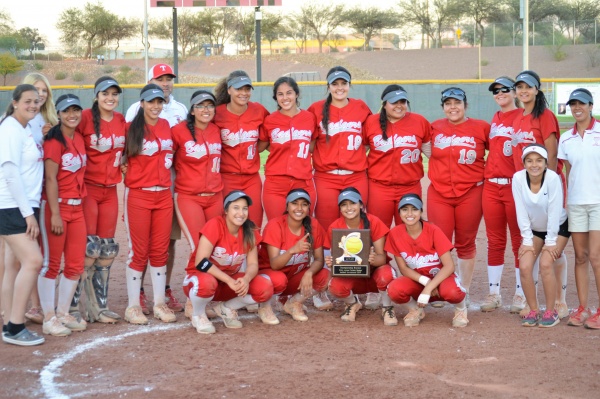 Tucson went 6-0 at the Badger Classic held at Cherry Field this past week to improve to 13-3 on the year. The Badgers beat Empire 7-4 on Saturday morning to advance to the title game later in the day where the team defeated Marana 16-6 in five innings.
Mia Trejo took the circle for the Badgers and she limited Marana to one hit and a few walks in the first two innings. At one point, Trejo collected four strikeouts in a row to help keep the Tigers at bay.
Meanwhile, the Badger offense plated three runs in the bottom of the first and five more in the second to help put the game out of reach early. Marana broke through with two runs in the third but Tucson responded with five more in the bottom of the inning to take a 13-2 lead.
Vanezza Caldera hit a two-run shot to pace the third for Tucson but Marana senior Katie Faulk responded with a grand slam in the top of the fourth to keep the Tigers alive. It was the 11th home run of the year for Faulk and the 36th of her career.
Freshman pitcher Annabelle Downing replaced fellow freshman Cheyenne Hudson in the circle and she held Tucson scoreless in the fourth but Melina Silvain picked un an RBI in the bottom of the fifth and Katrina Guillen delivered on a two-run double to end the game via run-rule.
Faulk went 2-for-2 with four RBI to lead Marana. Hudson went 2-2 and Courtney Grubbs went 2-3. Junior catcher Kelsey Hawkins also picked up an RBI.
Caldera went 3-3 with her home run, Alyssa Trejo went 3-3, Carlie Scupin went 3-4 with a double and three RBI, Silvain went 2-4 with two RBI and Guillen had the two-run double.
The Badgers are 5-1 in power-ranking games and the team will host Rio Rico (4-0 in power-ranking games) on Tuesday, Mar. 28 while Marana (2-5) will host Sahuaro (4-1) on Monday, Mar. 27.
The Chandler Prep Softball Classic is scheduled for next weekend and 48 teams are slated to attend the tournament held at Kiwanis Park.
---