SOFTBALL: Ironwood Ridge & Mountain View preparing for 5A playoffs
April 17, 2017 by Andy Morales, AZPreps365
---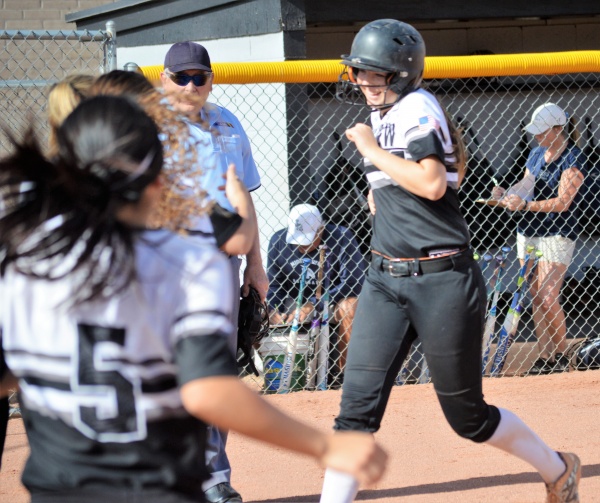 The final score might indicate football but that's months away. No, we had a pair of top ten teams battling it out in 5A action Monday night with Ironwood Ridge coming back from a 7-1 deficit to defeat Mountain View Marana 14-8.
No. 10 Mountain View (7-9 in power-ranking games) scored five runs in the bottom of the first inning and two more in the second to take what looked like a commanding 7-1 lead over No. 5 Ironwood Ridge (11-5) but the Nighthawks responded with eight runs in the top of the third and five more down the stretch for the win.
With 24 teams making the 5A playoffs this year, the Mountain Lions appear to be safe with only two games left on their schedule but the two games are at home against No. 2 Sahuaro (12-3) on Tuesday, Apr. 18 and at No. 1 Cienega (13-1) two days later. No other team in the state has that kind of finish.
But forget the Ironwood Ridge, Sahuaro and Cienega finish - Mountain View lost to No. 28 Buena (4-12) last Thursday. That 13-12 upset could be the difference between hosting a play-in game or even missing the playoffs altogether. Even so, a win over Ironwood Ridge would have been a program-defining moment but it was not to be.
Ironwood Ridge won the Division II state championship last year, the second for legendary head coach Rich Alday in three years. Alday has his team primed for another playoff run but the seed is the only question left.
The Nighthawks will host Cienega on Tuesday and will travel to No. 14 Poston Butte (9-6) on Friday to end the regular season. A win over Cienega will not only throw the 5A Sonoran Region title up in the air, it could move the Nighthawks into an enviable top-four seed. But, lose both games, and Ironwood Ridge might slip to the play-in bracket.
Annika Baez picked up an RBI in the top of the first to drive in Morgan Reidhead but Mountain View responded with five in the bottom half, paced by a two-run shot from Jordy van der Werf. Andrea Hernandez also had a double in the outbreak and Ashely Ketchum and Sara Angulo had RBIs.
Freshman pitcher Jessica Niegocki (4-1) shut down Ironwood Ridge in the second while Mountain View added two more runs with Niegocki helping herself out with a double. Van der Werf had another RBI and Ketchum had an RBI double.
Down 7-1, the Nighthawks exploded for eight runs to take the lead. Even though only four of the runs were earned, the bats kept coming with Baez, Jaiden Reid and Maddie Judge picking up hits. Reid actually had two hits and two RBI in the inning.
Mountain View scored a run in the bottom of the third to make it 9-8. Frankie Lucio (10-3) took the ball from Karagan Knowles (2-2) in the inning and the Mountain Lions were able to load the bases with two outs on a hit from Zaylie Calderon, a double from van der Werf and a hit-by-pitch issued to Alex van der Werf but Lucio settled down and picked up a strikeout to end the threat. Lucio would only give up two hits the rest of the way.
Alex van der Werf (1-0) replaced Niegocki in the third and Calderon (1-1) took over in the sixth but the Nighthawks kept on coming and added five more runs.
In all, Reid finished 4-for-4 with a triple, two doubles and three RBI to lead Ironwood Ridge. Reidhead went 2-4, Baez went 2-3 with a double and three RBI. Judge went 2-4 with two RBI and University of Arizona commit Isabel Pacho had an RBI double.
Jordy van der Werf went 3-4 with a home run and three RBI to lead Mountain View. Niegocki, went 2-3 with a double and Ketchum went 2-4 with a double and two RBI.
The 5A Play-In Tournament takes place on Wednesday, April 26 and the 5A playoffs start on Saturday, Apr. 29.
---