SOFTBALL: Sabino clinches region, will wait for seed
April 20, 2017 by Andy Morales, AZPreps365
---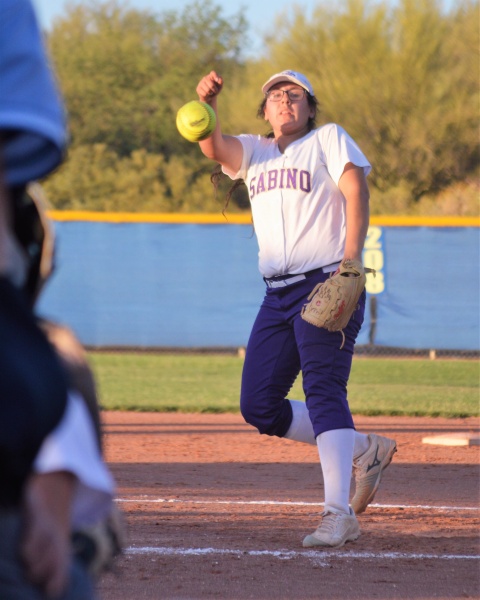 Sabino senior Elizabeth Lyon (Andy Morales/AZPreps365.com)
It's been three years since Sabino hosted a playoff game and the Sabercats will have to wait till next Tuesday to see if they will be hosting another. Ranked 14th, the Sabercats beat No. 12 Pusch Ridge 10-0 on Thursday night to clinch the 3A South Region but where the team lands in the Play-In Tournament is what matters most now.
The top two teams from each 3A region will earn a playoff spot but only the top eight seeded teams overall will avoid the Play-In Tournament. Teams seeded 9-24 will play on Wednesday, Apr. 26. The eight winners from that round will advance to the 3A State Tournament scheduled to start on Saturday, Apr. 29.
As of Thursday night, no teams from Southern Arizona are ranked in the top eight. No. 11 Empire and No 15 Sahuarita are the other teams in position for a spot in the Play-In Tournament. No. 26 Tanque Verde has an outside shot.
As mentioned before, Sabino (13-5 in power-ranking games) clinched the 3A South Region and Sahuarita (11-5) can clinch the second automatic berth from the region with a win over Tanque Verde (7-9) on Friday night. Pusch Ridge (12-4) still has two more games to work with including a game against Empire (12-4) next Monday.
In the game at Pusch Ridge Thursday night, freshman Sydney Gray went 3-for-4 with two triples. Her sister, junior outfielder Carly Gray brought her in on both times.
Sydney tripled to start the game off, Carly followed with a single to bring her in for the first score of the game and Sydney tripled again in the top of the fifth and Carly hit a sacrifice fly to score her again for what amounted to the winning run due to the 10-run mercy rule.
"This has been a great experience for me," the freshman second baseman said. "I was really nervous when the season started because I was new and we have a new coach but, even though the beginning was rough, we worked hard and trusted each other. Now we have to keep going."
Chris Stainer is in her first year at Sabino. Stainer spent 17 years coaching in the college level at the University of Wisconsin-Stout.
Elizabeth Lyon took the circle for the Sabercats and she limited the Lions to four hits on the night with Juliana Martinez picking up two of those to finish 2-2. Jordan Jones, Alison Smith and Maddison McGowan took the circle for Pusch Ridge.
Besides the Gray sisters, Danielle Kirchhofer went 3-4, Cassandra Castaneda went 2-3 and Kyara Elliott went 2-3.
---