BASEBALL: Pusch Ridge making final push for playoffs
April 21, 2017 by Andy Morales, AZPreps365
---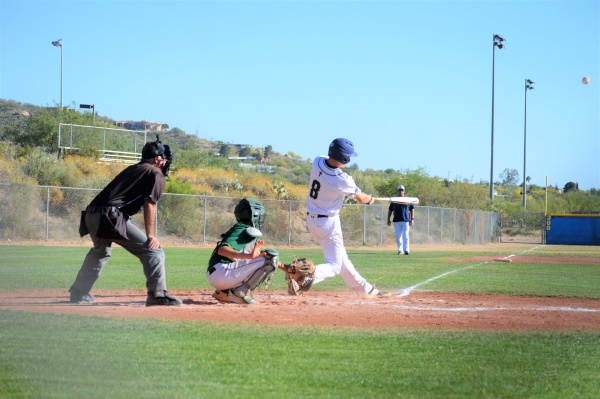 Aaron Noller hit a double for Pusch Ridge. (Andy Morales/AZPreps365.com)
The regular season is drawing to an end but there's life on the horizon for teams hoping to play one more day and, if that day turns into a few more, then all the better. In the 3A conference, that new life comes in the form of the Play-In Tournament scheduled for Wednesday, Apr. 26.
Pusch Ridge started the day ranked No. 21 according to the AIA/MaxPreps seeding formula. Too far removed from the two automatic bids from each region, the Lions are hoping they will be in a dugout next Wednesday and the team took another step in that direction with an 11-3 win over Santa Rita on Friday night.
Granted, Santa Rita is ranked last at No. 37, but part of the seeding formula is based on winning the games you are supposed to win. The last hurdle for the Lions will be a game at No. 21 Empire on Monday. It might be a "must win" situation for both teams.
Zach Vincent took the mound for the Lions on Friday night and the freshman kept Santa Rita at bay until Estevan Archuleta hit a triple to drive in Joel Perez in the top of the fifth. The Eagles added another run in the inning but the Lions had already built up a 10-0 lead through the first four innings.
Vincent helped himself out with a two-RBI triple in the first inning and an RBI single in the third. Evan Weidenkeller and Aaron Noller recorded doubles for Pusch Ridge.
Ezra Panneck took the ball from Vincent in the seventh while Rickey Borquez got the start for Santa Rita and Dominik Conner took over in the fifth.
The 6A and the 5A conferences will also have a Play-In Tournament scheduled for next Wednesday. Please check for updates at AZPreps365.com
---