SOFTBALL: Rincon advances to 6A playoffs with win over Dobson
April 26, 2017 by Andy Morales, AZPreps365
---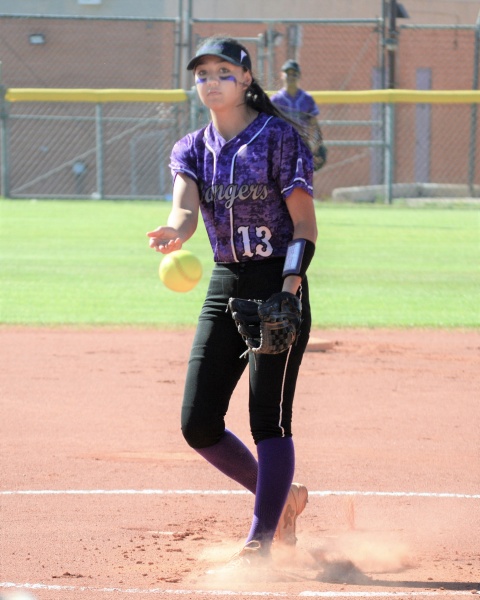 Kaitlyn Grimes picked up the win for Rincon (Andy Morales/AZPreps365.com)
Teams from Southern Arizona went a combined 8-1 in the various softball play-in tournaments held Wednesday and 6-2 in the baseball tournaments. One of the 5A baseball play-in games was a 9-3 win for Ironwood Ridge over Sahuaro so one Tucson area team was bound to fall into the loss column.
In softball action, No. 14 Rincon/University beat No. 19 Dobson 5-2 to advance to the 6A state tournament slated to start Saturday morning. It was the first time the Mustangs had made it to the postseason since 2011 and the first time, as far as anyone can tell, the Rangers had won a playoff game since their state championship year of 2002.
Dobson was ranked No. 41 last year and, like Rincon, made the jump from Division-II to the 6A Conference this year. The Rangers just missed the playoffs last year with a 25th ranking but it was a marked improvement from being ranked 68th in 2014 when the program pulled together only two wins.
Dean Misenhimer is in his fifth year with the Rangers and Jeff Sherrer just ended his fifth year with the Mustangs. Misenhimer has six seniors in his roster and Sherrer has seven. In short, this year was the culmination of a lot of hard work from both programs but only one was able to advance.
Kaitlyn Grimes was unhittable in the first three innings of work. The Rincon sophomore limited the Mustangs to two walks and one of those runners was erased on a double play. Meanwhile, the Rangers plated two runs in the first on a 2-run shot from Melissa Mange and an unearned run in the second to take a 3-0 lead.
The Mustangs broke through for a run in the top of the fourth after Macey Meraz, McKenna Lohide and Kaylee Ross loaded the bases on three straight singles to start the inning off. Grimes induced a pop fly to get the next batter out but Hannah Reichman followed with a grounder to the right side to score Meraz. Grimes picked up a quick out to limit the damage.
The Rangers added two more in the bottom of the fifth and Dobson scored another in the sixth thanks to a triple from Ross. In all, the Mustangs left eight runners on base with two of those stranded at third. Even worse, the Mustangs had the bases loaded with no outs in the fourth and the sixth but only came away with one run each time.
Senior Jenika Smith went the distance for the Mustangs while Grimes gave way to Julia Vega for four batters in the sixth. Grimes came back in to finish the game for the Rangers.
Meraz went 2-for-4 for the Mustangs as did Ross. Reichman and Kayla Reynoso had RBIs for Dobson.
Grimes recorded seven strikeouts in the game while Deja Lee and Mange went 2-3 at the plate.
"This win feels really great," Grimes explained. "I was hoping we could withstand the hits when they started scoring and we did. We came back and finished the game. Now we have to go to Phoenix and try to keep winning."
Rincon/University will be one of several dozen teams watching the Softball and Baseball Bracket show Thursday at 2:30 p.m. The bracket show will be streamed live at AZPreps365.com
---