4A Softball Championship:
May 9, 2017 by Andy Morales, AZPreps365
---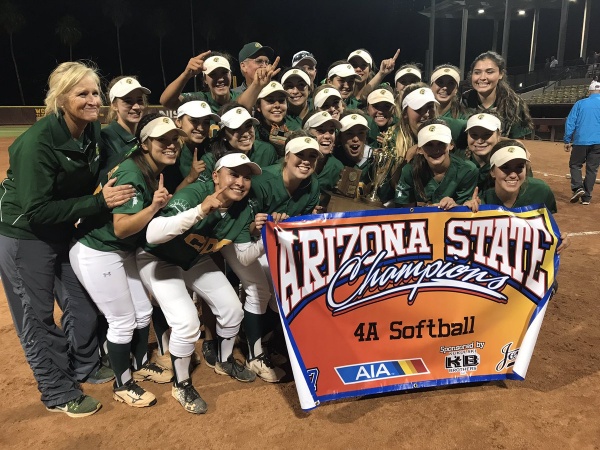 (Andy Morales/AZPreps365.com)
No. 3 Sunrise Mountain came in hoping to bring hardware back to the school after a very difficult year last season while No. 1 Canyon del Oro was trying to set a new Southern Arizona "Big School" record of nine championships. Both got what they came for as the Dorados held on for a 4-2 victory in the 4A state championship held at Farrington Stadium on the ASU campus Tuesday night.
Sunrise Mountain (21-5) is led by former University of Arizona standout Jody Pruitt. Pruitt won two championships with the Wildcats and coached another title with the Mustangs in 2013. Pruitt is in her second stint with the progam, having coached the team to a runner-up finish in 2004 before taking a brief retirement.
Her program went an uncharacteristic 11-12 last year with injuries and inexperience characterizing the off year. A third-ranking and a runner-up finish Tuesday night changed all that.
"At the beginning of the year I never would have believed we would be here right now," Pruitt said. "But we improved and I'm proud of our group. This game does not define the 2017 seson."
Canyon del Oro (30-4) is led by Kelly Fowler. Fowler is in her third stint with the Dorados and she now has three state championships to her name and a few more through her daughters, former Dorado standouts Kenzie and Mattie.
The game started out with a calm breeze until lightning struck - literally. Hope Banales led off the bottom fo the first with a single. Then a flash of light in the sky forced a 30-minute delay.
Safety ruled the night and each team regrouped until Ellessa Bonstrom strolled to home and smashed an RBI triple to give the Dorados a 1-0 lead. Ari Acedo followed that up with a single to bring Bonstrom in. Nene Campos brought in the third run two outs later.
That was it until Canyon del Oro added another run in the fifth to make it 4-0. The Mustangs were held in check by sophomore pitcher Halle Morris (11-1) until the Mustangs drew two runs in the top fop of the sixth.
Freshman Sydney Bickel started things off with a single and then Kodi Ramirez doubled. Cheyllie Greenwood and Hanna Krosky hit back-to-back groundouts to bring each runner in.
The Mustangs threatened in the top of the seventh with a leadoff single but Morris held on for the 4-2 win.
"I knew our defense would pick it up," Morris said. "We did this for the seniors and getting those early runs just took a lot of weight off my shoulders."
Morris finsihed with six strikeouts including the game-winner.
Krosky took the ball for the Mustangs and she held the Dorados in check after she settled in.
The Mustangs put together five hits with Bickle picking up two of those. Besides Bonstrom's triple, Arianna Felix had a double for the Dorados
NOTE: Senior infielder Pilar Gutierrez left the game with an injury and her sister, freshman Kendal Gutierrez filled in.
---