Kellis wins title? Believe it
May 16, 2017 by Jose Garcia, AZPreps365
---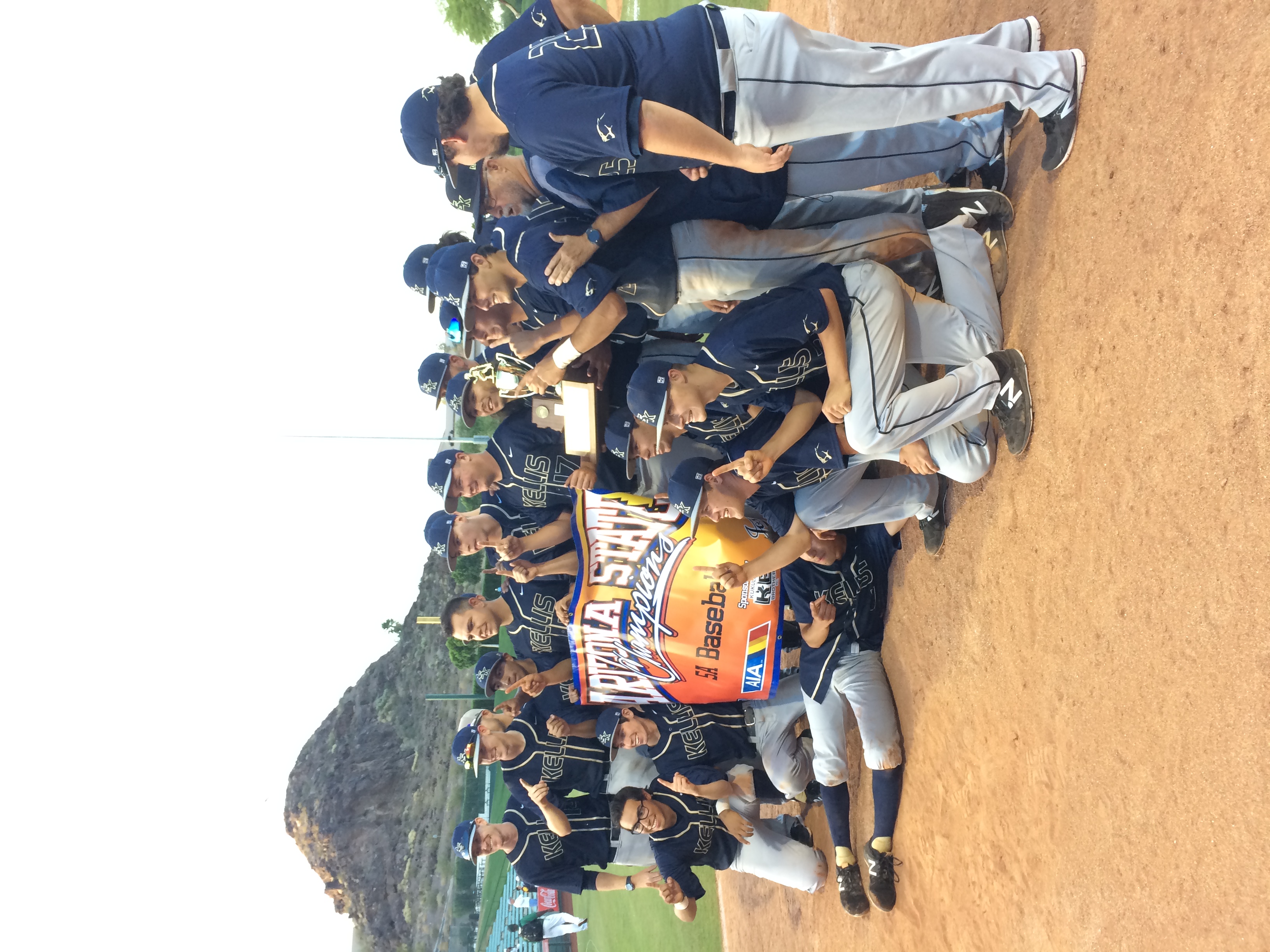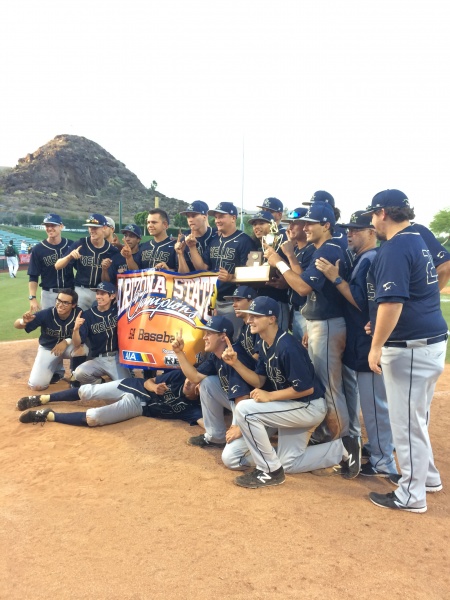 (Raymond S. Kellis won the 5A Conference baseball championship as a No. 13 seed. Photo by Jose Garcia/azpreps365.com.)
Pardon Raymond S. Kellis for not believing it could win a state title until its 29th game of this season.
Before this year, the program hadn't even sniffed the third round of state in its 12-year existence. This year, Raymond S. Kellis lost nine games by two runs or less and limped into the play-in tournament.
Another year was about to get sealed with the early season exit stamp, it appeared. But then, in the first round of the 5A Conference baseball tournament, it beat Verrado — the No. 1 team for most of the regular season — in its 29th game.
The belief switch turned on and never turned off the rest of the way for the Glendale school, culminating with a 10-5 win over another unlikely finalist, Campo Verde, in Tuesday's championship at Tempe Diablo Stadium. For the past three seasons, Raymond S. Kellis received the 13th seed, but it finally became lucky this season.
"Nobody thought it was possible, but we had confidence in ourselves," said Jonathan Ornelas, who stepped in to save another important game. "But it wasn't until we beat Verrado that we began to show it. During the season we just wanted to get past the second round."
Raymond S. Kellis' lucky charm, ace Adrian Salazar, led the program to its first gold trophy with his right pitching arm and bat.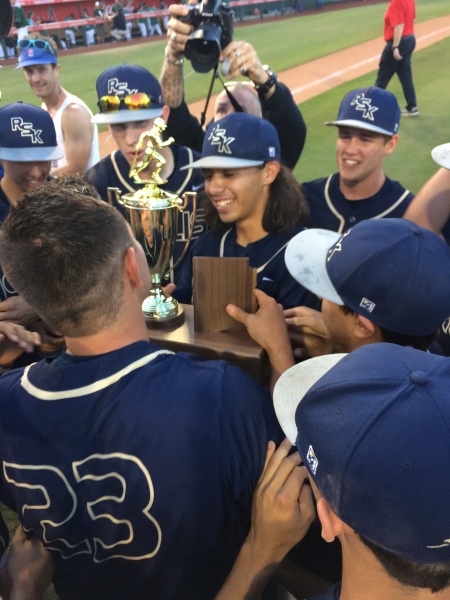 (Adrian Salazar and his teammates celebrate with the championshp trophy. Photo by Jose Garcia/azpreps365.com)
Salazar was the winning pitcher in each of his team's five playoff victories. A disappointed Salazar left Tuesday's game in the fifth inning with his team leading 8-3, but the senior, who was batting .481, had already performed way beyond expectations.
Besides, a lot of players pitched in during the Glendale team's victory, even its nine-hole hitter, Kody Rhoads.
The senior had two hits, three RBI's and walked once in four at bats.
"You don't get much love down there (as the 9 hitter), but I'm glad I came through today," said Rhoads, who was batting .288 before the game.
Rhoads, Salazar, Ornelas, Justin Flebbe, Samuel Curran, and Damien McElroy collected Raymond S. Kellis' ten hits in the game. Ornelas, who struck out the final batter in the semifinals in a 2-1 victory, was called in with the bases loaded in the fifth inning and two outs.
He proceeded to strike out the batter on four pitches. The two runs Ornelas (six saves in season) allowed were unearned.
Campo Verde, the No. 11 seed, ended its unexpected state runner-up season with a 20-15 record.
Besides defeating Campo Verde and Verrado in the 5A tournament, Raymond S. Kellis also knocked out No. 5 seed Mesquite and No. 1 Liberty twice.
This was the first time that two double digit seeded teams met in a 5 or 6A state championship baseball game.
"It's gratifying," nine-year Raymond S. Kellis coach Michael Deardoff said. "It's a community team. We don't have transfers. We've got kids who played together as young kids and grew up through the ranks and are now at our school. We get overlooked occasionally. The people that know us know we are a good team, but to show the whole state, and showcase our school, that's what it's all about."
Deardoff, who grew up in Peoria, and his coaching staff are really tight.
His brother, Chad, is on the staff and so is former Trevor Browne coach Steve Massingill. "Mass" coached at Trevor Browne for 36 years and was on the 1977 championship team's staff.
He's known Deardoff and Chad since they were newborns and joined the Deardoffs in the dugout seven years ago.
"They are like my adopted sons," Massingill said.
The veteran coach then summed up what everybody on his team, which finished 22-11, was thinking.
"This is awesome," he said.
---