BASEBALL: Southern Arizona 1A-3A Senior All-Star Game
May 31, 2017 by Andy Morales, AZPreps365
---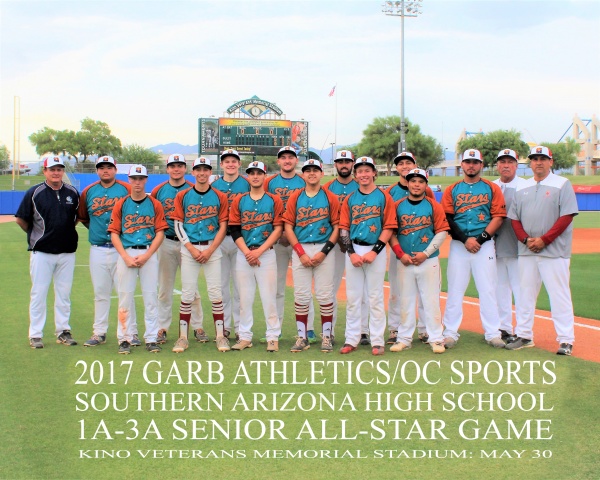 Team Teal (Andy Morales/AZPreps365.com)
The 3rd Annual Garb Athletics/OC Sports Southern Arizona High School All-Star Baseball Game series presented by the Kino Baseball League got underway Tuesday night at the Kino Veterans Memorial Baseball Stadium with Team Teal coming away with a 4-3 victory in the 1A-3A Senior Game.
25 seniors from Pusch Ridge, San Manuel, Tanque Verde, St. Augustine, Morenci, Thatcher, Empire, Willcox, San Miguel, Benson, Sabino, Sahuarita, Bisbee and Coolidge took part with names submitted by coaches from Southern and Eastern Arizona.
Willcox standout Austin Stamback got the start for Team Teal and St. Augustine standout Max Fimbres took the ball for Team Copper. Copper took a 1-0 lead in the top of the first after Miguel Carbajal (St. Augustine) drew an opening walk, stole second base and Tyson Coleman (Benson) followed with an RBI double.
Stamback recovered and shut down the next six batters he faced, collecting four strikeouts in the process. Teal scored two runs in the bottom half of the first thanks to an RBI triple from Adrian Hernandez (Sahuarita) that scored Aaron Noller (Pusch Ridge). Stamback helped himself out with an RBI single to score Hernandez.
Copper tied things up in the top of the third on an error that scored Josh Sharp (San Manuel). Sharp led off with a walk, stole second base, went to third on a passed ball and then trotted home on the error.
That score held up until Copper scored again in the top of the seventh to take a 3-2 lead. Aric Petersen (Thatcher) picked up his second infield hit of the game and Elijah Hart (Empire) sacrifice him home later in the inning.
That lead didn't last long with Teal scoring two in the bottom half to take a 4-3 lead. Bryce Reddish hit a two-out single and Jose Martinez (San Miguel) doubled to put two on. Dylan Watt (Sahuarita) singled in Reddish and Martinez scored on an error on the play.
Noller replaced Stamback in the third, Phil Dimas (Tanque Verde) took the ball in the fifth, Martinez took the mound in the seventh and Dom Parkhurst (Sabino) finished the game in the seventh. Martinez picked up the win.
For Copper, Petersen replaced Fimbres in the second, Sharp took over in the fourth, Easi Venegas (Morenci) took over in the sixth, Adrian Martinez (Empire) got the ball in the seventh and Carbajal pitched in the eighth.
Coleman went 2-for-4 with an RBI double to lead Copper and Petersen went 2-3. Jonah Reyes (Thatcher) collected a single. Leonel Valdez (San Miguel) picked up a hit for Teal.
The 4A-6A seniors will play Wednesday night and the remaining schedule is as follows:
CLASS 2017 - Divisions 4A, 5A, 6A
Wednesday, May 31
7:00 PM
Kino Veterans Memorial Stadium
FUTURES CLASS - Divisions 4A, 5A, 6A
Thursday, June 1
7:00 PM
Catalina Foothills High School
FUTURES CLASS - Divisions 1A, 2A, 3A
Friday, June 2
7:00 PM
Catalina Foothills High School
---