BASEBALL: Southern Arizona 4A-6A Senior All-Star Game
June 1, 2017 by Andy Morales, AZPreps365
---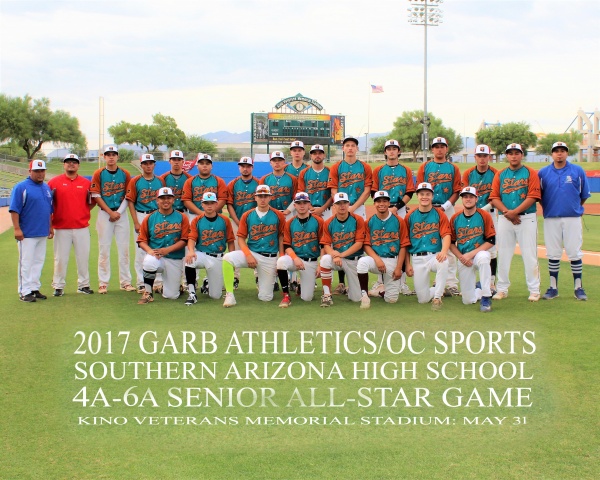 TEAM TEAL (Andy Morales/AZPreps365.com)
The 3rd Annual Garb Athletics/OC Sports Southern Arizona High School All-Star Baseball Game series presented by the Kino Baseball League continued Wednesday night at the Kino Veterans Memorial Baseball Stadium with Team Copper coming back late for a 12-11 victory in the 4A-6A Senior Game.
Forty seniors from Marana, Palo Verde, Canyon del Oro, Cholla, Mountain View, Cienega, Catalina Foothills, Walden Grove, Rincon/UHS, Amphitheater, Nogales, Tucson, Rio Rico, Flowing Wells, Ironwood Ridge, Sunnyside, Salpointe, Pueblo, Douglas, Sahuaro and Desert View were selected by the coaches of Southern Arizona.
Orlando Romero (Tucson) started for Team Copper and Gio Romo (Sunnyside) took the ball for Team Teal. Teal scored four in the top of the second to take an early lead.
Ivan Murillo (Amphitheater) was hit to start off the inning and Addison Ryberg (Catalina Foothills) and Alonzo Tapia (Douglas) followed with back-to-back singles to load the bases. Jesus Lopez (Pueblo) doubled to right field to clear the base but was thrown out attempting to stretch the hit to third base.
Romo was walked and Jarrod Corona tripled in the fourth run.
Teal added another run in the top of the third after Izzy Carillo (Cienega) reached on a dropped-third-strike, stole second base, moved to third on an infield hit from Gabe Gordon (Mountain View) and then came home on an error.
Team Copper scored six runs in the bottom of the third to take a 6-5 lead. Marcus Gomez (Desert View) singled to start the comeback. Lucas Slingerland (Catalina Foothills) and Fabian Ferreira (Tucson) were walked to load the bases and then Nick Gonzales (Cienega) sacrificed in the first run.
Sean Fanning (Rio Rico) was hit to load the bases again and then Ralph Padilla (Nogales) hit another sacrifice fly to cut the lead down to 5-2. Adrian Madero (Pueblo) was walked to load the bases and Patrick McGee (Walden Grove) brought in two runs to make it 5-4.
Roberto Mejia (Sahuaro) doubled in two more runs to help give Copper the 6-5 lead. The lead didn't last long with Teal scoring three in the top of the fourth to go back up 8-6.
Ryberg and Tapia singled and Lopez doubled in Ryberg. Jacob Federico (Tucson) collected two RBI one out later.
Teal scored again in the top of the fifth after Chris Rico (Cholla) singled and Drew Hill (Ironwood Ridge) doubled him home to make it 8-6.
Teal added another run in the top of the seventh after Joseph Martinez (Walden Grove) hit a double and Rico scored him later in the inning.
Copper made another big comeback in the bottom of the eighth, scoring six more runs, to take a 12-10 lead. Ferreira was walked with one out and Gonzales reached on an infield hit. Romero was walked to load the bases and Ferreira scored on a wild pitch to make it 10-7.
Padilla was walked to load the bases and McGee knocked in two more runs one out later to make it 10-9 with two outs. Mejia reached on an infield hit, scoring another run to tie the game up at 10-10 and then Gera Lopez (Nogales) doubled to score two more runs.
Teal came up in the top of the ninth down 12-10 and Martinez hit a double to put the team in business. Martinez advanced to third base on a passed ball after a strikeout and then Rico brought him in on a groundout to cut the lead down to 12-11.
Federico singled and Corona drew a walk to put two runners on. Mike Santorelli (Canyon del Oro) hit a shot to right that looked like it would score two more but Javier Valencia (Rincon/UHS) made a game-winning diving catch to end the threat.
Besides Romero, Cesar Dominguez (Nogales), Ray Vargas (Ironwood Ridge), Oscar Lechuga (Nogales), Alberts and Padilla was pitching action for Team Copper. Lechuga picked up the win and Padilla got the save.
For Team Teal, Romo gave way to Rico, Jesus Carmona (Salpointe), Santorelli, Jace Harnett (Sahuaro), Hill and Murillo.
McGee went 2-for-2 with a double and two RBI, Mejia went 3-4 with two doubles and two RBI, Gordon went 2-4 with a triple, Ryberg went 2-4, Tapia went 2-3, Lopez went 2-2 with two doubles and four RBI and Federico went 2-2 with two RBI.
The 4A-6A Futures will play Thursday night at Catalina Foothills and the remaining schedule is as follows:
FUTURES CLASS - Divisions 4A, 5A, 6A
Thursday, June 1
7:00 PM
Catalina Foothills High School
FUTURES CLASS - Divisions 1A, 2A, 3A
Friday, June 2
7:00 PM
Catalina Foothills High School
---