Pinnacle-Brophy meet again
August 18, 2017 by Jose Garcia, AZPreps365
---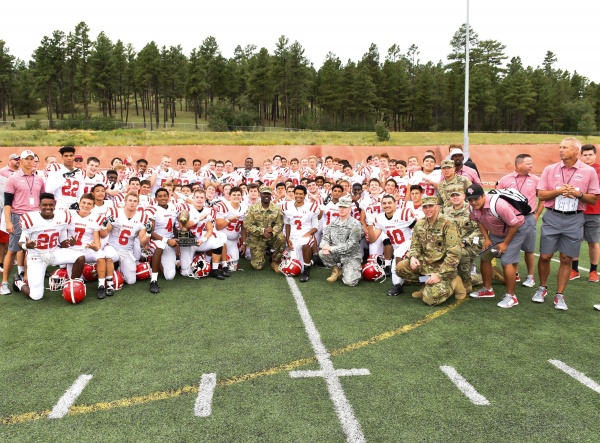 (Brophy won the 2016 Sollenberger Classic at Coconino. Photo by Mark Jones/maxpreps.com)
Brophy and Pinnacle haven't gotten on each other's nerves in their recent battles.
Credit the mutual respect between the coaches, Brophy's Scooter Molander and Pinnacle's Dana Zupke, for setting the right tone. In a sign of that high regard, Molander once asked Pinnacle coach Zupke how he could balance the duties of a parent and coach when a son is on the team.
On the field, Brophy and Pinnacle have played in cleanly and tightly contested matches. Last year's Sollenberger Classic result, a 31-10 Brophy win, was the only lopsided victory in the non-region battles between the 6A teams in the past three years.
Brophy has won the last three meetings, including two first round playoff victories. Saturday's meeting in the 11thannual Sollenberger Classic at scenic Flagstaff Coconino will mark the fifth time that Brophy and Pinnacle have faced off since Sept. 2015.
"I have tremendous respect for coach Zupke," Molander said. "He's a good person and a fine coach. It's an honor to play him and his team."
Zupke echoed Molander's sentiments.
"It (2016 Sollenberger Classic) was a great event at a great venue," Zupke said. "We enjoyed it and how we were taken care of. It was also great competition against a class program like Brophy."
Pinnacle walked into last year's game with 10 sophomore starters and injured — eight turnovers also didn't help — but is more experienced than Brophy this year.
Pinnacle quarterback Spencer Rattler wore a wrist brace while on the sidelines in the 2016 Sollenberger Classic, missing his only game last season. The highly-touted junior quarterback committed to the University of Oklahoma this offseason and has thrown for 5,274 yards and 48 touchdowns in just his first two high school seasons.
"Spencer is one of the best I've ever seen," said Molandor, a former pro quarterback. "You just hope to contain him. He can extend plays and make every throw. A 7 on 7 is like a walk in the park to him."
For the first time, Spencer will work with veteran Arizona high school coach Mike Brown, who took over as Pinnacle's offensive coordinator this year.
"We call Mike the Mad Scientist for a reason, and I know why now, because I see the methodology behind it and there is a method to his madness, which is pretty cool," Zupke said.
Pinnacle gained Brown but lost the versatility of LB/RB Hunter Griggs, who moved to California.
But Zupke said his team won't miss a beat with defensive end Thans Dixon and other players, including a sophomore Zupke didn't want to name but will likely be "very special."
A senior with mobility, Noah Gonzalez, will get his first shot to start at quarterback for Brophy behind an offensive line that's bigger than last year. Strong safety Marques White also spent time running the offense in the offseason, but Brophy prefers to see him and his All-State secondary skills just on defense.
In the backfield, Brophy graduated its No. 1 running threat last year and had another back recently transfer out. A top-rated long snapper, Colorado State commit Ross Reiter, will play nose guard for the first time this season.
"Ross is just a natural at nose guard,"Molander said. "He's quick and has changed his body, dropping his weight but increased his strength."
Brophy might start a freshman, cornerback Denzel Burke, for the first time since the great Mike Mitchell did so in the late 1980s.
The 2017 Sollenberger Classic will start at 3 p.m. It's the second year in a row Coconino will host the game, which azpreps365.com will broadcast live. For advance tickets, go here.
Sollenberger Classic History
The Sollenberger Classic honors the late Barry Sollenberger, a former Arizona Interscholastic Association employee. As a sports historian, Sollenberger was devoted to the task of documenting the achievements of high school athletes in the state of Arizona.
2006: The first game honoring Sollenberger was held at Sun Devil Stadium on the campus of Arizona State University. Chandler Hamilton, the 2005 AIA 5A Division I state runner-ups, defeated Mesa Red Mountain 21-7.
2007: The Phoenix Brophy Prep Broncos hosted Tucson Salpointe Catholic at Phoenix College, with the Broncos defeating Salpointe Catholic 33-17.
2008: Phoenix Brophy Prep, the 2007 AIA 5A D-I state champions, defeated Las Vegas Bishop Gorman, the 2007 NIAA 4A state champions, 16-6. The game was played at University of Phoenix Stadium.
2009: The Sollenberger Classic was played in Reno, Nevada at MacKay Stadium on the campus of the University of Nevada, Reno. AIA 5A D-II defending state champion Peoria Centennial defeated NIAA 4A defending state champion Reno McQueen 51-20.
2010: The Hamilton Huskies and Bishop Gorman Gaels made their second Classic appearances at NAU's J. Lawrence Walkup Skydome. The Huskies, the AIA defending 5A-I state champion, defeated the Gaels, the NIAA defending 4A state champion, 24-17 in a tightly contested game.
2011: The Classic was hosted at University of Phoenix Stadium in Glendale, Ariz. This marked the first year the classic featured two games. In the first game, the NIAA Class 3A runner-up Moapa Valley defeated the AIA Class 3A defending state champion Show Low 28-26. In the second game, the NIAA Class 4A defending state champion Bishop Gorman defeated the AIA Class 5A-II defending state champion Chaparral 42-22.
2012: University of Phoenix Stadium was the host for the second straight year and third time in the history of the Classic. In the first game, the AIA Division IV defending state champions, Blue Ridge, defeated the NIAA Class 3A runner-up, Moapa Valley, 23-14. In the second game, the AIA Division I state champion Desert Vista defeated the NIAA 4A Sunset Region runner-up, Palo Verde, 20-10.
2013: Fertitta Field on the campus of Bishop Gorman High School played host to the 2013 Classic, presented by Station Casinos. In the first game, 2012 AIA Division I State Runner-up Mountain Pointe defeated 2012 NIAA Division I Champion Bishop Gorman 28-21. In the second game AIA Division II State Semi-finalist Salpointe Catholic defeated 2012 NIAA Division I State Runner-up Liberty 48-7.
2014: The Classic, presented by Station Casinos, was again held at Fertitta Field on the campus of Bishop Gorman High School. In the first game, 2013 NIAA Division I Champion Bishop Gorman defeated 2013 AIA Division I quarterfinalist Brophy Prep 44-0. In the second game, 2013 AIA Division I Champion Mountain Pointe defeated 2013 NIAA Division I runner-up Reed 66-13.
2015: The Classic did not take place.
2016: The Classic, presented by the U.S. Army, was held in Flagstaff, Ariz. at Coconino High School. In the first game, 2015 AIA Division I State Quarterfinalist Brophy Prep defeated 2015 AIA Division I State Tournament team Pinnacle 31-10. In the second game, 2015 AIA Division II State Champion Desert Edge defeated 2015 AIA Division I State Champion Centennial 26-24.
---