BOYS GOLF: CDO standout Jonathan Walters ties school record 5-under
August 21, 2017 by Andy Morales, AZPreps365
---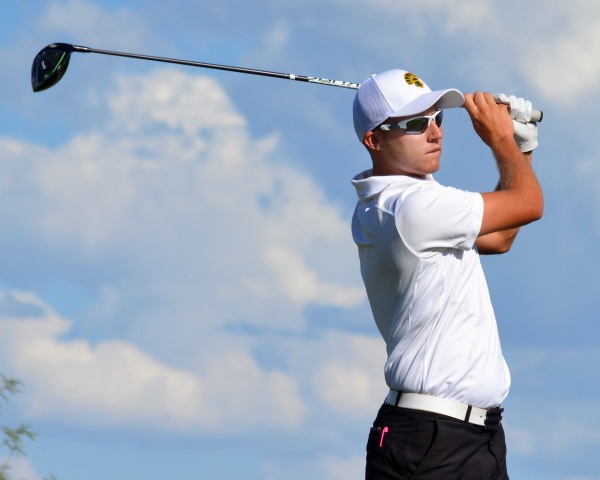 Jonathan Walters (Andy Morales/AZPreps365.com)
It was a typical Monday for Canyon del Oro standout golfer Jonathan Walters. He went to school, made a phone call to Western Carolina to accept a scholarship offer and then shot a 5-under 31 to tie the school record for nine holes. Oh, and there was an eclipse.
11 state champions have worn the Green and Gold shorts for Canyon del Oro and, when you add other Dorado standouts like David McDaniel, it can get difficult to get noticed, but Walters did something Monday only two other golfers in program history had ever done.
Walters approached the ninth hole at Crooked Tree in Marana with his ball just outside the lip of the green. He had a chip to break the school record with a 6-under but he "settled" for a short putt and 5-under after his attempt lipped out.
His 5-under was something only former state champion Gentry Hicks (2010) and McDaniel (2003) had ever accomplished in the long and storied history of the program.
"I didn't know I had the record," Walters said.
"I approached the last hole knowing I was shooting a good round. I was just trying to get as many putts as I could find today on difficult greens."
Walters earned the top spot in one of the best high school programs in the country and he wants to help his teammates realize higher goals as well.
"I learned a lot from Chris (Meyers) in my freshman year," Walters added. "I'm at the point now where I can just focus on the mental part of the game. I feel like I'm at the top of my game right now and I want to see what I can do to help the guys on my team."
Walters took part in a few tournaments on the east coast this summer and it paid off with a scholarship offer from Western Carolina.
"It gives me the opportunity to pursue my career in golf with a coach who is able to help me reach that goal," Walters explained. "And I will get a degree out of it."
Walters shot 144 (73-71) last year to finish two strokes behind Gavin Cohen (Catalina Foothills) in the Division II State Championship.
Canyon del Oro 142, Mountain View 188, Sunnyside 214
Crooked Tree GC
1 CDO Jonathan Walters -5 31
2 CDO Jack Picton 36
3 CDO Jack Call 37
4 CDO Turner Kahn 38
5 MV-M Max Robles 41
56 SS Derek Ozbirn 41
7 MV-M Devin Ackermann 44
8 MV-M Garrett Falkenstine 48
9 MV-M Oscar Quihuis 55
9 SS Jorge Chavez 55
11 SS Gabriel Rosthenhausler 57
12 SS Augustine Ruelas 61
Canyon del Oro Champions
1968 Mark Udall, Canyon del Oro (4A)
1974 Scott Spence, Canyon del Oro (4A)
1975 Ron Venkus, Canyon del Oro (4A)
1978 Don Agers, Canyon del Oro (4A)
1979 Tom DeWitt, Canyon del Oro (4A)
1980 John Buttery, Canyon del Oro (4A)
2007 Travis Graves, Canyon del Oro (4A-I)
2010 Gentry Hicks, Canyon del Oro (D-II)
2011 Jaime Waltmire, Canyon del Oro (D-II)
2014 Chris Meyers, Canyon del Oro (D-II)
---