Football: Campo Verde wins see-saw 2nd half over Gilbert
September 2, 2017 by Les Willsey, AZPreps365
---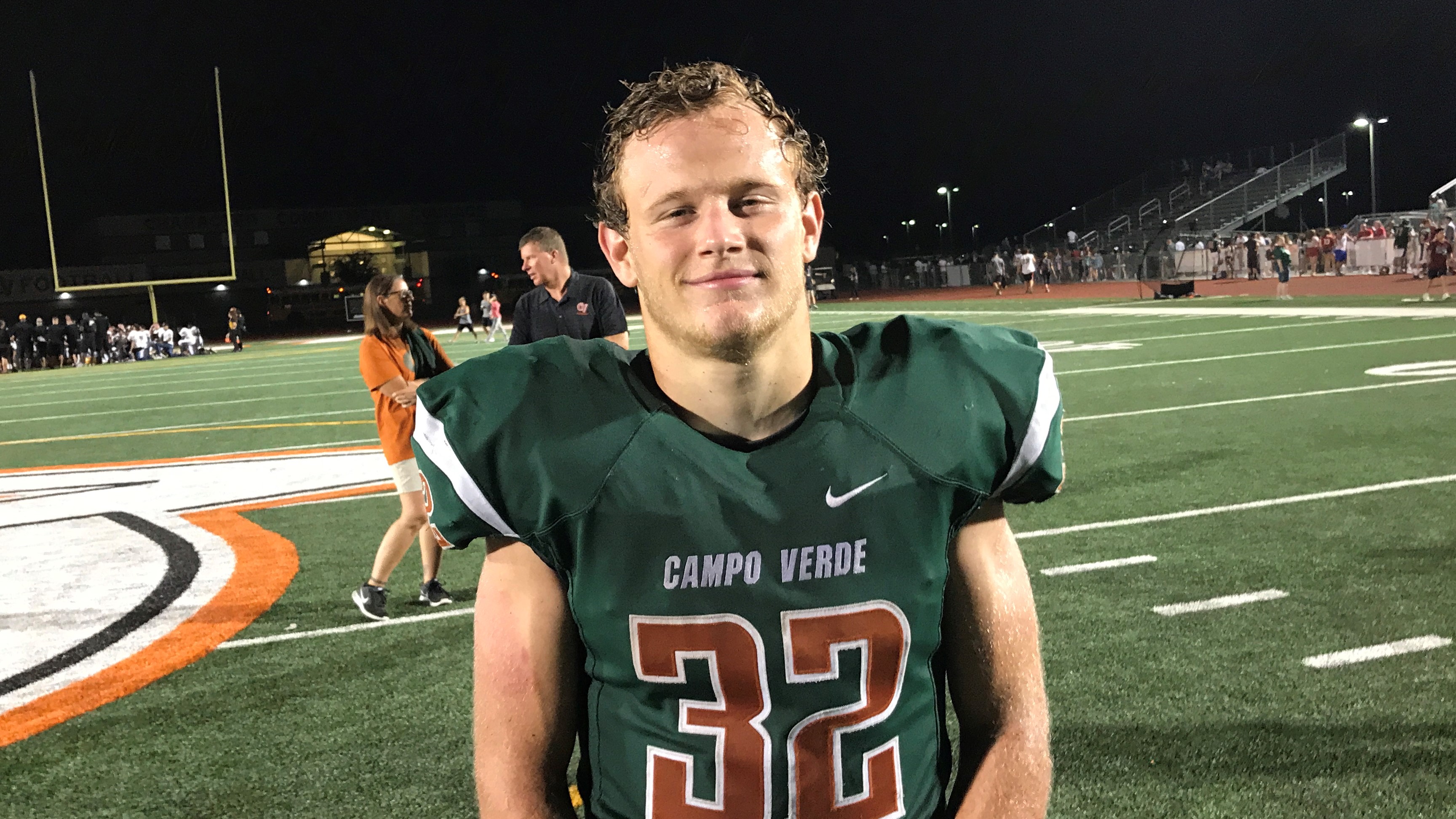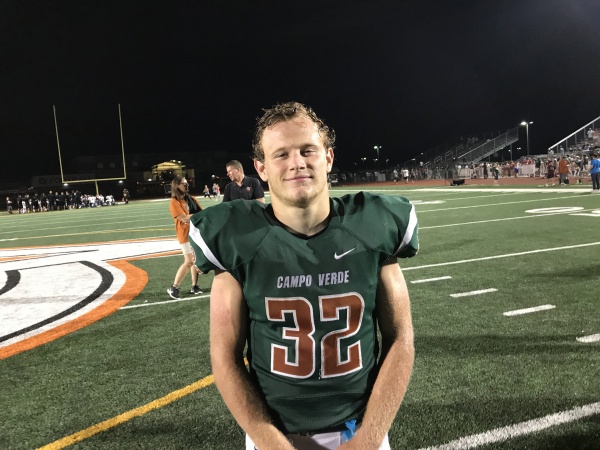 Matt Leazier rushed for a career high 210 yards in helping Campo Verde top rival Gilbert (AzPreps365 photo)
Campo Verde's forte is its running game and the Coyotes matched that Friday night against Gilbert's passing game, paced by one of the state's top quarterbacks, Jack Plummer.
Campo played keep-away from Plummer and the Tigers in the first half well enough for a 9-0 lead at intermission. The second half was almost a different story, but when the clock expired the Coyotes rushing game prevailed in a 30-26 triumph at Campo Verde.
Campo Verde improved to 3-0 and dealt Gilbert (1-1) its first loss. Junior running back Matt Leazier had his third consecutive 100-yard-plus outing. Leazier went double on that total carrying 37 times for 210 yards and three TDs. His last TD run of 31 yard with 6:21 to play gave Campo the lead for good after four lead changes in seven minutes from the middle of the third period to that point in the fourth.
"Our offensive line has really done the job as well as our running backs," Campo Verde acting head coach Ryan Freeman said. Freeman was subbing for head coach Max Ragsdale this week as Ragsdale journeyed to Illinois to his son's Navy bootcamp graduation.
Campo Verde totated 241 yards rushing and controlled the clock particularly in the first half when it outpossessed Gilbert 17 minutes to 7. That helped in holding Gilbert scoreless in the opening half although the Tigers missed two field-goal attempts -- one in each quarter.
Campo didn't throw much, but when it did it meant a couple big plays and some key first downs. Senior quarterback EJ Galvez completed 8 of 11 passes for 139 yards. Six of those were to wide out Riley Langton for 113 yards.
Gilbert got back in the game scoring on three successive possessions, staring with its first in the second half. Plummer engineered drives of 57, 43 and 52 yards. He threw scoring passes of 14 yards to Dawson Tanner and then snuck in for a score from 1-yard out to put the Tigers ahead, 14-9, midway through the third period. Leazier answered with a 33-yard scoring run to put Campo back in front. Camden Middleton's 8-yard TD run put Gilbert ahead, 20-16, with 2:51 to to in the quarter. Plummer, who committed to Purdue this summer, completed 21 of 26 passes for 301 yards with no interceptions.
The fourth lead change came from the legs of senior running back Tucker Williams, who was one of a couple backs that spelled Leazier for two series. Williams scampered 28 yards to paydirt to give Campo the lead for good, 23-20, with 10:46 to play.
Campo finally forced Gilbert to puntf for the first and only time of the half and the Coyotes marched 65 yards in six plays for essentially the finishing touch. Gilbert scored with 3:50 left on Plummer's second scoring pass, a 15-yarder to Domonick Amendolara. Leazier carried seven times in Campo's final nine plays that ran out the clock and ended inside the Gilbert 5.
---