FOOTBALL: Catalina Foothills 56, Cholla 25
September 2, 2017 by Andy Morales, AZPreps365
---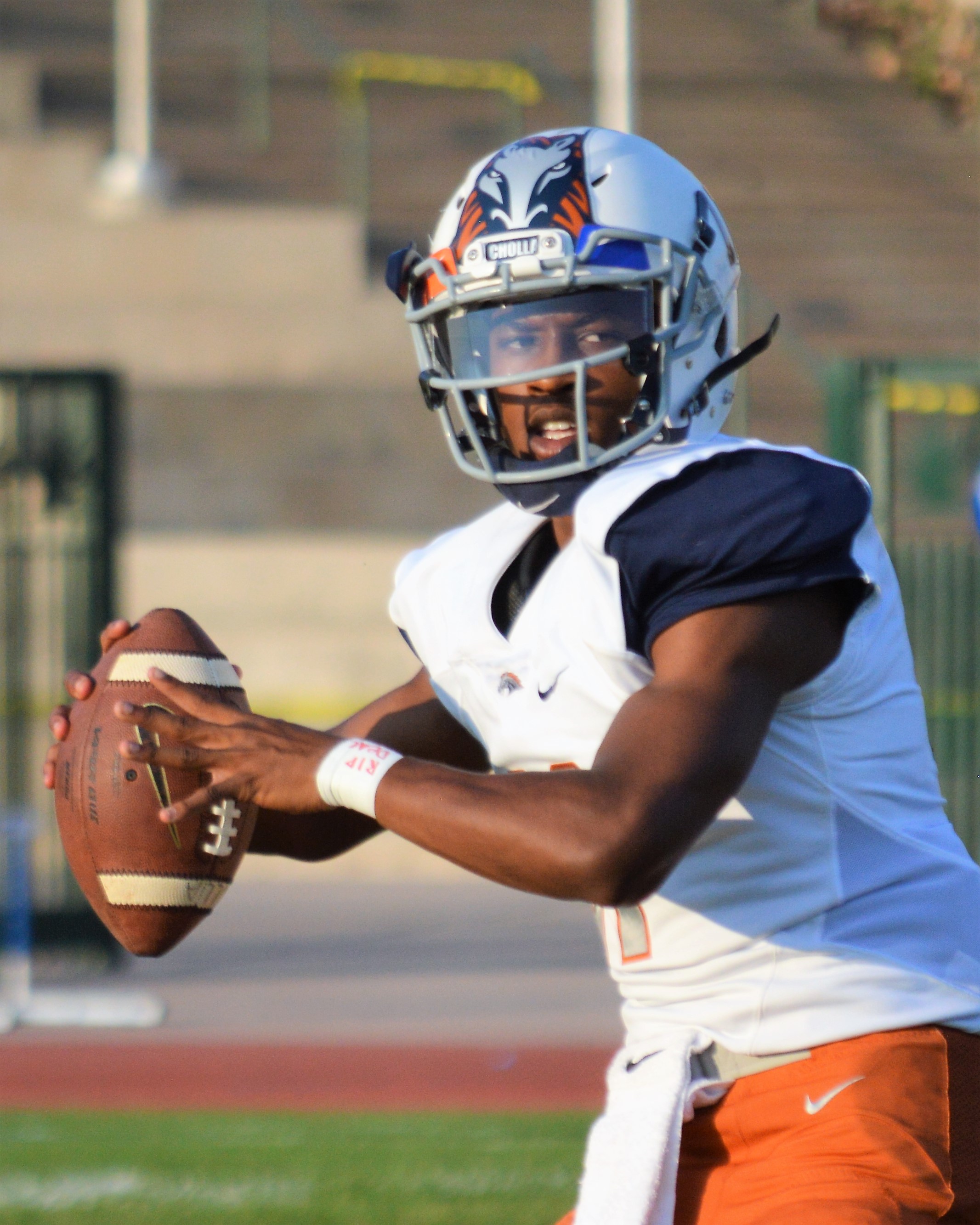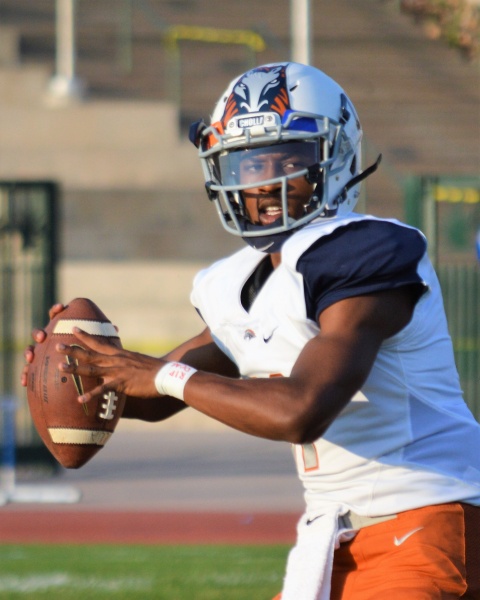 Jordan Porter. (Andy Morales/AZPreps365.com)
Catalina Foothills beat Cholla 56-25 Friday night in a game fueled by basic motivation. The Falcons came in wondering why some considered them to be the underdog and the Chargers came in wondering where they really stood after an impressive 2-0 start. Some questions were answered.
Forget hamburgers and hotdogs, the hottest item in the Catalina Foothills snack bar (besides water) had to be the thick and colorful game program, and for good reason. The Falcons graduated 20 seniors from their 4A Conference runner-up squad from last year and those weren't your average seniors.
The Falcons lost all nine of their top offensive weapons and all six of their top defenders from the team that went 11-3. Rhett Rodriguez, for example, threw for 2,887 yards and 30 touchdowns last year and he is currently enjoying a spot on the University of Arizona depth chart.
Rodriguez graduated with a Southern Arizona record 8,694 career passing yards but that was just one of the holes head coach Jeff Scurran had to plug and the QB job fell to senior Chris Kowalcek.
Kowalcek played in only four games last year but he has the Falcons sitting at a 2-1 record and he threw for 247 yards against Cholla and ran for 65 more. In all, Kowalcek accounted for seven TDs and a 2-point conversion.
Likewise, junior running back Isaiah Bae came in with almost no experience. Bae recorded exactly one carry last year but he rushed for 64 yards Friday night including a 34-yard dash to put Catalina Foothills up 7-0 with 7:41 left in the first.
Kowalcek hit senior Andrew Rhonehouse from 44 yards out with 4:03 left in the quarter to give the Falcons a 14-0 lead. Rhonehouse finished the night with six receptions, two TDs and 146 yards.
"We've been working hard since January," Kowalcek said. "No one has missed anything. Everyone has shown up to practice and everything else we needed. I don't think I did anything tonight. It was all the line and the running backs did a great job."
Speaking of a great job, one major reason why the Chargers came in favored by some was the presence of senior QB Jordan Porter.
Porter came in with 624 yards passing, 352 yards rushing and seven TDs. He was everything he was made out to be and more.
Porter threw for over 300 yards and rushed for 100 more against Catalina Foothills and most of those yards came after multiple scrambles that resulted in positive yardage when everything seemed lost.
"It's a frenzy sometime but I feel I can slow it down," Porter explained. "I can see what's going to happen before it happens but Catalina Foothills is a disciplined team and they made me make decisions I didn't want to make at times."
Porter hit AJ Blair from 28 yards out to cut the lead down to 14-7 with 2:20 left in the first but Kowalcek came right back and found Rhonehouse from 25 yards out to make it 21-7. Porter took the ball in from seven yards out with 4:04 left in the half to cut the Falcon lead down to 21-13 after the kick failed but a stoppage on downs with 42 seconds left in the half changed the momentum of the game.
The Falcons stopped the Chargers on a fourth-down play at their own 15 with 42 seconds left in the half and Kowalcek cashed in on the short field with a 4-yard run and a 2-point conversion to give the Falcons a 29-13 lead at the half.
The momentum shift came at the worst possible moment because the Falcons came out of the half with the ball and Kowalcek rushed for another short TD to make it 35-13 with 10:41 left in the third.
Kowalcek rushed for a 14-yard score to make it 42-13 with 5:38 left in the third and Porter found Blair from 13 yards out to make it 42-19 with a failed 2-point conversion.
Like everyone else in a Falcon uniform, Dominic Bynum came up big. The junior had three rushes for eight yards last year but he rushed for 189 and two TDs on Friday night. Bynum had a 49-yard score and a 63-yard run in the process.
Porter put together one last drive and he ran the ball in from short distance as the game clock expired to make the 56-25 final.
"This game was what we needed," Porter added. "It was a wake-up call and we need to improve and learn from this."
As for Kowalcek, the need to improve is also important.
"We need approach the rest of the season like we prepared for this game," Kowalcek said. "We took it personally and we can't have anyone else judge us."
Cholla (2-1) will visit Pueblo (2-0) next week while Catalina Foothills (2-1) will host Flowing Wells (1-1).
---