Volleyball: Perry threepeats at House of Payne Invite
September 9, 2017 by Les Willsey, AZPreps365
---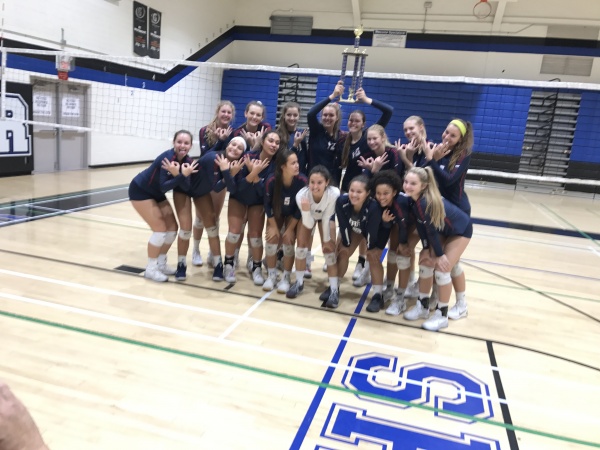 Perry's volleyball team poses for threepeat picture after winning House of Payne Invitational (AZPreps365 photo)
Perry's girls volleyball team had to work harder this year to claim a third consecutive championship at the annual House of Payne Invite.
The unbeaten Pumas had to rally from a set down in each of the Gold Division semifinals and final, but walked away with another trophy on Saturday afternoon by downing Horizon, 20-25, 25-17, 15-6 at Coy C. Payne Gymnasium on the campus of Chandler High.
"I was glad to see we didn't lose our composure in those matches," Perry coach Fred Mann said. "We came out and picked up our game both times."
Perry (12-0), which beat Mountain Pointe in 2015 in the final and Salpointe in last year's final, won eight matches in the two-day tournament that began Friday. The Pumas lost one set in their first six tournament matches prior to qualifying for the Gold semis. Salpointe put Perry's feet to the fire winning the first set of the semis, 25-21, but the fear of losing seemed a steadying influence as the Pumas took the next two sets 25-18, 15-10 before duplicating the feat in the title match.
Perry senior hitter Ryann Davis and senior middle Kennedy Kaminsky were selected to the all-tournament team. Davis was named tourney most valuable player.
"I know they were picked for the all-tournament team, but I wish Lexi (Alexis Keith) had been on that team," Mann said. "She was our best player this weekend. She really swings it, and had a great tournament."
Keith, also a senior, registered a match-high 14 kills in the final with Davis adding nine. Kaminsky led in blocks with four, senior Katie Koski in assists (24) and senior Halle Razo in digs with 18.
Horizon (8-4) was unbeaten in the tournament prior to the final match with seven wins and didn't lose a set in those seven. The runner-up finish was pleasing to coach Valorie McKenzie, who is seeing her team grow despite a slow power-ranking match start. Horizon entered the tournament 1-3 in power-ranking matches, including a four-set loss to Perry on Thursday.
"The first two weeks have been rough, but we are making a lot of improvement," McKenzie said. "This tournament helped us. We reboot and go from here. Perry really just picked it up the last two sets. We tried everything, but there was nothing we could do once they got rolling."
Jozlyn Byers led Horizon with seven kills and Karen Scanlon added six kills in the title match.
Rounding out the all-tournament team were Scanlon, Salpointe's Alex Parkhurst, Mesa High's Annie Hatch, Valley Christian's Courtney Dyer and Highland's Rylie Arms.
---