FOOTBALL: Southern Arizona picks with power rankings on the horizon
September 11, 2017 by Andy Morales, AZPreps365
---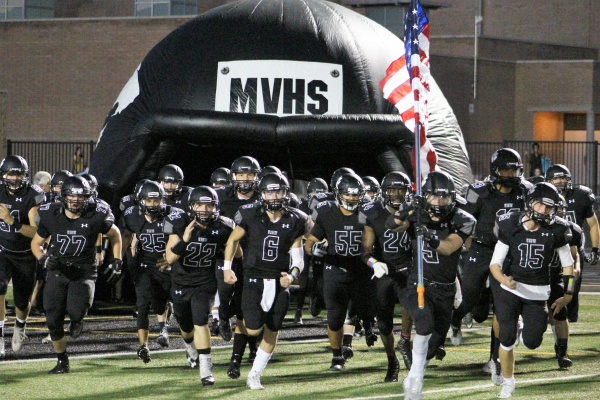 Mountain View Marana is one of several teams already in playoff mode. (Andy Morales/AZPreps365.com)
We are still two weeks away from the release of the initial AIA/MaxPreps power rankings (Sept. 26). Teams will obviously get a better grasp on where they stand as far as playoff hopes are concerned when the rankings are released but some teams should be in playoff mode right now.
Region play has started for some teams but the bulk of the region schedule will begin in two weeks. The region champions in 1A, 2A, 4A, 5A and 6A will earn an automatic berth to the state playoffs while 3A will take the top two teams in each region.
In the 6A Southern Region, the top team from the Yuma Sub-Region will play the top team from the Tucson Sub-Region at the end of the regular season. The winner of that game will get the automatic bid to the state playoffs.
Let's take a look at the top game from each conference from Southern Arizona along with the favorites from each of the 21 games scheduled:
Friday, Sept. 15
6A CONFERENCE
Tucson (2-2) at 5A MOUNTAIN VIEW (2-1)
Due to the importance of the 6A Southern Region, this game is not a do-or-die game for the Badgers but it will be big for seeding. The Mountain Lions, on the other hand, need to win this game as they begin to prepare for a difficult region schedule with powerhouses Cienega and Ironwood Ridge and a surging Buena squad.
Sunnyside (1-3) at 4A SALPOINTE (3-0)
4A Rio Rico (1-3) at RINCON/UHS (0-4)
5A CONFERENCE
Sahuaro (0-3) at DESERT VIEW (2-1)
The Cougars are 0-3 for the second year in a row. If the team loses to Desert View then it will be a repeat of the 0-4 start from last year and things will get even more difficult with Cholla, Buena, Cienega, Mountain View, Sunnyside and Ironwood Ridge on the schedule. Likewise, Desert View must keep pace with Marana, Cholla and Poston Butte out of the 5A Sonoran Region.
CIENEGA (3-0) at Flowing Wells (1-2)
4A Palo Verde (1-3) at CHOLLA (2-2)
Ironwood Ridge (4-0) BYE
Marana (2-2) BYE
Buena (3-1) BYE
4A CONFERENCE
PUEBLO (3-0) at Walden Grove (2-1)
The Warriors started out 4-0 in 1992 but finished 6-4 that year and the program started out 5-0 in 1958 and finished 9-1 to earn a mythical 2A state championship in the pre-playoff era. The 1961 state championship team started out 2-2 and finished 8-4 on the year. The Warriors are projected to go 8-2 in the regular season this year which will be the most successful year since the 1988 campaign that finished 9-0-1 in the regular season.
Walden Grove has to deal with Canyon del Oro, Salpointe and Catalina Foothills in the 4A Kino Region so a win here would be big also. The Red Wolves have never started out 3-1.
CATALINA FOOTHILLS (3-1) at 3A Empire (2-1)
Amphitheater (0-3) at CANYON DEL ORO (2-1)
DOUGLAS (0-3) at Nogales (0-3)
3A CONFERENCE
Santa Rita (0-2) at CATALINA (3-1)
The Trojan faithful would have to go back to 1974 to find a better start (4-0) for the program. The Trojans are battling Sabino, Pusch Ridge and Empire for the two automatic playoff spots available in the 3A South Region which means every game is a playoff game from here on out due to power points.
SABINO (2-1) at Tanque Verde (0-4)
Sahuarita (1-2) at PUSCH RIDGE (3-0)
2A CONFERENCE
Globe (2-2) at SAN MANUEL (3-1)
Are the Miners back? It's been five years since the team started out this well but 13 years since the program won a playoff game. Globe has beaten San Manuel two years in a row by an average score of 41-9.
SANTA CRUZ (2-0) at Tonopah Valley (2-1)
Arizona Lutheran (2-1) at WILLCOX (2-2)
BENSON (1-2) at Hatch Valley, NM (0-3)
BISBEE (1-2) at Veritas Prep (1-2)
TOMBSTONE (0-3) at Miami (0-4)
1A CONFERENCE
Ray (2-1) at VALLEY UNION (3-1)
The bad start for St. David has shifted all focus over to Elfrida Valley Union. A win here would solidify the Blue Devils as the top 1A team from Southern Arizona.
Baboquivari (0-3) at ST. DAVID (0-3)
---