FOOTBALL: Catalina moves to 5-1 while Cienega & Salpointe remain perfect
September 23, 2017 by Andy Morales, AZPreps365
---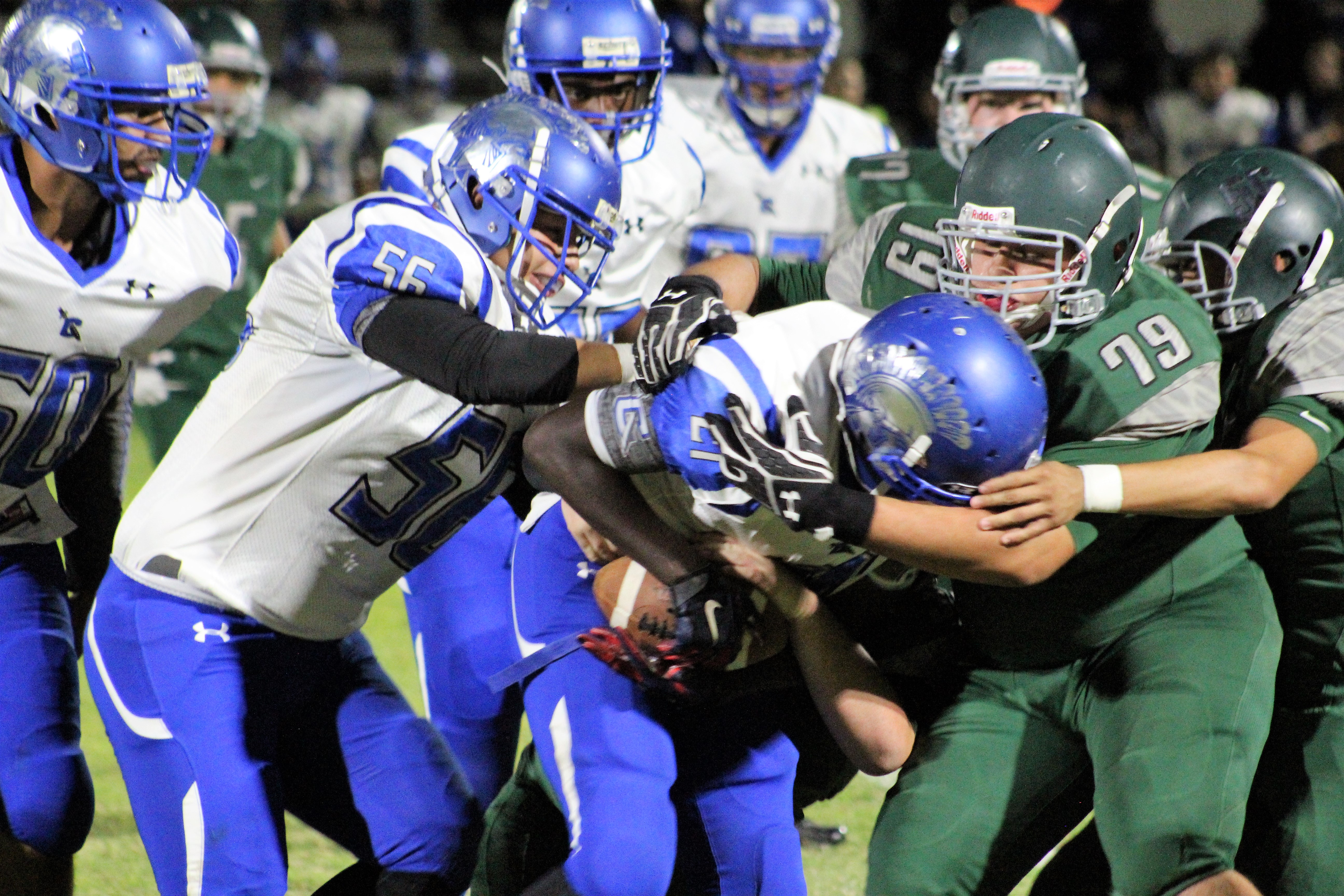 Tra Daniels gained 66 yards for Catalina. (Andy Morales/AZPreps365.com)
1974. That was the last time Catalina started out a season with a 5-1 record and, some 43 years later, the Trojans matched that mark after beating Tanque Verde 21-7 Friday night. The 1974 team finished 7-3 but did not make the playoffs under the old system.
The Trojans reached seven victories four times since 1966 and eight games once (1967) but it was the unlikely 5-5 squad from 2009 that finally broke through and earned a playoff spot. It is doubtful five wins will get a team in the playoffs this year and the Trojans will be tested right away with a trip to Sabino (4-1) coming next Thursday.
"5-1 is something we haven't reached since 1974," head coach Joseph Butler said to his players after the victory at Tanque Verde. "That was before I was born. We know we can play better and we have Sabino on a short week. If we can take care of the ball and show some discipline then we can be right up there."
Tanque Verde (0-6) came up with two interceptions and a fumble recovery against Catalina to keep the game close after Alexander Payne put Catalina up 7-0 on a 1-yard dash with 5:52 in the first quarter. Eric Teitelbaum came up with an interception to stall another Trojan drive and then Gavin Johnson picked off another pass to put the Hawks in position to tie the game.
Teitelbaum scored on a 13-yard run after the interception and both teams went into the locker room tied 7-7.
Malik Martin put Catalina up 14-7 on a 19-yard run with 1:55 left in the third but Jacob Jacome recovered a fumble to put the Hawks back in business to start out the fourth quarter. The Hawks drove down to the 16 but a costly sack on first down proved too much to overcome and the Trojans took the ball over on downs after a failed fake-field goal attempt.
The Trojans ran out the clock after driving 80 yards with Payne capping off the drive with a 13-yard score with 3.1 seconds left to make it 21-7.
Payne finished with 127 yards and two TDs, Tra Daniels added 66 yards rushing and Martin threw for 163 but Teitelbaum (45 yards rushing) and Jacome (55 yards rushing) gave the Hawks a fighting chance.
"We are a young team with a lot of inexperience," Teitelbaum said. "We came into this game knowing about their record but we were able to hang with them and it was a tough battle that we lost in the fourth quarter."
Teitelbaum is one of only four seniors on the team.
In other action, 5A Cienega improved to 5-0 as did 4A Salpointe. The Bobcats will host the Lancers next Thursday to settle the argument of which is the best team from Southern Arizona. Cienega beat Salpointe 51-14 last year and 34-31 the year before. Both victories are part of a 18-0 regular-season run and a 20-1 overall mark by the Bobcats dating back to Oct. 16, 2015.
The Lancers are currently riding an 11-1 run. This will be the last "Freedom" game for both squads.
Ironwood Ridge (5-1) lost to Queen Creek 35-28 in the final moments to fall out of the undefeated club but the Nighthawks will retain their top-three position from Southern Arizona for one more week with a resurgent Mountain View Marana (4-1) squad visiting next Thursday.
Marana improved to 3-2 with a huge win over Canyon del Oro but the Tigers could just as easily be 5-0 but a wild 42-35 loss to Ironwood Ridge to start out the season was followed by an even more bizarre 57-50 loss to Cienega the following week.
Pusch Ridge improved to 5-0 thanks to a late drive and 2-point conversion with under six minutes left to defeat Catalina Foothills 22-20 at home. This win should be reflected in the initial AIA power-rankings to be released on Tuesday, Sept. 26.
---