FOOTBALL: Salpointe clinches 4A Kino Region; Southern Arizona recap
October 21, 2017 by Andy Morales, AZPreps365
---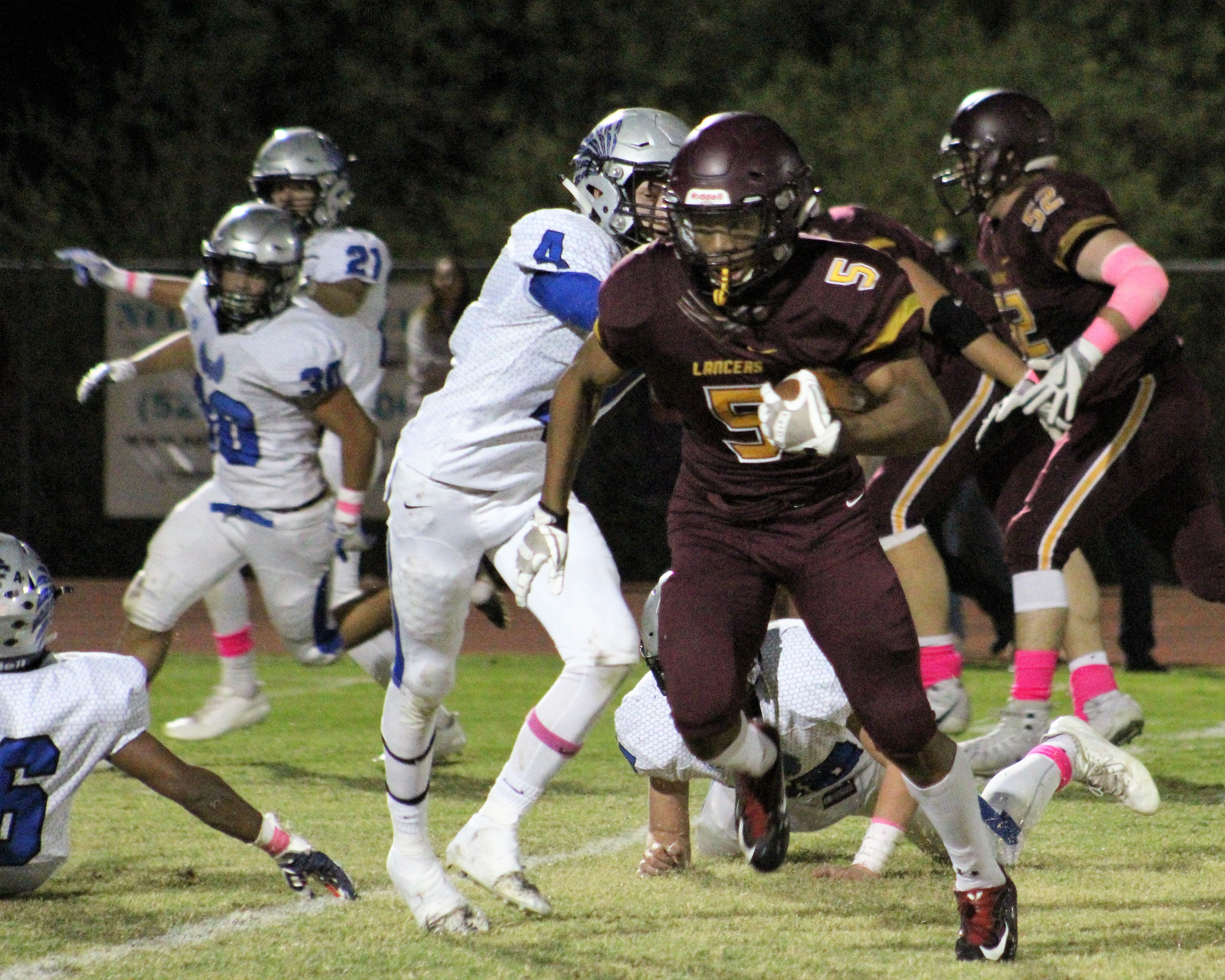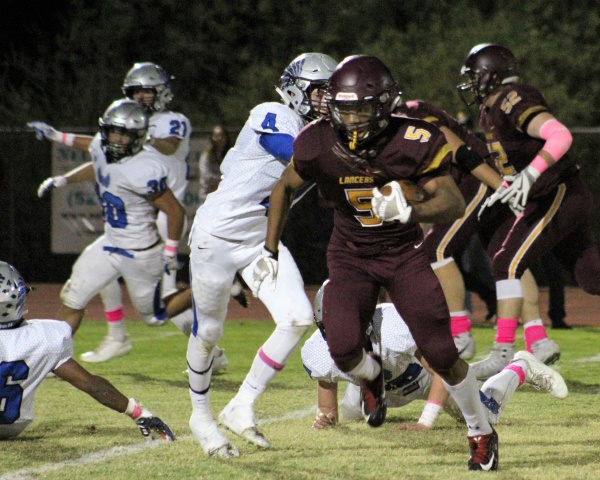 Bijan Robinson (Andy Morales/AZPreps365.com)
It was a high-stakes game coming in. No. 7 Catalina Foothills needed to beat No. 3 Salpointe to claim the 4A Kino Region title and the Lancers needed a win and a loss by No. 21 Canyon del Oro to make the same claim. In the end, Salpointe went home champions.
Salpointe standout Bijan Robinson gained 151 yards on the ground with three touchdowns. His 63-yard dash with 6:58 left in the first quarter opened up the scoring and the Lancers slowly pulled away for the 36-7 victory.
Robinson's partner on the gridiron, Mario Padilla, added 116 yards rushing and two more scores, including a 47-yard rip early on. Senior quarterback Rodrigo Nieto ran for another 64 yards and threw for 29, with Padilla collecting 19 of those reception yards.
"It feels good to get my juices flowing again," Robinson said. "I'm still getting to where I need to be and we are taking the rest of the way step by step."
Robinson missed the Cienega game on Sept. 28 due to an injury but the sophomore running back is still averaging over 12 yards a pop.
On the other side, Catalina Foothills played tough defense and only trailed 21-0 at the half. The Falcons went on an impressive 80-yard scoring drive to open up the third quarter with senior QB Chris Kowalcek punching the ball in from 5-yards out to cut the lead down to 21-7.
The momentum seemed to switch a bit but an interception by Sr. DB Derick Bush led to another Lancer score and the game got away from Falcons from there. Junior Lathan Ransom added another interception for the Lancers and Brandon Tamplin had one for Catalina Foothills.
Isaiah Bae finished with 77 yards rushing for Catalina Foothills and Kowalcek added 52.
The loss dropped Catalina Foothills to 6-3 overall and 2-1 in region play while Salpointe improved to 7-1 and 3-0. As mentioned before, Canyon del Oro was upset by No. 34 Nogales 22-13. The loss moved the Dorados down to 1-2 in region play, giving the Lancers the region title with only one game remaining in the regular season.
No. 18 Walden Grove might have to beat Catalina Foothills next week to get into the playoffs.
"I'm really proud on how you played the third quarter," Catalina Foothills head coach Jeff Scurran told his players after the game. "We are going to be fine and you've got to believe that."
No. 13 Pueblo is now 3-0 in the 4A Gila Region but No. 37 Amphitheater (2-7, 2-1) is still in the region hunt despite losing 34-8 to No. 41 Rio Rico Friday night. Pueblo will host Amphitheater next Friday
In 6A action, No. 14 Tucson will play No. 30 Cibola for the 6A Southern Region championship next Friday. At this rate, only the winner will move on to the state playoffs.
In 5A play, No. 3 Cienega survived another wild game and defeated No. 8 Ironwood Ridge 56-55 in overtime. No. 6 Mountain View Marana lost to No.22 Buena 49-48 in another overtime battle. This means Cienega (3-0) will host Mountain View (2-1) for the 5A Southern Region title next Friday.
One would have to imagine if No. 17 Sahuaro beat Ironwood Ridge next week then the Cougars will make the playoffs as an at-large team.
No. 9 Marana clinched the 5A Sonoran Region title last week.
No. 1 Pusch Ridge (5-0) won the 3A South title but No. 6 Sabino (4-1) and No. 12 Empire (4-1) will face off next Friday for second place and the second automatic berth from the region.
In 2A action, No. 4 Santa Cruz (4-0) won the 2A South Region. No 14 Willcox appears safe for an at-large berth but No. 15 San Manuel lost 50-34 to No. 21 Bisbee. The Miners need to beat Santa Cruz to get back in the playoff hunt.
---