Badminton: Perry dominates D-I; Weber repeats in D-II
October 21, 2017 by Les Willsey, AZPreps365
---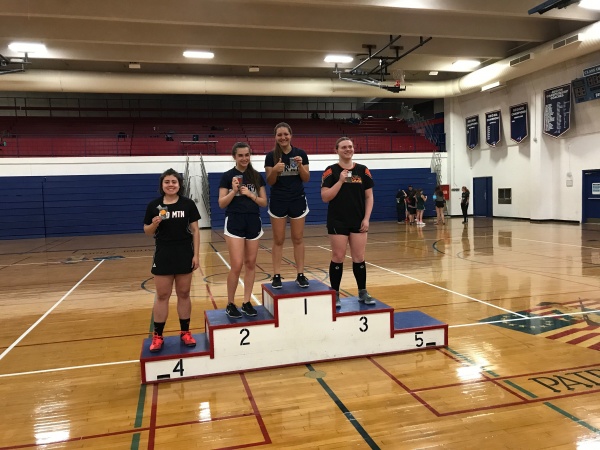 D-I badminton singles placers -- 1 Jillian Lagasca; 2 Julia Mumme; 3 Brennan Agnew; 4 Abby Mann.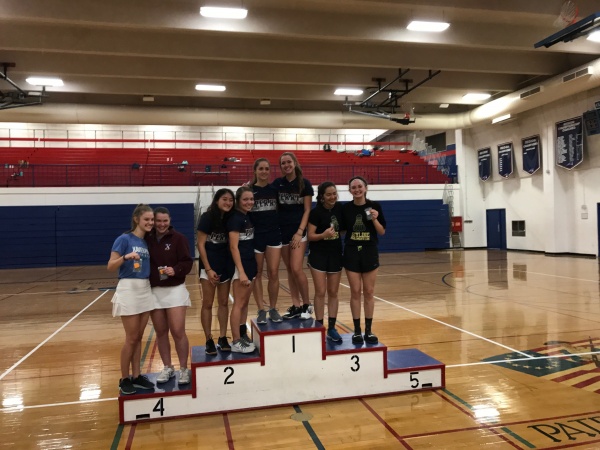 D-I badminton doubles placers -- 1 Megan Crow-Kylie Goldberg; 2 Jessica Read-Jordan Pierson; 3 Ana Munoz-
Michaela Daas; 4 Maddie Reinhart-Alexa Wolfson.
There were some strange occurrences Saturday at the 2017 DIvision I and Division II badminton singles and doubles finals.
There was D-I Perry High nabbing all four places in singles and doubles competition That made Perry coach Lerina Johnson one happy camper. Noone in attendance with a long history in the sport could recall such a thing. Then one of Perry's doubles teams -- the unseeded one -- wound up winning the championship knocking off their top-seeded brethern in the final.
For a bit of diversity the eight spots -- four singles and four doubles in D-II -- were represented by eight different schools in contrast to D-I's heavy Perry flavor. Capping the day was a not rare, but not very often repeat state champ. That took place in D-II singles where Mesquite's Natalie Weber was the gold-medal winner. Quite a day at Independence High School.
The story of the day was the doubles title claimed by Perry's unseeded doubles team of Megan Crow and Kylie Goldberg. It's often hard for one school to get two of its doubles teams seeded in the top eight and that fate befell Crow and Goldberg. They often scrimmaged top-seeded teammates Jordan Pierson and Jessica Read during the season and just about broke even with them when those battles took place.
Identified as the Pumas No. 2 doubles team and skeptics thinking they couldn't reach the final four or perhaps even the quarterfinals was ammunition for the duo all weekend.
"We definitely took our role as underdogs to heart," Crow said. "I think when we played (Jordan and Jessica) during the season we won about half the time. The spurred us on. It was the best thing for us. We both are super competitive, and we wanted to prove ourselves We played the best we ever have in this last match."
Their championship didn't come without a dire semifinal situtation. Taking on No. 2 seed Maddie Reinhart and Alexa Wolfson of Xavier Prep in the semis, they trailed 10-2 in the decisive third set. They pulled within 14-9 and proceeded to stave off six match points before reeling off seven points in succession over several service breaks to advance to the final.
In the D-I singles final, Perry No. 7 seed Julia Mumme couldn't sustain a run that saw her knock off No. 2 seed Maggie Trias of Skyline in the quarterfinals and next No.6 Brennan Agnew of Corona del Sol in three sets. Mumme fell to top-seed teammate Jillian Lagasca, 11-2, 11-4. Lagasca placed fourth in singles in 2016. All of Perry's state placers are seniors except Mumme, who is a junior.
The repeat by Mesquite's Weber wasn't without some initial anxiety on the part of the Wildcats senior. She fell behind Washington No. 2 seed Jordan Ludwig, a sophomore, 4-1. From that point forward Weber found her groove taking the opening set 11-6 and closing in out swifly, 11-1, in the second.
"I often have trouble with starting slow," Weber said. "It got my attention pretty fast. I told myselt I have to get going." Weber finished the season 30-0 and swept all five of her tournament matches.
The D-II doubles final didn't last long courtesy of a dominating performance by Chaparral seniors Jerikah Davis and Taylor Alphabet. They dispatched Cactus' No. 2 seed Nicole Osteen and Emma Dinnigan, 15-3, 15-1. Davis and Alphabet also didn't lose a set on the way to their title.
Capping the D-I medal winners: Third- and fourth-place, respectively, went to Agnew a three-set winner over Red Mountain's Abby Mann, 9-11, 11-4, 11-7.Doubles third place rested with Skyline's Ana Munoz and Michaela Daas, who topped Xavier's Reinhart and Wolfson, 1-15, 15-13, 15-8.
Cappintg the D-II medal winners: Third- and fourth-place, respectively, went to Sunnyslope's Claire Pishko, 11-9, 9-11, 11-9 over Prescott''s Abby Nelson. Doubles third place was captured by Greenway's Nicole Rearick and Kaycee Boofer, 15-8, 15-12 over Independence's Cierrah Hernandez and Deja Kennedy.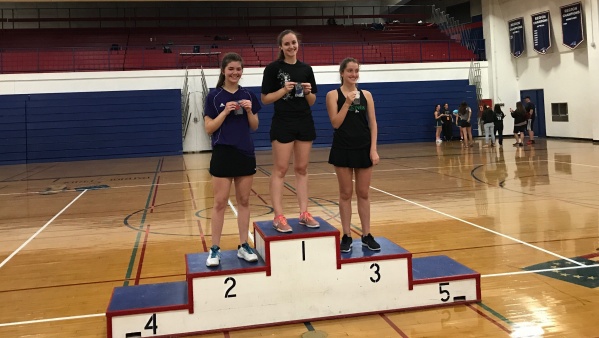 D-II badminton singles placers above - 1. Natalie Weber; 2 Jordan Ludwig; 3. Claire Pishko. 4 -Not pictured Abby Nelson
D-II badminton doubles placers below - 1 -- Jerikah Davis-Taylor Alphabet; 2 Nicole Osteen-Emma Dinnigan;
3. Nicole Rearick-Kaycee Boofer; 4 Cierrah Hernandez-Deja Kennedy.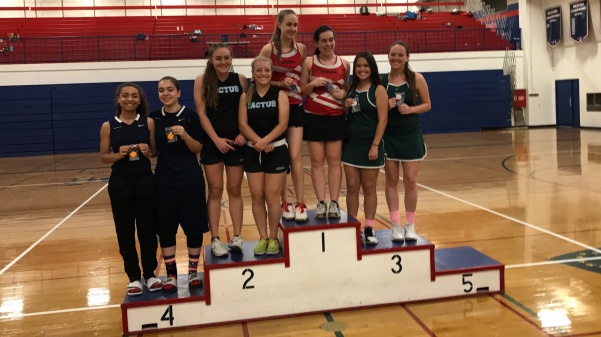 ---