SOCCER: Brandon Bean update
November 27, 2017 by Andy Morales, AZPreps365
---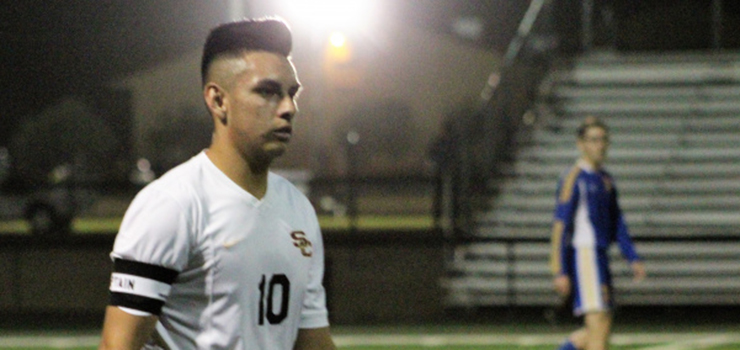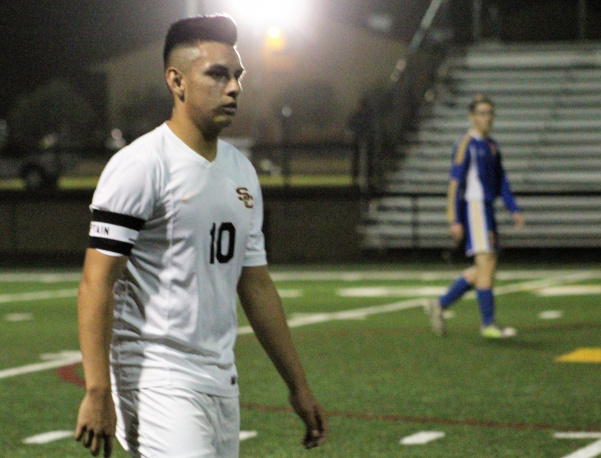 Alfonso Cabrera scored four goals for Salpointe. (Andy Morales/AZPreps365.com)
The Brandon Bean Soccer Invitational is held every year to honor Brandon Bean, a former Salpointe player who passed away in 1992 after an on-field collision at a soccer scrimmage. In addition, the tournament also honors Laura Kea, a former Lancer who died in an auto accident on her way to a soccer tournament.
16 girl's teams and 16 boy's teams are taking part in the invitational held at various venues in Southern Arizona. The quarterfinals, semifinals and championships will be held at Salpointe on Friday and Saturday.
The Salpointe girls hosted Sahuarita on Monday and the Lancers came out on top 8-1:
SAL: Sienna Gonzalez (Aryanna Sanchez) 8th
SAL: Isabella Almazan (Paloma Teran) 19th
SAL: Sanchez 20th
SAL: Emily Valenzuela (Almazan) 31st
SAH: Alicen Barney (FK) 34th
SAL: Samantha Romo 37th
SAL: OWN 43rd
SAL: Teran 48th
SAL: Catalina Alvarado (Grace Kaufman-Fuller) 52nd
Kelly Pierce is in her first year at Salpointe after spending the last four years coaching Mountain View Marana.
Salpointe won the 4A girl's state soccer championship last year under the leadership of Becky Freeman (59-10-3). Freeman resigned from her position to spend more time with her young family and the program turned to the former Lancer standout.
Arguably one of the top three players to ever come out of Tucson, Pierce was part of Salpointe's back-to-back state championships as a defender in 1998 and 1999 before she went on to play for Pima and then the Sonoran Thunder of the Women's Premier Soccer League (WPSL).
She came back to the sport after starting her family and she starred for the Tucson Soccer Academy FC (now FC Tucson Women) where she earned national recognition with All-WPSL honors as a defender in 2014. Pierce was also named to the All-West Team and was named a Pacific South All-Star.
"I'm happy with the win and I think we played well and possessed the ball well but there are some things we have to work on," Pierce said. "We are going to get everyone's best game this year, so we have to play it game-by-game and not lose focus."
Other girls scores:
Cienega 7, Canyon del Oro 0
Tucson 3, Sabino 0
Catalina Foothills 6, Flowing Wells 0
Sahuaro 1, Mountain View 1
Ironwood Ridge 1, Rincon/University 0
Buena 2, Douglas 1
Walden Grove 7, Desert View 1
The Salpointe boys defeated Sahuarita 7-0 in the late game thanks in part to four goals scored junior captain Alfonso Cabrera. Cabrera recorded a hat trick in a five-minute span in the first half:
SAL: Esteban Manzo 20th
SAL: Kobe Bosley (Alfonso Cabrera) 22nd
SAL: Carlos Arizpe (Pablo Rebeil) 25th
SAL: Cabrera (Eric Galindo) 27th
SAL: Cabrera 28th
SAL: Cabrera (Hunter Knox) 32nd
SAL: Manzo (Damian Villa) 37th
SAL: Cabrera (Galindo) 42nd
"We had a hard time moving the ball in the first 20 minutes but we played well after that," Cabrera said. "I'm feeling pretty good and I'm in better shape this year. I think we are going to do well."
Other boys scores:
Flowing Wells 4, Catalina Foothills 1
Cienega 3, Marana 0,
Desert View 4, Walden Grove 1
Douglas 2, Buena 1
Rincon/University 5, Ironwood Ridge 0
Tucson 1, Sabino 1
Sahuaro 2, Mountain View 1
NOTES
Brandon Bean's nephew, Colin Dreis, is a 6-6 junior lineman for the Salpointe football team. Beans' father, Doug Bean, has recently returned to officiating soccer and will officiate some of the games in the invitational.
---