Girls hoops: Mountain Pointe outlasts Perry, 62-57
December 7, 2017 by Les Willsey, AZPreps365
---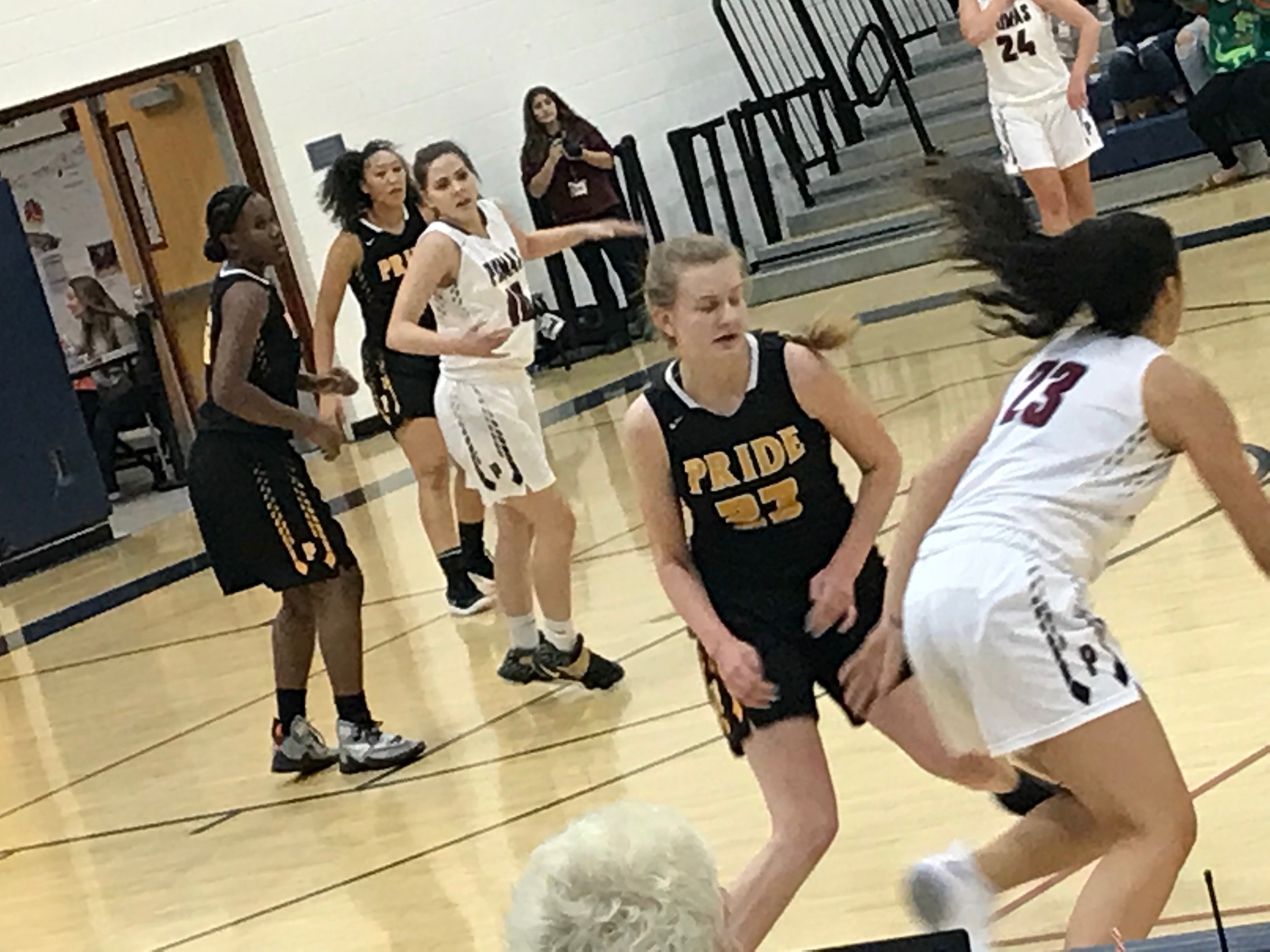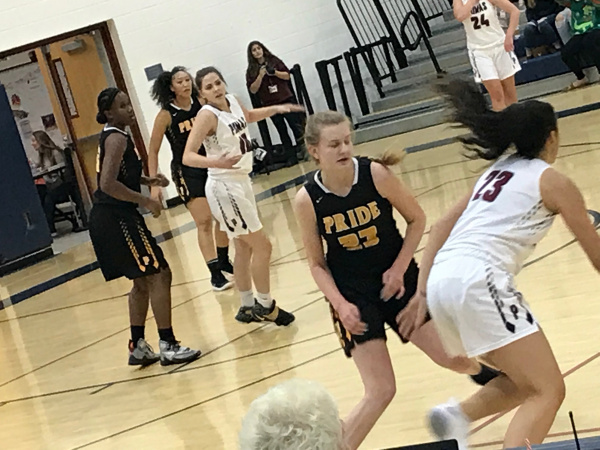 Mtn. Pointe's Eve Kulovitz (defends Perry's Shayla O'Neill in Pride's 62-57 win. (AzPreps365 photo)
Mountain Pointe and Perry engaged in an up-tempo clash Thursday night and only when the pace slowed in the final two and half minutes did the more veteran Pride hang on to top the wet-behind-the-ears Pumas.
Senior Eve Kulovitz made three of four free throws in the final two minutes to break a tie and allow the Pride to outlast Perry, 62-57, in an entertaining 6A girls hoops game at Perry. Kulovitz led Mountain Pointe with 20 points, Senior teammates Isela Enriquez and Kayci Johnson added 10 points each as did freshman center A'Laysha Clark.
Mountain Pointe improved to 7-3 overall and 3-2 in power-ranking games. The Pride with several seasoned players from last year's semifinal run in the playoffs, executed better with the game on the line and tied at 57 in the final 2:57 of play. Perry is trying to have one of its better season's ever and has the makings. The Pumas played .500 ball last year and made it to the first-round of state.
"i told our girls there would be a lot of possessions and at some point ball security would be big," Mountain Pointe coach Justin Hager said. "We did a good job of that the last couple minutes when we had to. They responded with Izzy (Enriiquez) out of the game."
Perry (5-3 overall, 1-3 prg) tied the this ping-pong game for the last time on two free throws by freshman Grace Oken. Oken is one of six freshmen on second-year coach Andrew Curtis' roster and all of them play. She drew the fifth foul from Enriquez.
Mountain Pointe ran 44 seconds off the clock after Oken's free throws fighting off good defensive pressure by Perry. Perry fouled 20 seconds later to get the ball back, sending Kulovtiz to the line. She made 1 of 2 (9-of-10 from the stripe for the game) for a 58-57 lead.
Perry senior Kayli Claflin missed a three on the next possession and Mountain Pointe gained control and ran the clock down 27.5 seconds. Finally at 20.9 seconds left ,the Pumas fouled Kulovitz, who sank both to make it 60-57.
Perry ran time off the clock and called time with 10 seconds left to set up a play that might earn them a tie. The Pumas got the ball to Claflin, who had space near the left corner. In her haste to back up a couple feet and launch a three she shuffled her feet turning the ball over. Mountain Pointe's Teani Russell got fouled and made the game's final points - a pair of free throws with 6.8 seconds left.
Perry's offense was led by freshman Tatyanna Clayburne with a game-high 22 points followed by Oken with 10. Both teams shot exceptionally well from the free-throw line -- Mountain Pointe was 15-of-20 and Perry 18 of 21.
The freshman who who didn't play for Perry was 5-11 guard Madison Conner,. Conner is already opening eyes averaging 18.5 points a game with an invitational tourney MVP to her credit prior to Thanksgiving. Conner is nursing an injured hand and has missed the last two games
---