Visit Mesa Basketball Challenge update
December 27, 2017 by Les Willsey, AZPreps365
---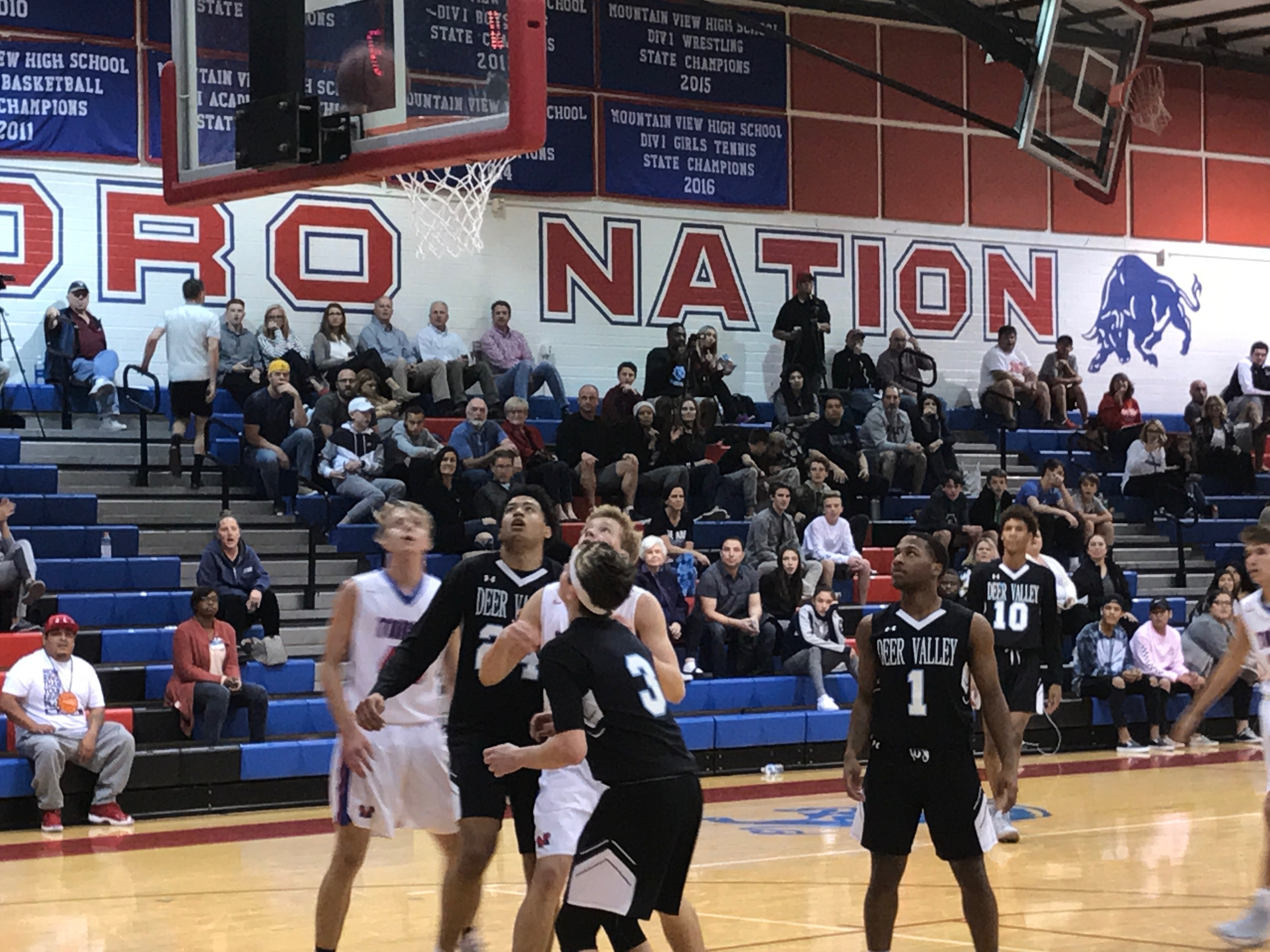 Brophy Prep ran its perfect record to 10-0 gradually pulling away from Rancho Solano to post a 66-51 victory on Wednesday at the annual Visit Mesa Basketball Challenge at Mesa Mountain View High School.
Senior Jaxson Baker led Brophy with 19 points, splitting his scoring evenly in each half. Senior Ian Burke and senior Xavier Juniel added 12 points apiece with Burke grabbing a team-high seven rebounds. Brophy trailed early by a few points, but by halftime took control at 34-22 lead. The lead reached as many as 18. Nick Jackson paced Rancho Solano with 13 points and had 11 rebounds as the Mustangs lost for only the third time in 14 games.Brophy is the top-ranked team in 6A according to the latest power rankings, while Rancho Solano is No. 5 at the 2A level.
PERRY 75, RED MOUNTAIN 71: The Pumas (5-9) added to a two-point lead in the final 10 seconds thanks to a technical foul on the Mountain Lions (8-5) and the two ensuing free throws that clinched the win. Jalen Williams poured in 33 points to lead Perry, which buried 13-of-19 3-point field goals in the game. Williams made 7-of-8 threes. Bauer Bondgard (15 points) and CJ Jamerson (11 points) also hit in double figures. Tate Speaker scored seven points and had 11 rebounds in reserve. Kyle Patterson, playing in his first game after sitting out due to the transfer rule, scored seven points in his debut. Red Mountain's Timmy Allen led all scorers with 36 points and teammate Andre Harris added 18. All of Harris' points came in the second half.
MISSION PREP CA 79, HIGHLAND 72: The Royals (6-2) nearly buried the Hawks (7-5) in the first half building a 16-point lead, but had to outlast a second-half rally to prevail in the invitational's opening game. Mission Prep's Kyle Colvin led all scorers with 34 points -- 29 in the second half. He made 15 of 19 free throws. Highland ended up with four players settlling in double figures scoring -- Jarrett Gray 16, Connor Peterson and Justin Stidhum 14 each and TJ Walker 10.
FEDERAL WAY WA 69, WESTVIEW 49: The massive Eagles (9-0) led from start to finish in beating the Knights (10-4). Six-foot-5 Etan Collins tallied 20 points 12 rebounds and 6-9 Jaden McDaniels added 16 points and 11 boards for Federal Way. Federal Way has one player on its roster who is under six-feet tall. It outrebounded Westivew, 47-19. D'Maurian Williams and Christian Diaz shared scoring honors for Westview with 21 points apiece.
SUNNYSLOPE 46, BASHA 31: The injury-plagued Vikings (13-2) outlasted the Bears (7-8) behind 16 points from Abayev Allen in a batlle of last year's 5A and 6A champions, respectively. Jake Moore led Basha with 11 points. Basha dug a deelp hole, trailing 20-6 after the first half.
PLEASANT GROVE UT 52, MERCER ISLAND WA 31: Kael Mikkelsen scored 13 points and Mat Van Komen added 10 to lead Pleasant Grove to victory. Griffen Emanuels connected for 14 points to pace Mercer island.
MOUNTAIN VIEW 64, DEER VALLEY 57: Copper Richeson hit back-to-back threes late to push a two-point lead to eight in leading the Toros (9-4) past the Skyhawks (12-2). Kaleb Doka led all scorers wtih 20 points for Mountain View and teammates Grant Peterson and Adam Pierce added 11 points apiece. Bryce Davis led Deer Valley with 12 points.
ORANGE LUTHERAN 76, CHAPARRAL 74: Orange Lutherna fashioned a 10-point halftime lead and hung on down the stretch to edge the Firebirds (6-7). Isaiah Pope poured in 22 points, Josh Griffn 19 and Cade Potter 14 for to lead Orange Lutheran. Hot-shooting Alec Bryan score 29 points, including seven 3s for Chaparral. Teammate Blaise Threatt added 21 points and 10 rebounds.
.
---