GIRLS SOCCER: Palo Verde Invite update
December 27, 2017 by Andy Morales, AZPreps365
---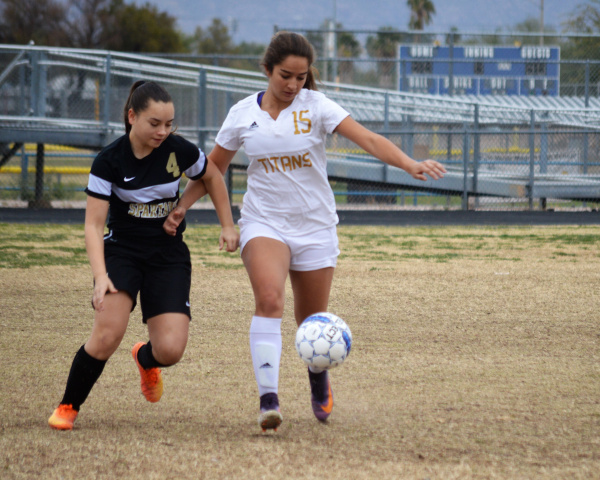 Tristan Davis battles Marilyn McFeaters for the ball. (Andy Morales/AZPreps365.com)
Palo Verde Girls Soccer Invitational
Dec. 27-30: Palo Verde
The first day of the Palo Verde Girls Soccer Invitational got underway Wednesday at Palo Verde High School. Pool play will continue Thursday and Friday with bracket play scheduled for Saturday afternoon.
According to tournament scoring rules, Douglas leads all teams with 10 points due to a 5-0 shutout over Cholla in the second game of the day. Sahuarita beat Sunnyside 3-2 to net nine points in the last match of the day and Palo Verde beat Vista Grande 1-0, giving the Titans eight points in the morning match.
Teams collect six points for a win, one point for every goal scored up to three and one point for a shutout.
Junior Marilyn McFeaters scored from 20 yards out in the 13th minute to give the Titans their 1-0 margin of victory. The midfielder led an attack that included 15 shots against Vista Grande.
"We are still trying to put it together," McFeaters said on the lone goal despite dominating field position and shots on goal.
"Our coaches are doing a great job of putting us on the field in a position to reach our potential and there is a lot of good pressure on me to be a leader. I'm doing my best for my team, they're my family now," McFeaters added.
Wednesday, Dec. 27
Palo Verde 1, Vista Grande 0
Douglas 5, Cholla 0
Sahuarita 3, Sunnyside 2
Thursday, Dec. 28
Palo Verde vs. Sunnyside, 11 a.m.
Sahuarita vs. Cholla, 12:45 p.m.
Douglas vs. Vista Grande, 2:30 p.m.
Friday, Dec. 29
Cholla vs. Palo Verde, 11 a.m.
Sunnyside vs. Vista Grande, 12:45 p.m.
Sahuarita vs. Douglas, 2:30 p.m.
Saturday, Dec. 30
No. 6 vs. No. 5, 11 a.m.
No. 4 vs. No. 3, 12:45 p.m.
CHAMPIONSHIP
No. 2 vs. No.1, 2:30 p.m.
---