Shaylee Gonzales breaks into 2,000-point club; Lindsey VanAllen drawing near
January 7, 2018 by Andy Morales, AZPreps365
---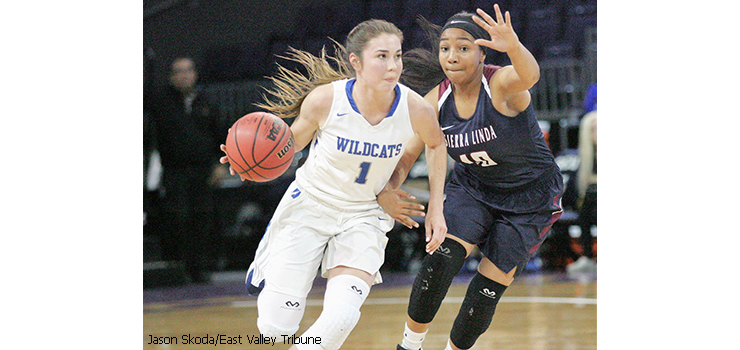 Buena junior Kino Bellinger has 997 career points and is set the be only the third Colt to break 1,000-career points when the team hosts Ironwood Ridge on Tuesday, Jan. 9.
BUENA CAREER SCORING LEADERS
Marc Matthews (2009-2012) 1,374
Rod Springer (2012-2015) 1,113
Devonte Malcolm (2008-2011) 1,028
Kino Bellinger (2015-current) 997
GIRLS FROM AROUND THE STATE
Mesquite standout Shaylee Gonzales has 2,049 career points, putting her (momentarily) 23rd on the Arizona all-time scoring list. At her average of about 20 points a game, the BYU commit could break into the top ten. The tenth spot is held by former Corona del Sol standout Marie Folsom (1994) with 2,270. Mesquite (13-3) is the top-ranked team in the 5A Conference.
Mesquite senior guard Lindsey VanAllen has 1,945 career points and is on track to be the 25th girl in the history of Arizona basketball to break into the 2,000-point club. She has a chance to break that mark against Xavier Prep on Friday, Jan. 12. VanAllen has committed to Santa Clara.
Arcadia senior Bryce Nixon has 1,856 career points. The guard is on schedule to break into the coveted 2,000-point club in late January or early February. The 5-foot-10 guard committed to play for the University of Arizona.
Gilbert point guard Haley Cavinder has 1,299 career points. The junior standout passed the 1,000-point mark against Mesquite on Nov. 24. Her sister Hanna Cavinder has 1,234 career points and she passed the 1,000-point mark four days later against Boulder Creek. The Tigers have a 15-2 record and a No. 4 ranking in the 6A Conference.
Valley Christian senior Anna Gorman has 1,466 career points and should pass the 1,500-point mark at home against North Point Prep on Jan. 12.
Valley Vista senior Taylor Chavez has 1,672 career points. 2,000 points may be out of reach but impressive career so far.
Williams Field senior Lacee Jenkins broke the 1,000-point mark against Glendale on Dec. 18. The guard has 1,113 career points.
Desert Edge senior Mackenzie Kinsel has 906 career points. Kinsel is on track to break 1,000 career points at home against Agua Fria on Jan. 23. Kinsel is rated as the fifth best Native-American player in the country according to D1nation.com.
Scottsdale Christian junior Kylie Hearn scored 27 points against Arizona Lutheran Academy on Friday, Jan. 5 to break 1,000 career points. She now has 1,017.
Fort Thomas senior Kaitlynn Hinton has 881 career points. Hinton is on schedule to break 1,000 career points on Jan. 22.
Sunnyside senior Daisy Cornidez has 887 career points and could reach the 1,000-point mark near the end of the season.
Millennium junior Dominique Phillips has 1.036 career points. Phillips broke the 1,000-point mark playing in the Vegas Holiday Tournament over the winter break.
Pueblo senior Alicia Reyes has 1,402 career points.
Centennial senior Taylor Leonard has 1,314 career points.
Pueblo senior Ilyssa Diamond Galindo has 1,265 career points.
Desert Ridge senior Sentia Bryant has 1,146 career points.
Empire junior Emily Shreves has 1,116 career points.
Arizona Career Scoring Leaders: Boys (ABCA)
1 Corey Hawkins, Estrella Foothills (3,154) 2007-10
2 Mike Bibby, Shadow Mountain (3,002) 1993-96
3 Terrell Stoglin, Santa Rita (2,901) 2007-10
4 Jerryd Bayless, St. Mary's (2,888) 2004-07
5 Daniel Bejarano, North (2,642) 2007-10
6 Chuck Overton, Cholla (2,535) 1989-92
Arizona Career Scoring Leaders: Girls (ABCA)
1 Julie Brase, Catalina Foothills (2,913) 1994-1998
2 Kayla Pedersen, Red Mountain (2,611) 2003-2007
3 Christina Wirth, Seton Catholic (2,550) 2001-2005
4 Ashley Wirtzberger, Yuma Catholic/Gila Bend (2,505) 2006-2010
5 Alexis Cortez, Tucson (2,479) 2012-2016
6 Nicole Powell, Mountain Pointe (2,478) 1996-2000
7 Olivia Snyder, Green Fields (2,382) 2009-2013
8 Alyssa Wahl, Cibola (2,366) 1999-2003
9 Wendy Woudenberg, Scottsdale Christian (2,295) 2001-2005
10 Marie Folsom, Corona del Sol (2,270) 1990-1994
11 Brooke Jackson, Mesa Mountain View (2,250) 2003-2007
12 Desirae Gonzalez, Kingman (2,242) 2012-2016
13 Dymond Simon, St. Mary's (2,189) 2002-2006
14 Sydni Stallworth, Palo Verde (2,182) 2011-2015
15 Shawn Coder, Willcox (2,162) 1986-1990
16 Amy Showers, Camp Verde (2,161) 2001-2005
17 Najiyyah Pack, South Mountain (2,119) 2012-16
18 Sonia Bribiescas, Superior (2,109) 1984-1988
19 Paula Pyers, Santa Rita (2,082) 1980-1984
20 Theresa Wirth, Seton Catholic (2,080) 2007-2010
21 Kalie Matthes, O'Connor (2,068) 2008-2012
22 Camille Zimmerman, Tempe Prep (2,054) 2010-2014
23 Shaylee Gonzales. Mesquite (2,049) 2014-2018
24 Taneisha Gossett, Flowing Wells (2,043) 1990-1994
---