Girls hoops: Mesquite outlasts Xavier Prep, 65-62
January 12, 2018 by Les Willsey, AZPreps365
---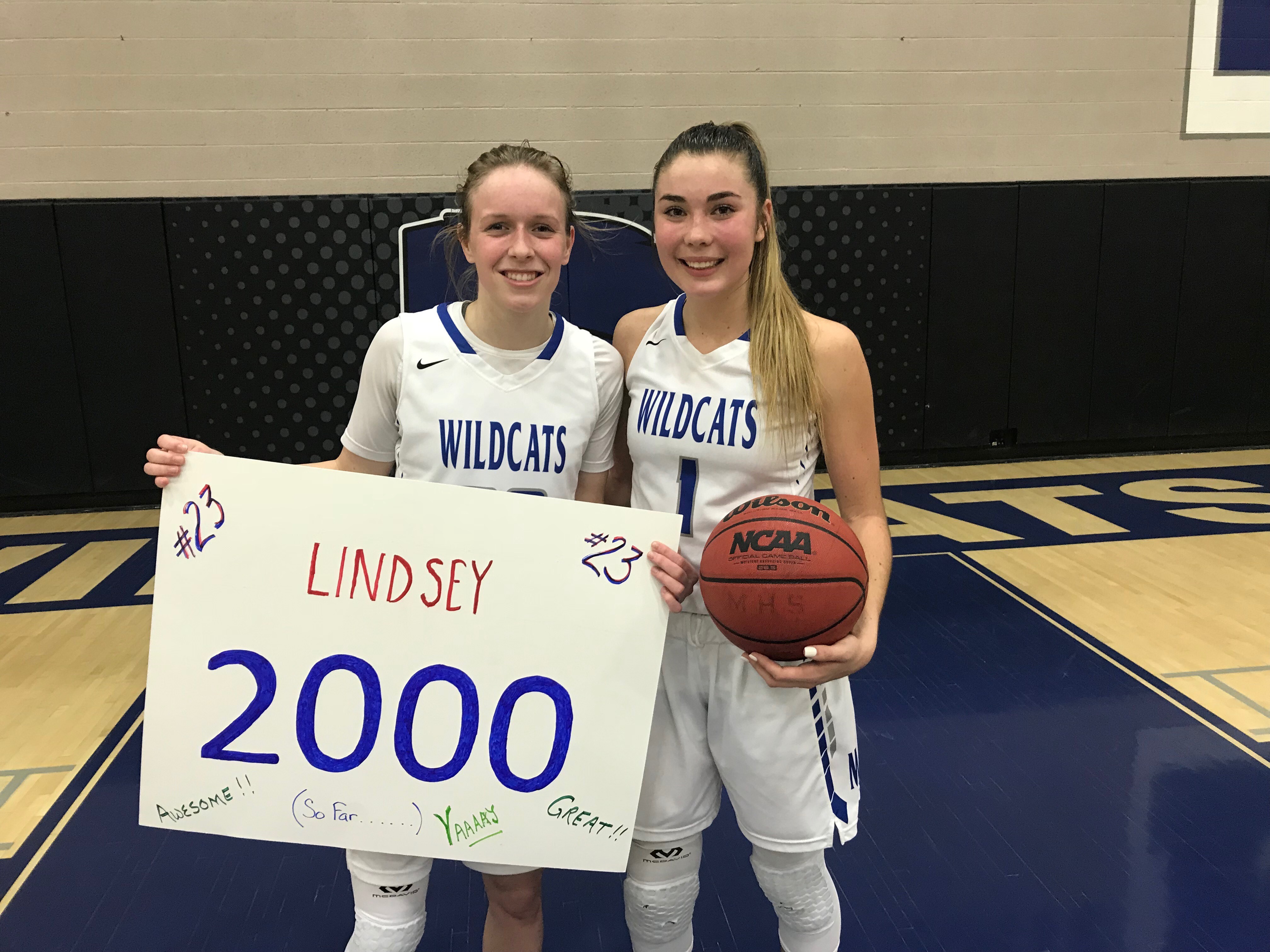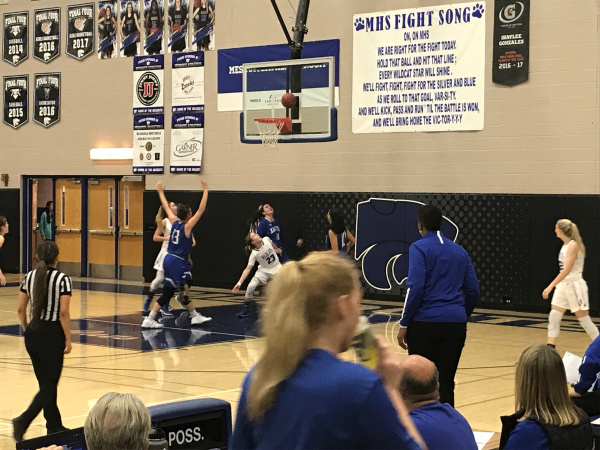 Mesquite's Lindsey VanAllen (23) scores on twisting layup for points 1,998-1,999 (AzPreps365 photo)
Mesquite's Hailey Walker didn't have much time to redeem herself. With 1:08 left in Friday's matchup of top teams from 6A and 5A, Walker got to the free-throw line for a one-and-one trying to get her squad even with Xavier Prep.
Walker failed to make the front end, but teammate Zyan Smith came up with the rebound. Thirteen seconds later Walker got free long enough to let loose a 3 right of the key and connected to give the Lady Wildcats a 62-61 lead. Walker checked in with two more heroics before the final buzzer as Mesquite outlasted Xavier, 65-62, in a heart-stopper at Mesquite High.
The victory made it more enjoyable for all Walker's teammates, but especially senior guard Lindsey VanAllen, who joined senior teammate Shaylee Gonzales in the 2,000-career point club late in the second quarter. Mesquite coach Candice Gonzales called a 30-second timeout after VanAllen's seventh and eighth points of the game not to talke strategy, but to give the game announcer time to relay the feat to the crowd. VanAllen led Mesquite with 27 points, all in the final three quarters.
But back to Walker. The versatile senior guard added to her productive final minute by sneaking in for a steal of an inbounds pass at midcourt with 34 seconds left. Walker missed a shot after the steal, but with 22 seconds was fouled and made both ends of this one-and-one to improve the advantage to 64-61. Walker totated 13 points -- 10 in the second half. She made 3 of 4 3-point shots -- the only threes Mesquite (16-3) made in the game.
Xavier's 6-foot-power forward Montana Oltrogge, who enjoyed a monster game with a game-high 28 points, drew a foul with six seconds left. Oltrogge made the first shot but it was waived off for stepping over the free-throw line. She made the second cutting the deficit to 64-62.
Shaylee Gonzales (15 points) made one of two free throws for the game's final points with five seconds left. Xavier wasn't able to get off a worthy shot at the buzzer.
Candice Gonzales had to take a couple deep breaths even minutes after the game ended. It was the kind of game that that got everyone's heart pumping. a little faster.
"Everybody that walks in here has their guns up for us," Candice Gonzales said. "Our plan was to look for layups and utlilize their bigs. We missed a lot of layups and didn't take many threes."
Oltrogge scored all her points (11) in the first half in the paint, but put on a show along with guards Leilani McIntosh (21 points) and Addy Putnam (12 points) from the perimeter after intermission to help Xaver (16-4) overcome a double-digit deficit. Oltrogge made 3 threes in the second half, Putnam four threes in the game (two in each half) and McIntosh hit two threes in a short span in the third period.
---