FEBRUARY FRENZY: Play-In Tournament recap from Southern Arizona
February 8, 2018 by Andy Morales, AZPreps365
---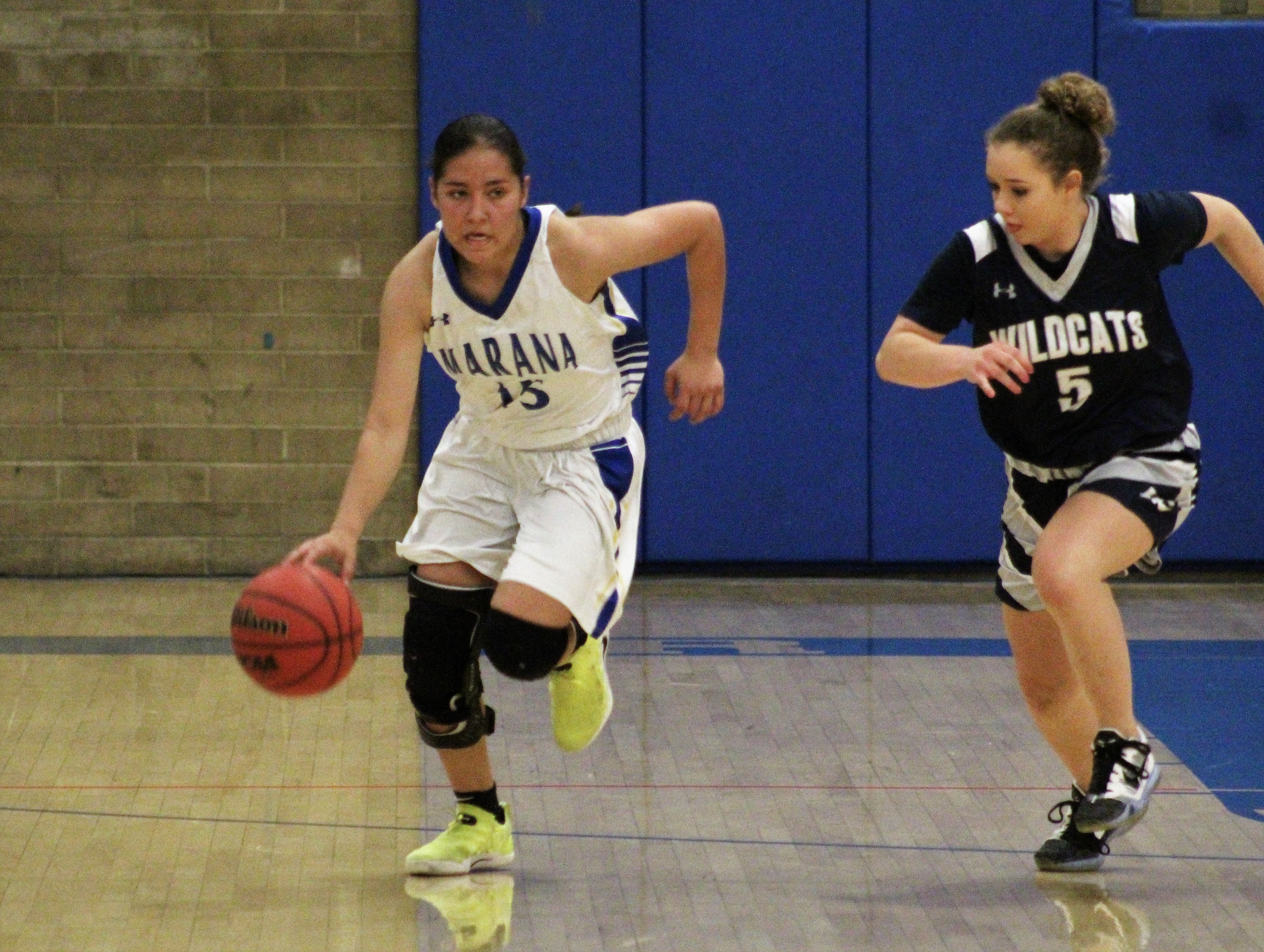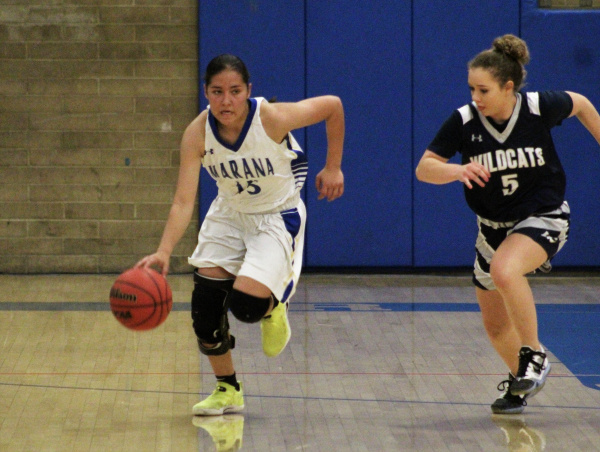 Marana standout Alyssa Perez led the Tigers against Emma Hanson and Willow Canyon. (Andy Morales/AZPreps365.com)
Eight teams from Southern Arizona survived the 4A, 5A and 6A play-in tournaments held Thursday night including a clean sweep from the 4A Conference.
No. 9 Rio Rico, No. 10 Salpointe and No. 14 Canyon del Oro held court as higher seeds and No. 21 Nogales beat No. 12 Buckeye 58-55 to provide the biggest upset of the night from all three conferences. The four teams from Southern Arizona will join Pueblo in the 4A state playoffs, scheduled to start on Tuesday, Feb. 13.
No. 9 Tucson will be the only 6A team from Southern Arizona participating in the state tournament thanks to a 54-38 win over No. 24 Desert Vista. Freshman guard Ahidali Dehuelbes scored all 18 of her game-high points in the second half to lead the Badgers.
In 5A action, No. 10 Marana, No. 11 Cienega and No. 12 Ironwood Ridge will join Sahuaro in the state playoffs with Marana coming on strong in the third quarter to avoid an upset against No. 23 Willow Canyon.
Willow Canyon led 17-13 at the break, with the Tigers limited to four points in the second quarter, but Alyssa Perez scored eight points in the third to help lead Marana to a 31-23 margin heading into the fourth quarter.
Perez would finish with a game-high 16 points and Baylee Slaughter added 11 to help the Tigers pull away for the 48-35 win. The Wildcats were led by Kaylee Kriwer with 13 points and Lexie Pumel with nine.
"We came out and forced too many shots and they took us by surprise by running with us," Perez explained. "We didn't drop our heads and we pushed back."
Perez missed part of the season recovering from an injury but the Tigers still managed to finish 16-3 in power-point games and 8-0 to win the 5A Sonoran Region. Marana, like all teams, will be watching the AIA Bracket Show on Saturday at 4:30 p.m.
The 4A, 5A and 6A play-in tournaments from the boy's side will tip-off on Friday night.
---