5A boys soccer: Chaparral, Campo Verde reach final
February 9, 2018 by Les Willsey, AZPreps365
---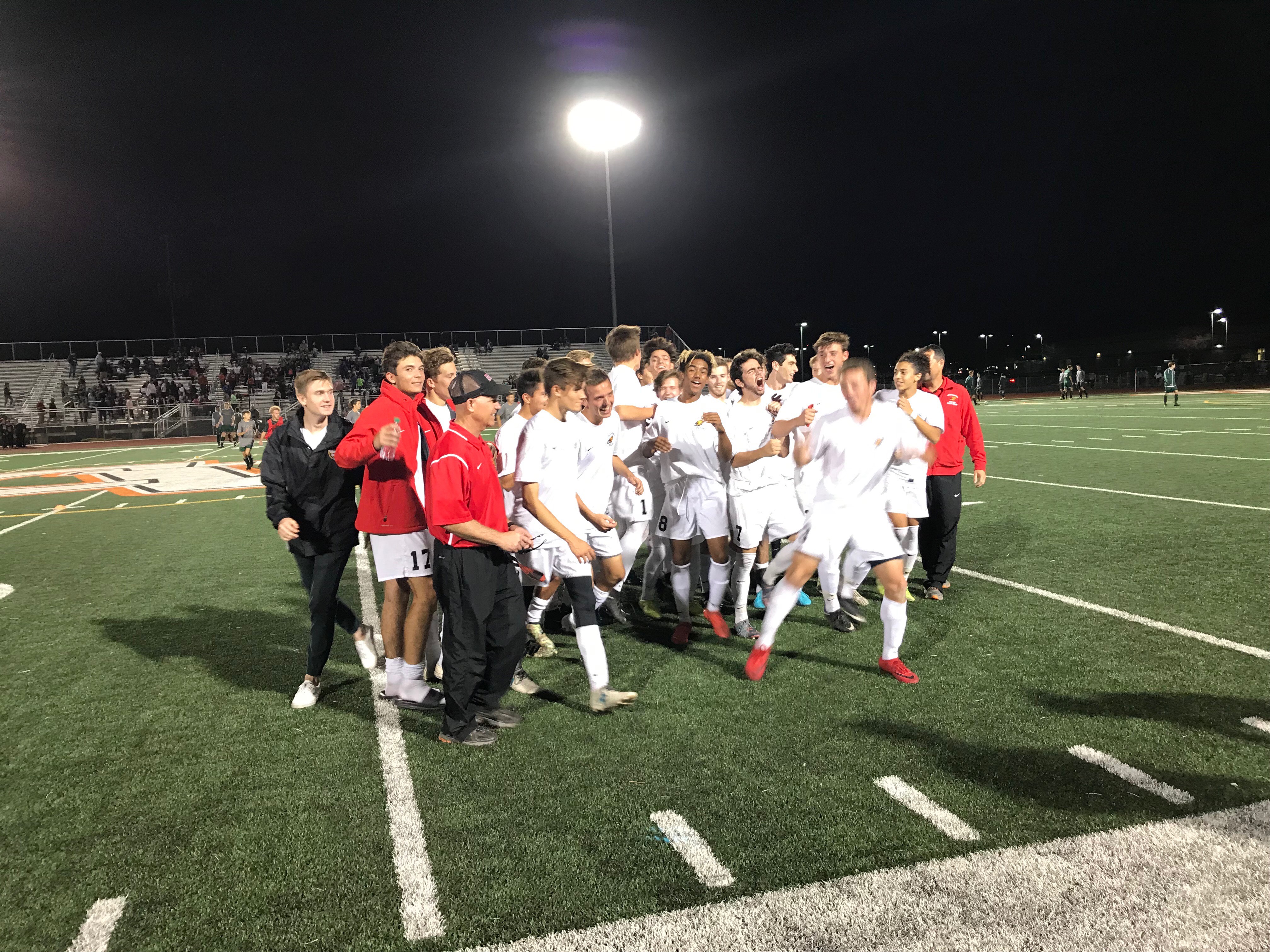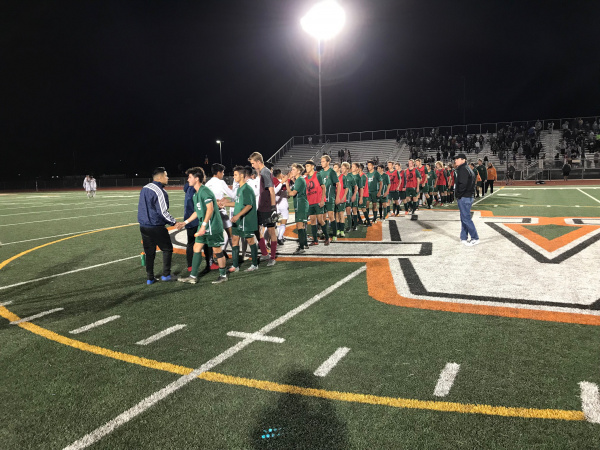 Campo Verde and Independence congratulate one another after their 5A semifinal match (AzPreps365 photo)
Chaparral boys soccer is returning to a championship match for the first time in nine years. Its opponent in the title game-- Campo Verde -- is back for a second year in a row aching to win its first title ever.
#5 seed Chaparral won a rugged, carl-plagued match with #8 Ironwood, outscoring the Eagles 6-3 in Friday's first of two 5A semifinals at Campo Verde High School.
#6 Campo Verde earned a return trip to the final with a come-from-behind 3-1 win over #2 Independence. Campo scored in the 52nd and 53rd minute to snap a 1-1 halftime deadlock.
Chaparral (13-2-2) scored in the a minute before the end of the first half to break a 2-2 tie. A long pass from CJ Tigrett to a streaking Ethen Cohen was the tiebreaker. During the ensuing reset of play, Ironwood coach Tim Beck was issued a yellow card and seconds later out came a red dismissing him from the contest. By the time the game ended Ironwood had three players dismissed with red cards -- one with 10 minutes left to play and the other two in the final minute.
If that wasn't a turning point a disallowed goal by Ironwood (15-4-2) for offside on a throw-in three minutes into the second half was. Instead of a 3-3 tie, Chaparral maintained the lead and scored in the five mintues later (48th minute ). The goal was Trey Gleason's second of the game. making it 4-2.
Ironwood briefly game got back in the game on Mathew Holmes goal in the 68th minute. Just two minutes later Chaparral stole the momentum with an answer by Cameron Chambers. Cohen tacked on one more tally in the 80th minute to send ironwood packing in the semis for the second year in a row.
"We've faced Ironwood so many times, we know what they are going to bring," Chaparral coach Jason Speirs said. "I think when their coach got the red card it took the wind out of their sails."
Speirs was coach of the last Firebirds' boys soccer team to make a title game -- a loss in 2009 to Canyon del Oro.
Campo Verde (18-4-1) fell behind to Independence (17-4-2) in the 10th minute surrendering a goal via header by Aaron Vilchis off of a free kick from midfield by Osmar Medina. Medina launched three free kicks in the match from 50 yards out or better and each one was on target for possible damage.
Campo Verde managed to even things in the 33rd minute on the first of two goals by Ethan Willson. Robert Olayo got the assist.
Changing tatics to ball control in the second half, Campo Verde took command. The Coyotes dominated the second half and scored twice in two minutes. Colton Shafer assisted on both goals, one on a corner to Willson and the next one to Jorge Chavez.
"They changed what they did from the game I saw them, so we decided to go ball control," Campo Verde coach Drew Guarneri said. "Our boys played well, but so did they."
---