WRESTLING: Yuma and St. Johns win on final night
February 10, 2018 by Andy Morales, AZPreps365
---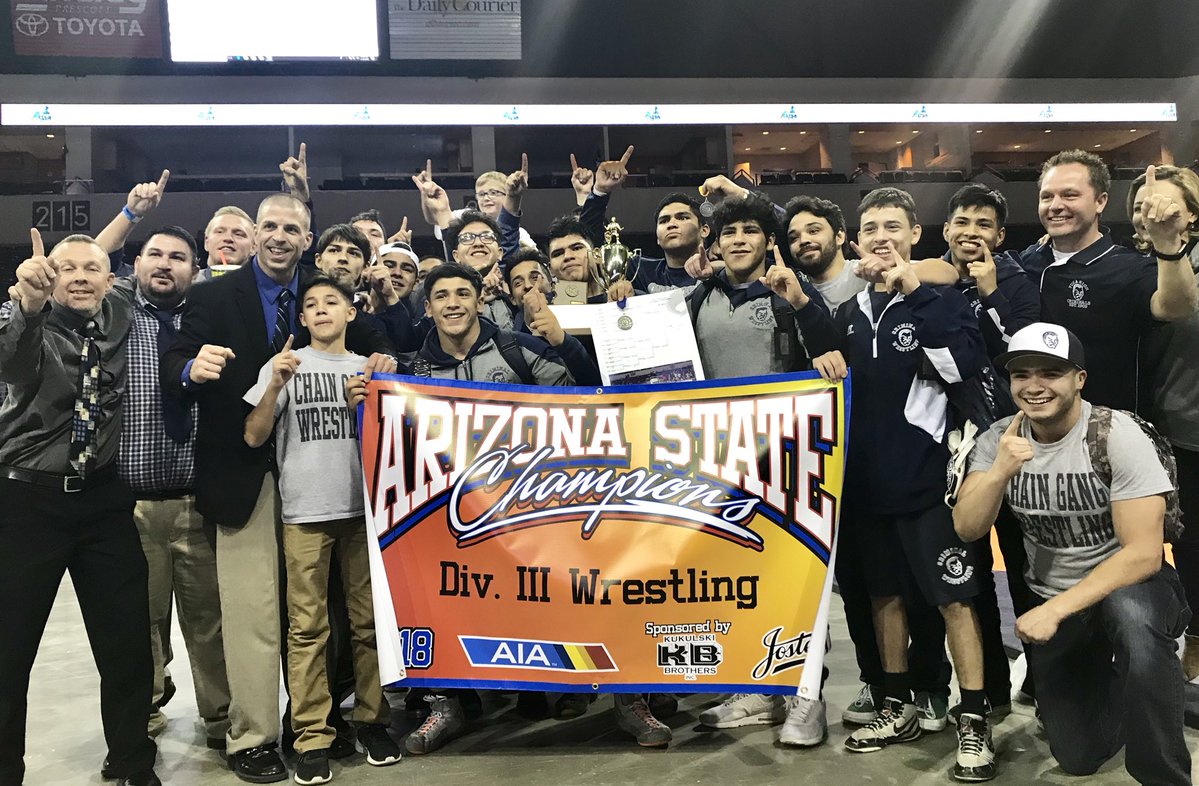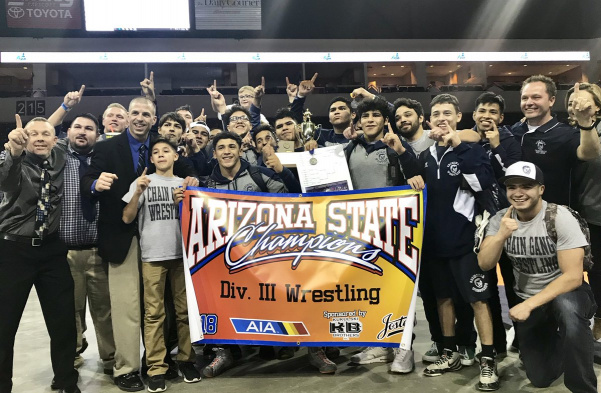 Yuma (Andy Morales/AZPreps365.com)
It was Oscar Vega's last high school bout – ever.
Not only was it the last bout for the Yuma senior, it just happened to be the last bout of the Division III state championships held late Saturday night. His heavy weight victory over Malik Clark of Moon Valley will forever be the one the Yuma faithful will remember. In time, the crowd of a few hundred in attendance will swell to over 10,000, each claiming to be in the stands of the Prescott Event Center chanting, "Vega" over and over again.
You see, Yuma was in third place heading into that last bout, stuck behind Show Low and Walden Grove. Less than six points separated the three teams and Walden Grove needed Vega to lose to remain on top, but Vega had his team to think about.
"I put my team on my back because I knew this was going to be for them," Vega said. "I wanted them to ride me, to believe in me, because I love them like they are part of my family. They are a part of my family."
The referee raised Vega's arm in victory and the crowd waited for the scoreboard to be updated. Some had already completed the calculations in their heads and started to celebrate but the full force came down when the score read Yuma 170, Walden Grove 169.5 and Show Low 168.
The three teams were separated by only two points. One would have to go back to 1995 when Santa Cruz defeated Holbrook in the 3A championships 145 to 144.5 with Payson coming in third place with 142 points.
It was the first state championship for the Criminals and Vega's pin denied the same for Walden Grove. The Red Wolves had two individual state champions in Sal Silva in the 138-pound division and Diego Guerrero at 120.
Guerrero is now a 3-time champion but he had to fight back against Pueblo standout Damond Lujan to claim victory in overtime.
"Anything can happen because of all the energy from the crowd and the other wrestlers," Guerrero explained. "I knew I had it when we went to overtime but anything can happen."
Guerrero was hoping for a team title to go with his individual medals but it was not to be. This time.
"All the hard work of extra practices and extra running as all worth it," Guerrero added. "We all came level headed and we couldn't have asked more from the team."
DIVISION III INDIVIDUAL CHAMPIONS
106: Kamron Whitewater of Page
113: Jonathan Ruiz of Yuma
120: Diego Guerrero of Walden Grove
126: Brian Lujan of Pueblo
132: McKade Finch of Safford
138: Sal Silva of Walden Grove
145: Hayden Gracia of Page
152: Dawon Andrews of Safford
160: Alex Torres of Marcos De Niza
170: Jackson Allen of Show Low
182: Adam Henderson of Blue Ridge
195: Westin Keime of Show Low
220: Hamza Manassra of Marcos De Niza
285: Oscar Vega of Yuma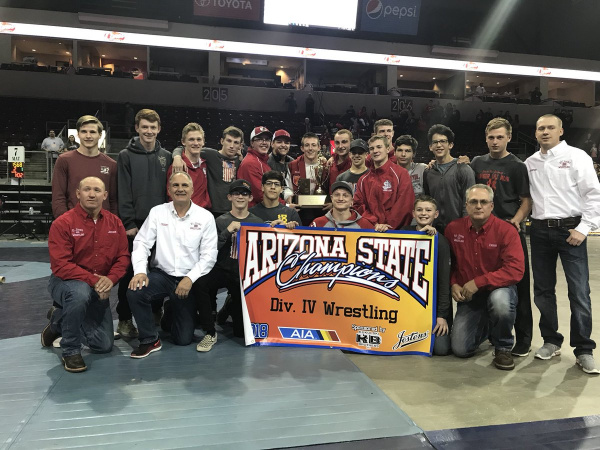 St. Johns (Andy Morales/AZPreps365.com)
St. Johns beat Morenci 171.5 to 146.5 to claim the D-IV state championship and Camp Verde came in second with 138.5 points. Unlike D-III, the team title for this division was pretty much secured early on, as the scoring margin would indicate, but the joy of victory was still the same.
It was the fourth title for St. Johns but the first since 2012. The team took third place in 2016 and second in 2017 with Morenci claiming both of those championships.
"I credit our underclassmen because they came in with their minds right," said St. Johns senior TJ Heap. "I'm just proud of those guys and all the great coaching."
Heap beat Calvert Tsosie of Pinon to claim the 220-pound medal, his first championship of his career.
"It was a climb," Heap said on his journey to the medal. "It took a lot of work but also a lot of luck and some fun."
DIVISION IV INDIVIDUAL CHAMPIONS
106: Gilbert Rodriguez of San Manuel
113: Skyler Pike of Camp Verde
120: Ramon Ramos of Casteel
126: Korben Uhler of Camp Verde
132: Anthony Tinghitella of Camp Verde
138: Nico Carrasco of Morenci
145: Nicholas Steele of San Pasqual
152: Brandon Garcia of Arizona Lutheran
160: Andres Jimenez of Santa Cruz
170: Ryne Lewis of Pima
182: Riley Cline of Globe
195: Clayson Goodwin of Benson
220: TJ Heap of St. Johns
285: Yousuf Halik of AZ College Prep
---