Deer Valley's Jed Dunn coaching beyond basketball
February 12, 2018 by Brady Vernon, Arizona State University
---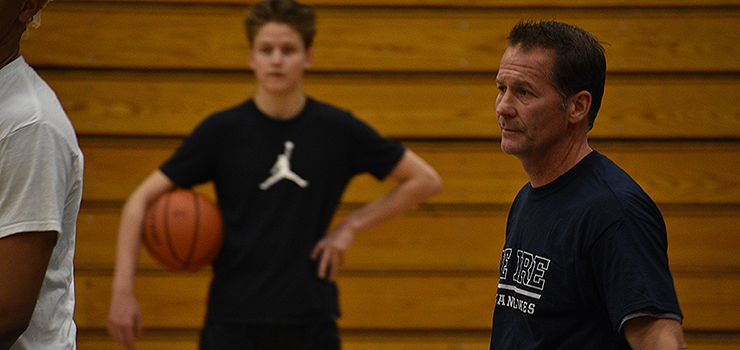 Deer Valley boys' basketball head coach Jed Dunn has the Skyhawks as the top-seeded team going into Arizona's 5A state tournament. But winning isn't Dunn's top priority as coach.
"When I first started coaching it was about winning, everything was based around that, but that's such a temporary thing," Dunn said. "My main focus with these guys is to help them become young men and make good decisions because adversity is going to find us. Life's going to be tough."
Dunn's roots go back to Akron, Ohio, where he grew up the youngest of nine kids. Including five brothers, who Dunn said "used to beat me up all the time."
Basketball wasn't Dunn's first exposure to sports as he remembers playing tackle football on the street growing up.
"My dad early on took me up to the reservoir up in East Akron and dropped me off to start playing football," Dunn said. "He literally pulled up and said, 'Get out, man, if you want to play go learn how to play.' "
Later, Dunn would find more interest in basketball as he grew up near Central Hower High School in Akron, which at the time was considered a basketball school.
"I knew as a third grader where I was going [for high school]," he said.
After high school Dunn played basketball at the University of Akron. Growing up in Akron he also got the chance to play a couple of times against future NBA superstar LeBron James.
Dunn said goodbye to his home city 14 years ago when he moved to Arizona with his wife after her second open heart surgery. They have three daughters who have all played volleyball, one is currently a Skyhawk and the other two are Deer Valley graduates.
He also coached his youngest daughter's seventh- and eighth-grade volleyball team. The girls would go on to win the state championship with him as coach, but he attributes the title to the team's talent rather than coaching.
"I didn't even know how to fill out the card before the game, didn't know how to fill out the lineups. Nothing," he said. "I didn't have a clue what I was doing."
For the past 14 years in Arizona, Dunn has also taught at Highland Lakes Elementary School, a place he absolutely loves.
"I love the fact I get to know these kids when they're in third, fourth, and fifth grade down there. I'm able to work with them through teaching P.E. and building relationships," Dunn said. "I'll never leave down there. The twins [players Jaret and Jalen Allen] are here because they went to Highland Lakes."
This will be Dunn's 10th year as Deer Valley's head coach, but he obtained the position under odd circumstances. He had visited the school when he originally moved to Arizona to see now-Deer Valley assistant coach Lawrence Hill, who at the time was a Skyhawk senior headed to Stanford. After seeing Hill, Dunn was sold on the school.
"I was like man, this is the school I want to coach at," he said.
The job opened up four years later, but Dunn wasn't hired after his interview. Instead the school decided to hire current UCLA assistant basketball coach, David Grace. Grace would only hold the Deer valley position for a couple months, as he was offered an assistant coaching job at Oregon State.
Grace took the job and the school called Dunn to see if he was still interested in the position.
The Skyhawks' four seniors are happy that Dunn got that call.
Deven Breckner, Bryce Davis, Ari Danzy, and KeyVaughn Williams all mentioned the terms "father-figure," "mentor," and "he always got us," when speaking about their coach.
"He's the one I can count on for more than outside of basketball if I ever needed anyone," Davis said. "His family is family with mine."
"I feel like I could go to him for anything," Williams said. "He always talks about how he doesn't care if we win or not, he wants to coach us into being great men later when we have kids and a wife."
"That's my main concern with these guys is they call me back and say, 'Coach, I'm getting married would you like to come?' or 'I'm having a baby,' Dunn said. "I want to be a part of that, that's way more important than anything we're accomplishing right now."
Breckner also commented that he thinks Dunn has made all four of them cry at one point, but Danzy and Williams both quickly dismissed that notion. Davis on the other hand laughingly said, "he got me freshmen year."
Coach Dunn, the four seniors, and the rest of the Deer Valley basketball team will continue their season as they host Ironwood Tuesday night at 6:30 p.m. in the first round of state.
---