HOOPS: Pueblo girls advance in 4A playoffs
February 13, 2018 by Andy Morales, AZPreps365
---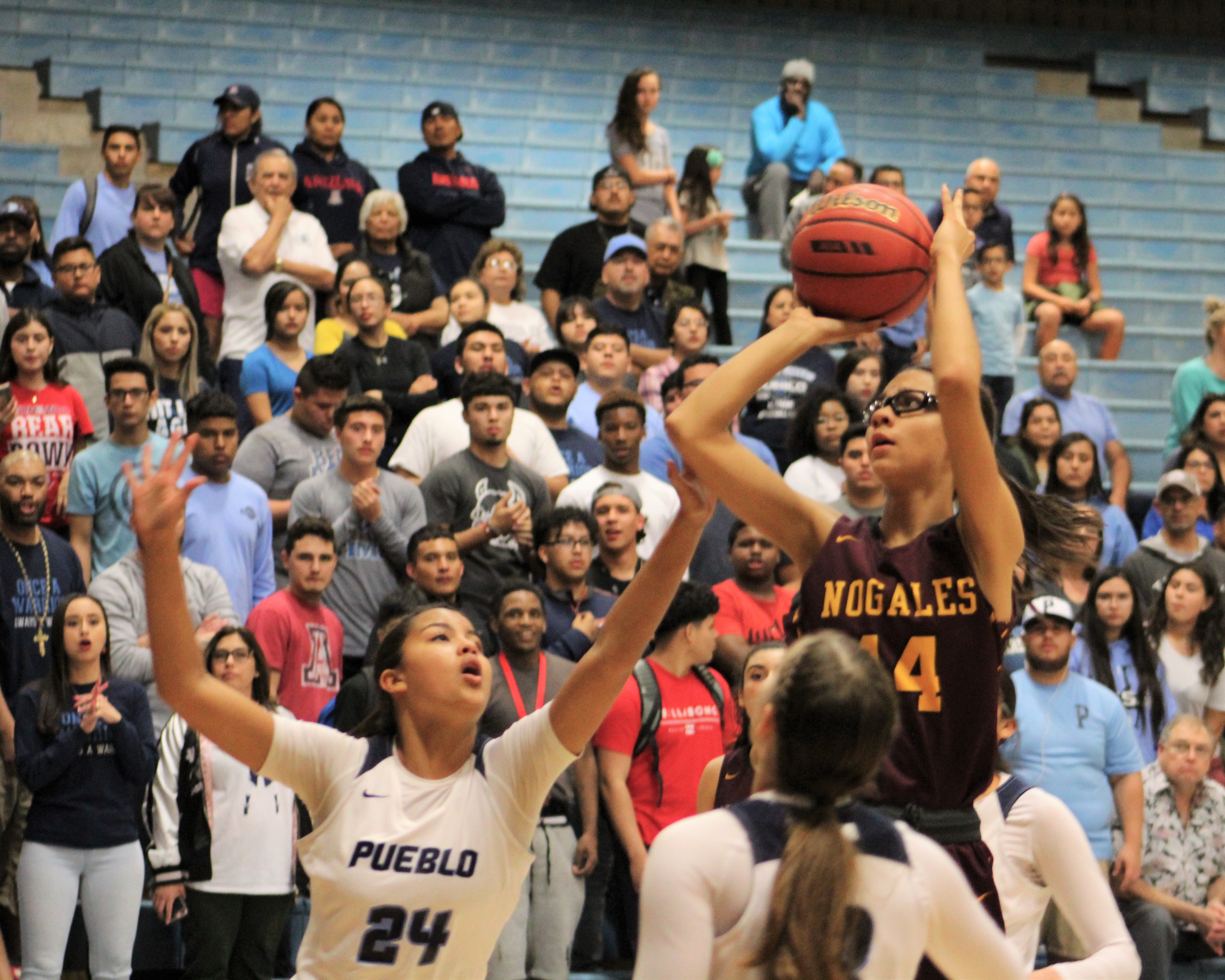 Dominique Acosta scored 6 points for Nogales.(Andy Morales/AZPreps365.com)
No. 2 Pueblo beat No. 15 Nogales 59-29 Tuesday night to advance to the 4A quarterfinal round scheduled for Friday, Feb. 16 where the Warriors will host No. 7 Cactus at 6:30 p.m.
Pueblo (28-2) built an 18-2 lead to start the game and Nogales (13-16) found it difficult to keep up from there. The Apaches are led by former homegrown standout Yahaira Sanchez but she inherited a team that went 19-9 in 2016 but lost the three top scorers to graduation. The result was a very difficult 4-22 mark in her first year, but she quickly turned things around to a 58-55 win at Buckeye in the play-in round last week to qualify for an appearance in the state playoffs.
"We were losing to JV teams over the summer and look how far we have come," Sanchez said. 'We only won four games last year and we made it to state. It's a positive step to the future for us and I'm glad the seniors got to live it. They got to experience what I experienced as a player. The younger players now know what it's like to play against a really good team and a crowd like this. It's a great life experience for them."
Senior guard Kianna Vasavilbaso led Nogales with nine points and Czarina Mada added six points as did Dominique Acosta. Sumer Fox, Ilyssa Diamond Galindo and Jasmine Belt scored 10 points each to lead the Warriors.
"Our team has a lot more chemistry this year," sophomore guard Mariah Clark said. "We work well together and it's from that bond we have built from playing together. The games are going to get more challenging but as long as we keep working we should be in good shape."
Cactus (21-5) beat No. 10 Salpointe 51-36 to set up the quarterfinal match.
In other 4A action from Southern Arizona, No. 9 Rio Rico upset No. 8 Estrella Foothills 59-32 and No. 5 Thunderbird avoided an upset with a 42-41 win over No. 12 Canyon del Oro.
No. 9 Empire, No. 10 Sabino and No. 11 Tanque Verde will move on in 3A play but the damage to Southern Arizona involved the boys in the 5A bracket. No, 10 Sahuaro upset No. 7 Mesquite 64-58 but No. 3 Buena, No. 5 Cienega and No. 6 Cholla fell in the first round.
There will be no 2A girl's teams from Southern Arizona in the state playoffs with No. 16 Benson and No. 23 Desert Christian losing in the play-in bracket.
---