Ironwood Ridge volleyball coach Bill Lang talks about pending Southern Arizona win records
August 5, 2018 by Andy Morales, AZPreps365
---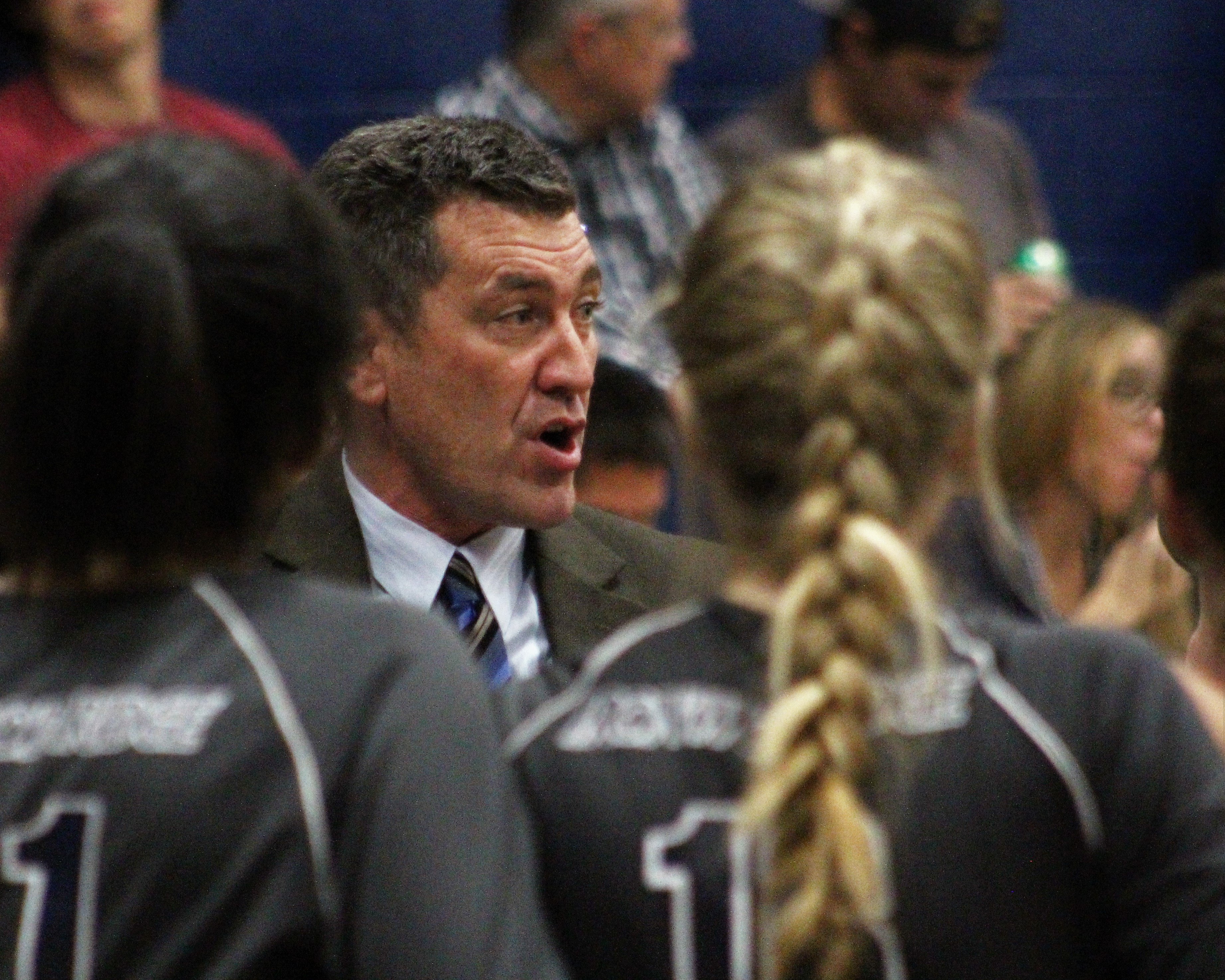 Bill Lang (Andy Morales/AZPreps365.com)
Ironwood Ridge volleyball coach Bill Lang has coached in 1,009 matches in his tenure with the Nighthawks. That total includes action from both the girls and the boys and that combined total is 37 more than legendary Sahuaro head coach Sandy Novak.
Former Rincon/University head coach Kington retired in 2008 with, what was then, a Southern Arizona record 876 matches coached with 671 wins but Novak retired in 2017 after breaking Kingston's record wins with 673.
With 655 combined wins. Lang is now 19 wins away from Novak's total win record and 19 wins away from Kingston's win total with the girls. Kingston still holds the record for wins on the girl's side with 455 and former Salpointe coach Amy Johnson has the win total for the boys at 347.
Johnson's remarkable record with the boys might never be broken, especially since coaches such as Lang and Salpointe's Heather Moore-Martin no longer coach indoor volleyball in the spring. Lang and Moore-Martin are now battling it out on the sand courts and the only coach that might be able to match Johnson's record with the boys would be Cienega's Heather Mott. Mott has 140 wins with the boys and 204 with the girls.
Johnson was released from Salpointe in 2013 (Lang describes his feelings on that parent situation below) and her removal from the volleyball coaching scene kept all the coaching records in reach. There is no doubt, had Johnson been able to remain, her records would have been off the charts.
Moore-Martin has coached in far less matches (553) but she has produced four state championship teams with two on the boy's side and two on the girl's side. Her record speaks for itself.
We asked Lang about his pending milestones and he gave us some very candid responses:
"The older I get and longer I coach, the more reflective I've become. So, if we're fortunate to break the record this season, there's two things that I'm proud of most in regard to getting the most wins.
First, that we can accomplish it in 17 seasons at Ironwood Ridge. The other records were accomplished over 20 years. While we play more matches than teams did in the 1990's, I'm proud that our school creates a competitive schedule - we've won 67% of our matches over this stretch playing arguably the toughest schedule in Southern Arizona each season. We've won 80% of our regulation matches and 95% of our matches against local opponents. That other day I was talking to a former high school coach that said we'd already have broken the record years ago if we didn't go to California and Las Vegas each year for our invitationals.
What this means to me the most as a coach is that I've been able to do this for so long. There is a coaching carousel now in the current climate of high school coaches - it's rare to see any coach last longer than five years. I'm fortunate to have started my career when there were so many tenured coaches at the high schools - Juanita Kingston (Rincon), Melva Lundy (Canyon del Oro), Sandy Novak (Sahuaro), Marie Daranyi (Catalina Foothills), Kellin Lovegren (Cholla) and Corey Morishita (Amphitheater). They were all institutions at their schools and I'm fortunate to have had the opportunity to coach against all of them and I have a great respect for how they (and their programs) stood the test of time. As a new school, Ironwood Ridge was the only opening I could get back then and I'm happy that they took a chance on me.
Coaching has changed so much over the past 10 years and I'm grateful for the players, parents, and my athletic directors at Ironwood Ridge. Some of my favorite memories were the battles with Salpointe Catholic under coach Amy Johnson. Amy was a great coach and she was unfairly let go at SC because of upset parents - I'm grateful that we have an administration and a district that have been able to support me and my staff over the years. It's not easy when you're successful, but this support has given me an opportunity to allow me to do what I love for so long.
equally grateful for the assistant coaches we've had on the bench at Ironwood Ridge. Kathy Franklin has been with me since the beginning and has supported me both professionally and personally; her experience is an invaluable resource for our staff and players. Longtime coaches Tim Gallagher and Kristin Reece put so much into program in the beginning to help build it before moving on; and now former players Chelsea Crane and Cheryl Wojdyla; along with Ashleigh Houlton are helping maintain the standards that keep us successful each season.
Side note... the winningest coach in Arizona is Valorie McKenzie at Horizon High School - another long-time coach. She's been a mentor for me since I got the IR job. We've finally been able to schedule a home/away series so we'll open our season at Horizon. Should be a fun match."
SOUTHERN ARIZONA RECORDS
Sandy Novak, Sahuaro
673-203 (876)
402: Girls (2 runner-up)
269: Boys (1 championship & 1 runner-up)
Juanita Kingston, Rincon/UHS
671-301 (972)
455: Girls (1 championship & 1 runner-up)
216: Boys (1 runner-up)
Amy Johnson, Salpointe
670-187-36 (893)
323: Girls
347: Boys (2 runner-up)
Bill Lang, Ironwood Ridge (Active)
655-354 (1,009)
437: Girls (2 runner-up)
218: Boys
Melva Lundy, Canyon del Oro
592-234 (826)
(1 championship with the boys & 3 runner-up with the boys)
(unknown breakdown)
Heather Moore-Martin, Green Fields, Catalina & Salpointe (Active)
435-156 (553)
221: Girls (2 championships & 1 runner-up)
214: Boys (2 championships)
---