Volleyball: Tanque Verde notches 3-1 win over Arizona College Prep
September 11, 2018 by Les Willsey, AZPreps365
---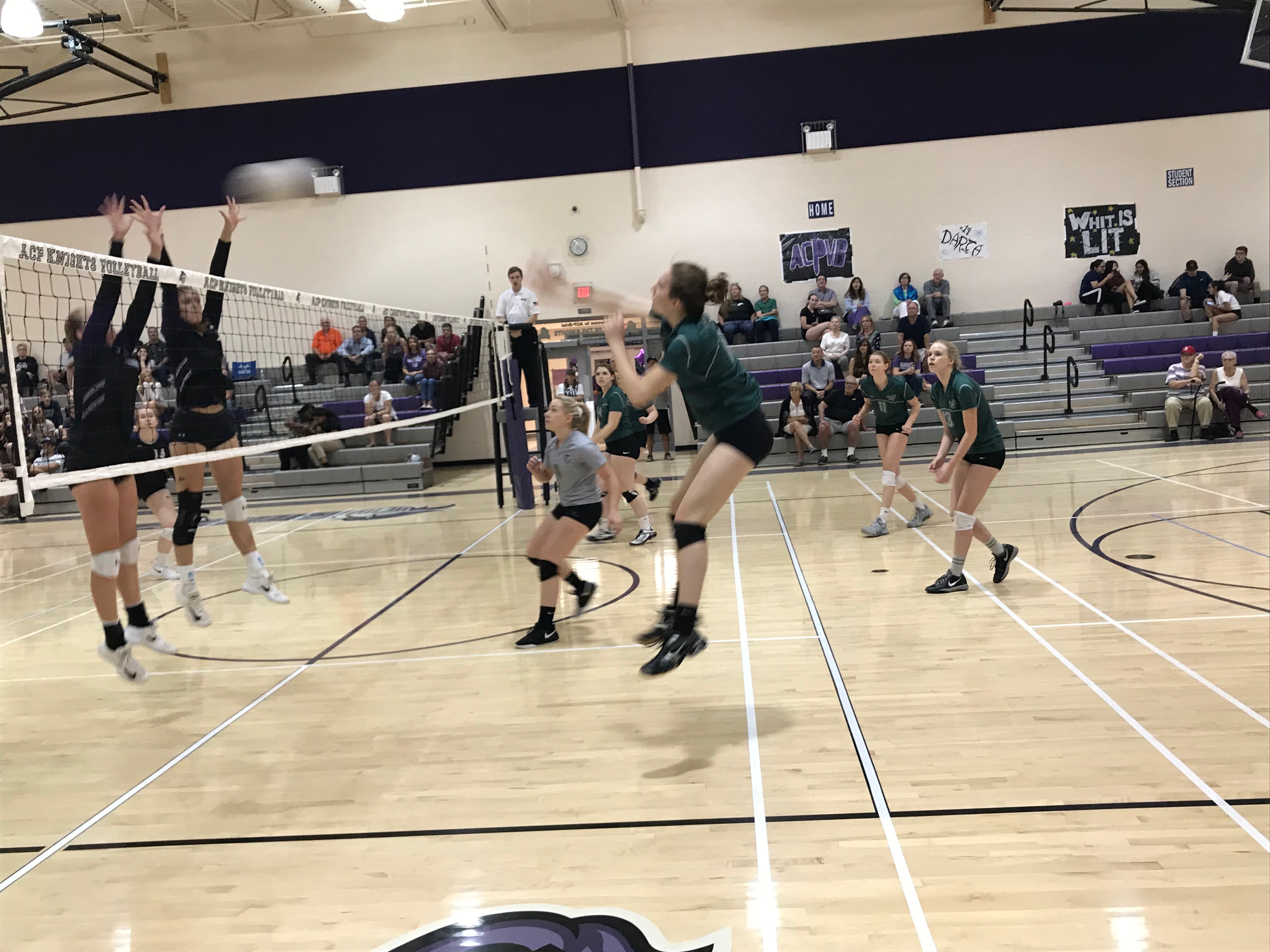 Teams not used to losing of late duked it out for nearly five sets Tuesday night before Tanque Verde rebounded from an opening-set loss to defeat Arizona College Prep, 19-25, 25-21, 25-14, 29-27 in a 3A match at Arizona College Prep.
Tanque Verde continued an early season roll improving to 14-1 overall and 4-1 in power-ranking matches. The Hawks have won two invitationals as the third week of the season commences. The first was the Tucson Unified School District Invite Aug. 31-Sept. 1. Last weekend they won their own small tourney going 3-0 against three other Southern Arizona squads. ACP (3-1) suffered its first loss of the season and only the second in its last 22 matches dating back to last season.
"They (ACP) are a very good team," Tanque Verde coach Michelle Malis said. "We had to make some adjustments after the first set. They were hurting us with their middles. We were able to do a better job matching up the last couple of sets. It was a tough match."
Malis' daughter, Ainsley, played a huge role in the victory as she does most nights. The junior is a sette by trade, the positiion she'll take up when college comes knocking in two years. She handed out 26 assists and a team-high 15 kills. Malis often fed outsides Madison Wilson and Bailey Bushman when she wasn't on the attack. Wilson finished with 14 kills and Bushman had 11.
"We ask a lot of her," Michelle Malis said. "We need her to swing it some, too."
Tanque Verde bolted to a 6-0 lead in the first set, but it didn't take long for ACP to overcome the deficit. The Knights gained their first lead at 8-7 and gradually pulled away to take the set handily. Junior middle blockers Tendall Weigand and Krista Rowan did most of the offensive damage with four kills each in the first set. Weigand finished with a team-high 12 kills and Rowan checked in with 11.
The match began to turn some in the second set with Tanque Verde doing better protecting the middle while ACP didn't get much help on the attack from its outsides. Ainsley Malis collected seven kills in the set.
The third set was neck-and-neck at 13, but Tanque Verde kicked into high gear finishing the set with a 12-1 run. Senior middle Sarah Jacobs, who registered eight blocks, shut down ACP's middles and the offense clicked at the same time to key the streaky end to the set.
ACP trailed in the fourth set 20-16 usiing a timeout to regroup for last shot at extending things. It worked to a great extent. The Knights managed to have set point four times, but Tanque Verde resisted. Wilson had three kills among the Knights final five points. Jacobs final block of the night helped prevent a fifth set.
This loss was good for us," ACP coach Heather Orr said. "We've moved up from 2A and it's going to be tougher in 3A. We can't just show up, and think things will go our way. We like to establish our middles. They did a good job of adjusting and we weren't able to get much help elsewhere. It's a good lesson for us."
---