Ty Siffermann: Basha High school's Multi-Sport Star
October 8, 2018 by Sean Rice, Arizona State University
---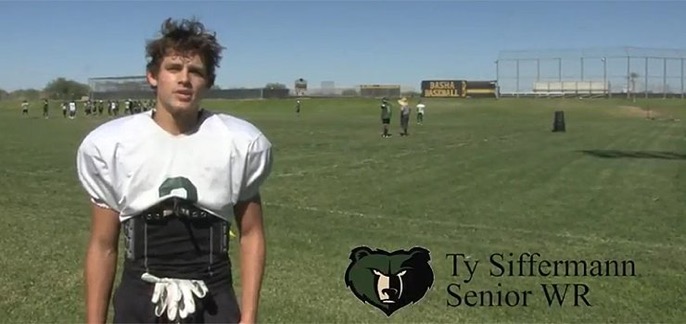 A deep threat, a quick bat and soft hands. The parallels are uncanny for a multi-sport athlete like Ty Siffermann that stars in football and baseball.
Siffermann has all of these and more. He is a senior wide receiver and middle infielder at Basha High School.
He burst on the scene in both sports his sophomore year, recording 34 catches, 564 yards and four touchdowns in football. The production continued in baseball, where he hit .389 with seven triples, stole 11 bags, and had zero errors in the field.
He grew up in a sports family with both parents playing sports. Siffermann said, "It came from a young age, with my mom playing basketball and my dad playing football and baseball, so it grew off of them."
Shifting from season to season and sport to sport can be challenging, but Ty believes it helps him. "I enjoy it. I feel like it makes me better in baseball and football, and it makes me more diverse," Siffermann said.
Siffermann's coaches and mentors have glowing reviews of his work ethic and presence on the field and on the diamond.
"Ty has brought an attitude of competitiveness to Basha. He encompasses dedication and competiveness that others just don't have," Basha athletic director Marques Reischl said.
Basha head football coach Chris McDonald raved about Ty when asked what he means to the team. "He's a joy to coach. He's a once in a lifetime kid and player, and he has an innate ability to just get the job done," McDonald said.
Ty's competitiveness has become a trademark of his during his time at Basha, and it doesn't go unnoticed by his coach.
"He's a fantastic competitor," McDonald said. "One of the better competitors that I have ever coached."
Ty continued to grow in his transition from an underclassman to an upperclassman and the numbers continued to pop off the page.
As a junior, Siffermann exploded with 64 catches, 990 yards and six touchdowns in football, and batted .338 with 24 hits and 15 RBI's in baseball.
Siffermann understands the team aspect of both sports and explained his goals for his senior seasons.
"In football, I'm going to give it my all, and do everything I can on the field to help my team," Siffermann said. "In baseball, we want to try to go deep in the playoffs this year, and reach that goal this year."
As much as he loves playing football, Ty believes that his future is in baseball, and has recently committed to play baseball at Grand Canyon University.
This year, he has led Basha football to a 6-1 start.
The future is bright for multi-sport athletes at Basha, and Reischl believes Ty has set the tone for future student-athletes.
"What a great example he has set for all our multi-sport athletes that not only can it be done, but it can be done at a high level," Reischl said.
Baseball starts up this spring and Siffermann and the Bears will look to improve on their 21-8 record from a year ago.
---