Terrell Hayward, Braxton Croteau, Devon Grubbs, JR Henderson, Ryan Puskas & Vince Wallace earn Ed Doherty Medallions
October 16, 2018 by Andy Morales, AZPreps365
---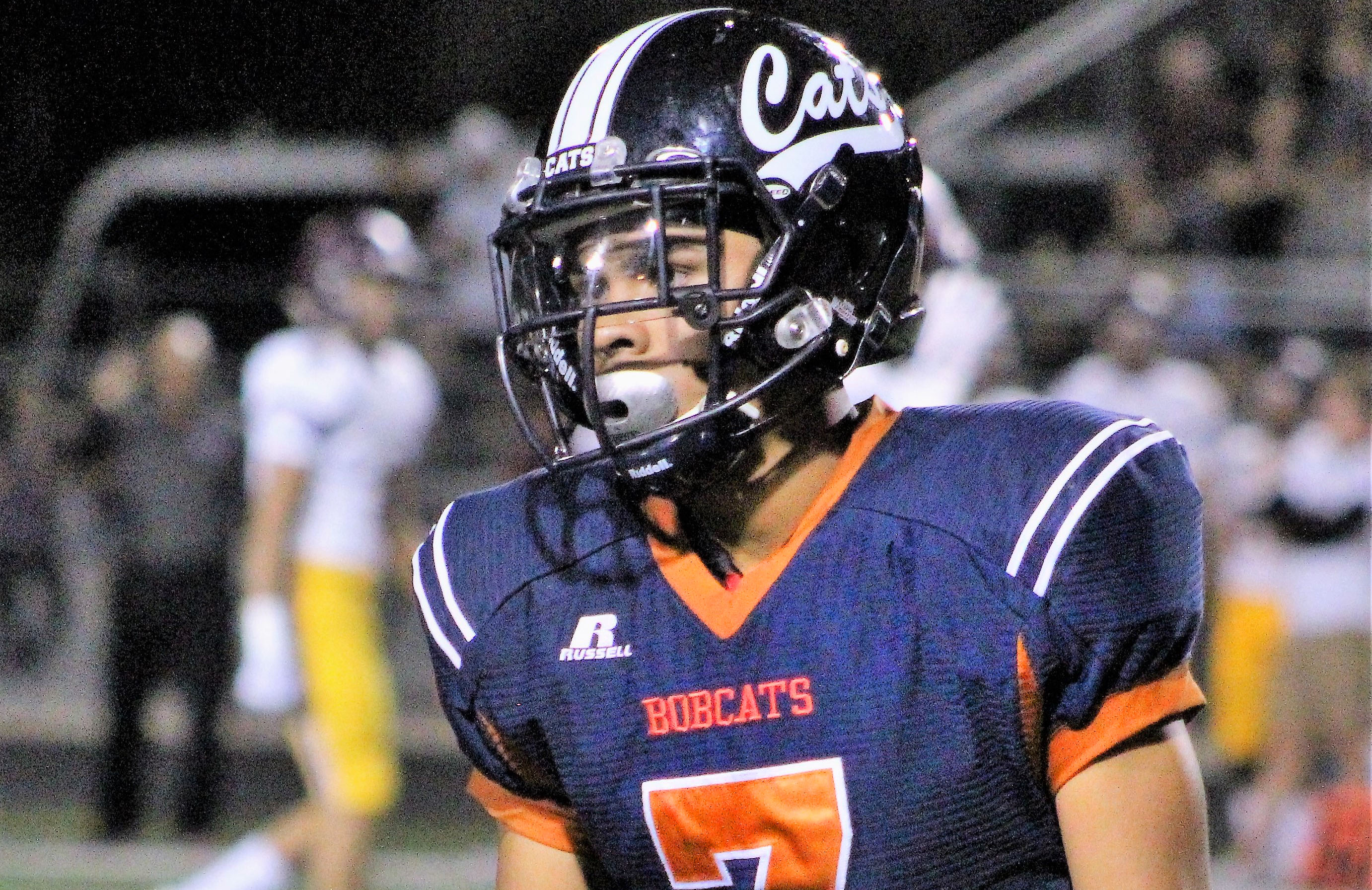 The Grand Canyon State Gridiron Club (GCSGC) announced the recipients of the weekly Ed Doherty Award Performance Medallions. Six players were recognized for outstanding play during their respective games on Friday, Oct. 12: Braxton Croteau (Sr. DE, Peoria Liberty); Devon Grubbs (Fr. RB, Phoenix Desert Vista); Terrell Hayward (Sr. WR/DB, Vail Cienega); John "JR" Henderson (Sr. WR, Yuma Catholic); Ryan Puskas (Sr. LB, Peoria Liberty); and Vince Wallace (Sr. QB, Chandler Seton Catholic).
"Week 8 started with Thursday night games giving us two medallion winners and ended on Friday with the first ever freshman receiving a nomination for the Ed Doherty Award. Overall, there were record setting performances highlighted in excellent games during week 8," said Selection Committee Co-Chairman, Rob Yowell in a release. "These six young men represent the best of a talented group this week and deserve their official nominations."
Croteau, Hayward and Puskas were named on the 47-player Watch List released on Sept. 5, 2018. All six players will receive their medallions at an upcoming school event this week. By earning these medallions, they will attend the end of season Ed Doherty Award luncheon on Dec. 8 where one athlete will become the recipient of the Ed Doherty Award.
Each week, the GCSGC evaluates Arizona high school football players at every level by having selection committee members attend planned game-day visits. Details regarding how they earned the medallions are as follows:
Terrell Hayward, Vail Cienega, WR/DB, SR
He had five catches for 148 yards and scores of 74 and 40 yards, carried four times for 32 yards, had an 81-yard kickoff return for a score and an interception in a 44-28 region win over Marana.
Braxton Croteau, Peoria Liberty, DE, SR
The Cal commit has tallied 48 tackles and 6 sacks for the 7-1 Lions and helped contain the Pinnacle offense in building a 33-14 lead with 4 tackles and a sack, before a furious rally by Spencer Rattler spoiled the effort.
Devon Grubbs, Phoenix Desert Vista, RB, FR
Filling in for his injured brother, junior RB Tyson, Grubbs ran for 231 yards and five TDs on 15 carries in a Thunderwin over Anthem Boulder Creek. He becomes the first freshman to earn a nominee medallion.
John "JR" Henderson, Yuma Catholic, WR, SR
In a 72-34 3A win over American Leadership Gilbert North, he caught seven passes for 178 yards and four TDs, and intercepted three passes, returning one back 45 yards for a score. He also ran in a two-point conversion and was 1 for 1 passing for 45 yards.
Ryan Puskas, Peoria Liberty, LB, SR
The captain of the Lions defense, who has committed to Cal, has 54 tackles, 2 sacks and 1 INT on the season. Played through an injury in last week's 34-33 lost at Pinnacle and had Liberty in position for the win before the Pioneers rallied late behind Week 6 nominee Spencer Rattler.
Vince Wallace, Chandler Seton Catholic, QB, SR
Just in a half, completed 12 of 15 for 244 yards and five TDs with no interceptions in a 56-26 4A win over Flagstaff. A dual threat QB, Wallace has led the Sentinels to a 7-1 record while throwing for 1,758yds and 20TDs, and running for 546yds and 6TDs.
From a release.
---