Calm, collected and confident Millennium sweeps its way to 1st title
November 7, 2018 by Jose Garcia, AZPreps365
---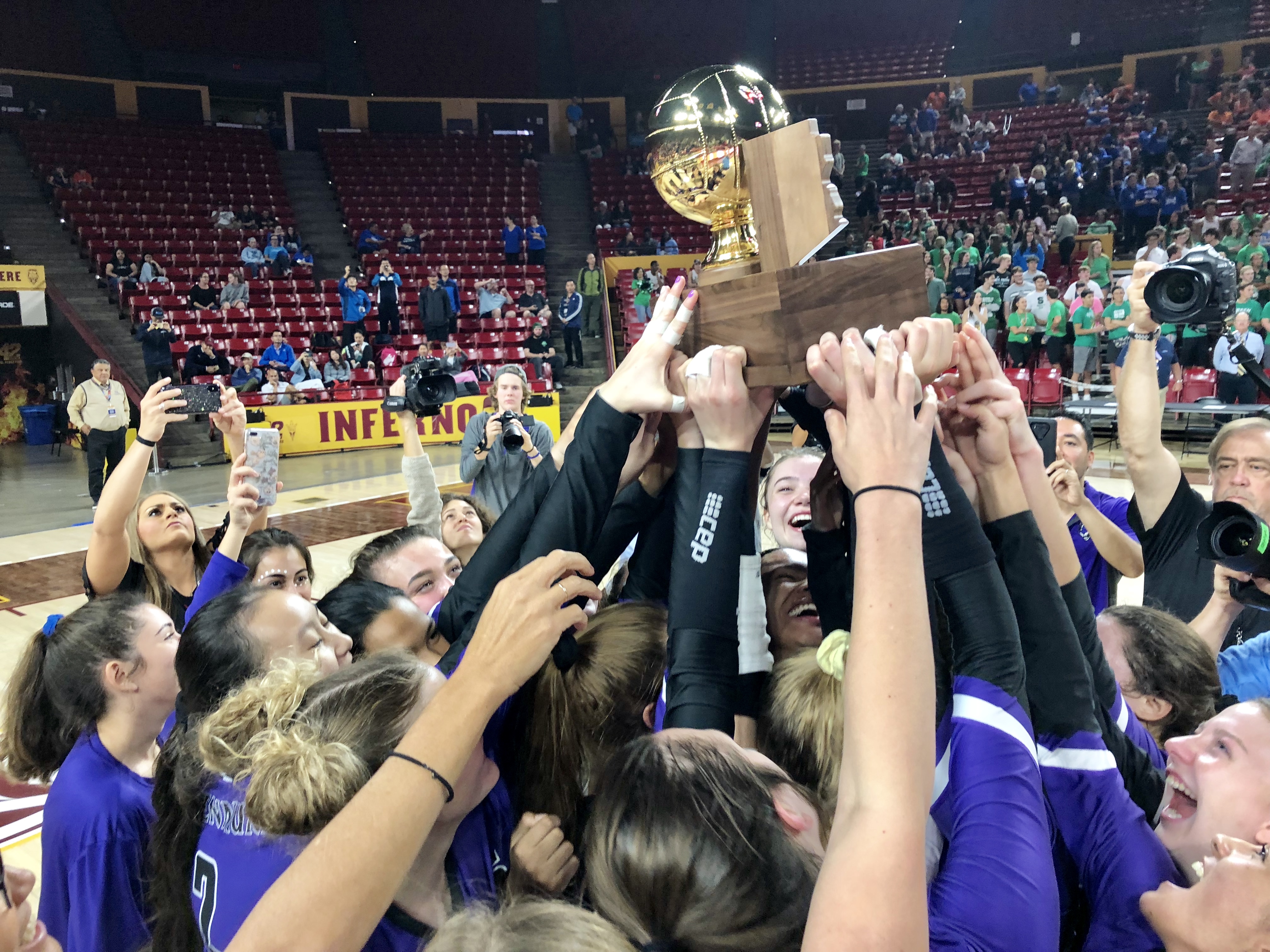 Coach Julie Vastine was calm and collected for somebody who waited 23 years to experience her first championship moment.
Her Millennium team followed Vastine's lead Wednesday, oozing confidence from the start at Arizona State's Wells Fargo Arena. The 5A Conference program can claim it's the state's No. 1 team regardless of class after completing one of the best volleyball runs in state history.
Millennium's season ending exclamation point was a 25-18, 25-18, 25-19 state championship sweep of perennial power Sunnyslope. Vastine is in her fifth season as Millennium's head coach, but she spent her first 18 years at Millennium concentrating on teaching and raising a family.
When her kids were old enough, Vastine stepped in, and volleyball opponents quickly took notice. The humble Vastine didn't spent too much time scouting Sunnyslope, she said.
"For me, I knew they (Sunnyslope) were going to be good," Vastine said. "But I thought if we just focused on our game, and make people adapt to us, that's been working for us. It was really exciting to see (Millennium) that focused today."
With a starting roster filled with talented, college-bound seniors, Vastine's girls also were in charge at times this year, compiling a state-record tying 45 wins with just one loss while securing the program's first volleyball crown.
Maxpreps had Millennium at No. 6 in its latest national rankings.
Rylee Johnson's kill in the middle after a quick set by Bailey Schlosser closed Millennium's successful season and started the celebration.
"I was really proud of them for coming together and becoming a solid team this season," head coach Amber LeTarte said of her Sunnyslope team.
LeTarte and her program have been on quite some run, reaching 10 championship matches in LeTarte's 13 seasons.
But this year, Sunnyslope ran into a championship team filled with different weapons. At first, Millennium used its touch instead of power to jump out to an 11-5 advantage in Game 1.
It then closed the game, in which seven different players tallied a kill, with the help of its blocking. In the second game, Millennium's early production from the right side and jump serves from Alana Rennie put Sunnyslope in a 16-10 hole.
With Millennium up 23-15, back row dynamo Kylie Waters' dig as she hit the floor led to a point and helped close the game. Sunnyslope (35-7) finally started to string some points together without Millennium siding out at the start of the final game.
But, after trailing 6-2, Millennium began its final push toward the title with outside hitter Makaya Middleton leading the way. The lefty's two kills after Millennium's first timeout of the match got the ball rolling.
Middleton wasn't done, however, tacking on three more kills and a block down the stretch. Millennium's front row attack was led by Middleton and Ashley Antoniak's 10 and 11 kills, respectively.
For Sunnsylope, Michelle Jung's .333 hitting percentage (13 kills) and Jazmyn Wheeler's 15 kills topped their team.
"We are all really close, and we are friends on and off the court" said Millennium's Nicole Hoff (match-high 16 digs) about her team. "We are really competitive, and none of us like to lose."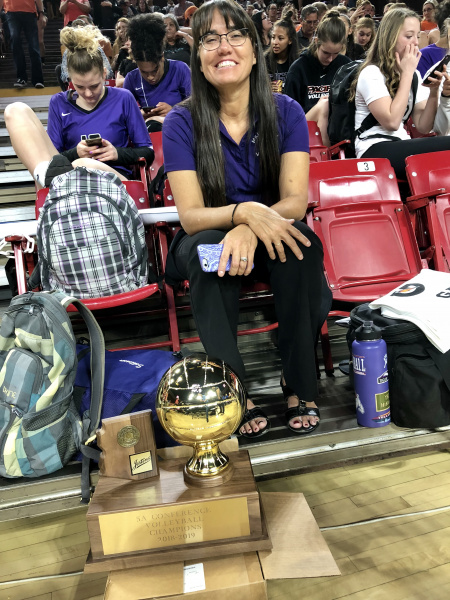 (Coach Julie Vastine is all smiiles after bringing home Millennium's first volleyball title. Photo by Jose Garcia/azpreps365.com)
---