Salpointe wins big to set up rematch with Saguaro
November 17, 2018 by Andy Morales, AZPreps365
---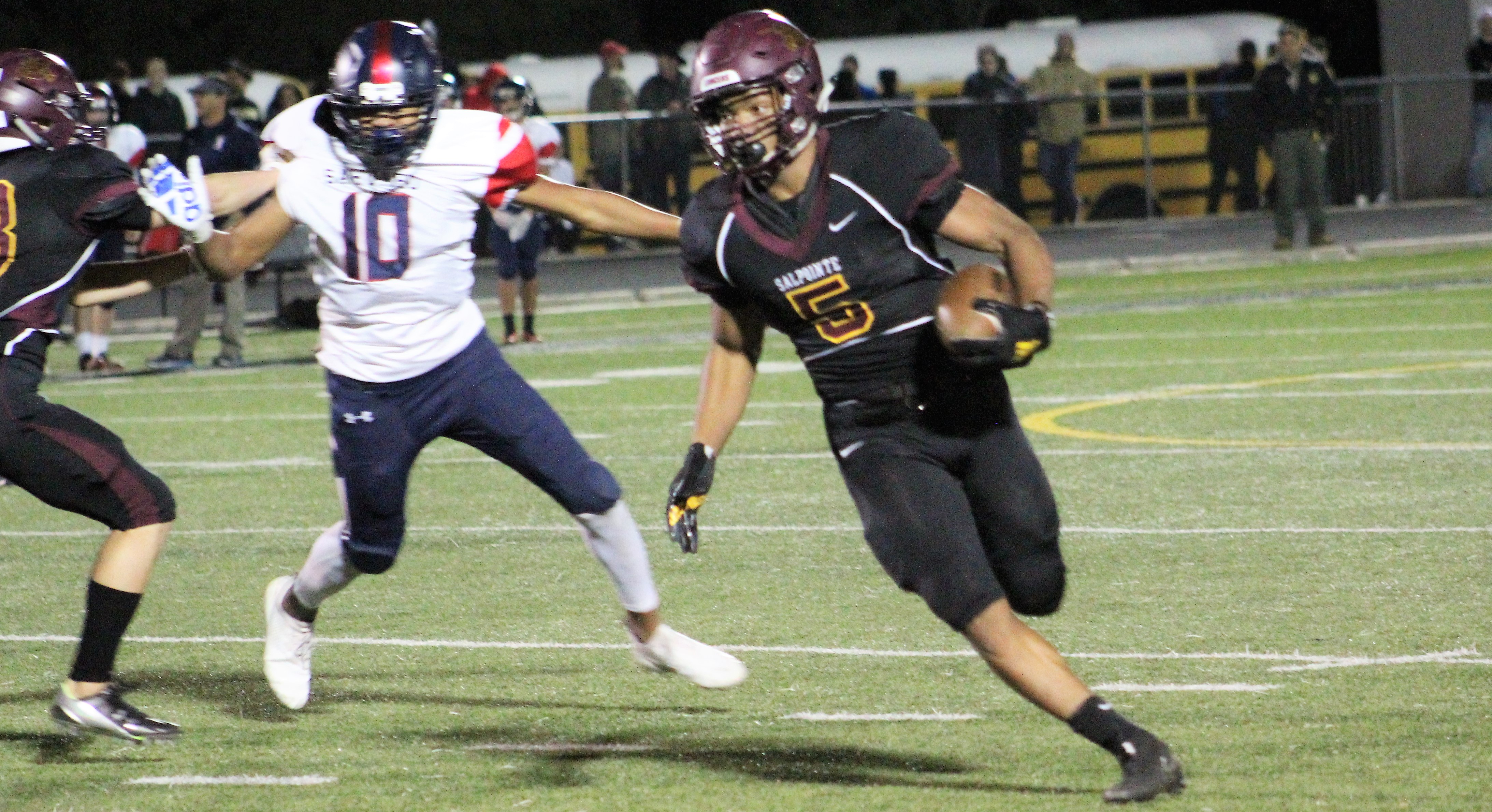 4A SEMIFINALS: Friday, Nov. 16
No. 1 Salpointe 53, No. 5 Sahuaro 6 at Mountain View
No. 2 Saguaro 61, No. 3 Desert Edge 6 at Coronado
4A CHAMPIONSHIP at ARIZONA STADIUM: Friday, Nov. 30
No. 1 Salpointe vs. No. 2 Saguaro, 7 p.m.
A Salpointe/Saguaro final this year was almost predetermined. The 4A State Championship game set for Friday, Nov. 30 at the University of Arizona Stadium between the top two programs in the conference was the one consensus prediction made among all the various media outlets and hardcore experts. Sure, there were teams, coaches, players and fans who thought otherwise, and that is how it should be.
Salpointe (12-0) beat Sahuaro 53-6 in the semifinal held Friday night at Mountain View Marana and Saguaro (12-1) beat Desert Edge 61-6 in the semifinal held at Coronado High School. Even the scores were eerily too similar for two teams almost too familiar with the other.
Sahuaro finished the year with 10 wins and three losses. It was the first winning season for the Cougars since 2014, the first season with a playoff win since 1999 and the first 10-win season since that 11-3 squad from 1999.
Coached by Nemer Hassey and led by QB Reggie Robertson, that 1999 team fell 27-10 to Chaparral in the 4A state championship game. That win helped turn the Firebirds into a state powerhouse that went on to win two more titles in the next three years while the Cougars followed the championship game up with a 6-4 season and then two wins and then three wins.
But, the Cougars are back and that can only mean great things, not only for the Sahuaro faithful, but for all of Southern Arizona.
"You elevated our school to what it once was and where it should be," Sahuaro head coach Scott McKee told his players after they gathered around. "Our campus has a good feel to it because of you guys. We'll be right back here again and it will be because of the work you have done."
Salpointe head coach Dennis Bene went a step further when asked about the work McKee did this year.
"Scotty did a great job getting his players prepared for a semifinal run and they proved to be a hard team to defend," Bene said. "He has them back where they belong and where they need to be. He has elevated them to a point that can help make more teams from Southern Arizona competitive. No doubt we are all better down here because of what he's done."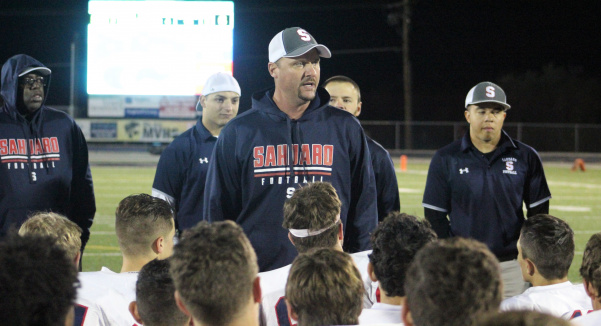 Sahuaro head coach Scott McKee. (Andy Morales/AZPreps365.com)
The Cougars will lose Cameron Williams to graduation but McKee has a roster full of juniors ready to carry on from here. Williams performed well in the two losses to Salpointe this year. The athlete rushed for 118 yards against the Lancers in late September and he caught a 99-yard touchdown pass where he outran leaner DBs down the length of the field. At 6-feet and 200 pounds, Williams was a Southern Arizona Player of the Week honoree and is on the state-wide Ed Doherty Watch List for a reason.
On the other side, the Lancers are stacked with juniors and one of the best seniors in the state and it mostly starts with junior athlete Bijan Robinson. But, as Robinson himself would note, it's all a team effort on a team that is mostly defined as "athletes" rather than by position.
Jr. Lathan Ransom set the tone on defense against Sahuaro with an 8-yard sack on the Cougar's opening drive to force a punt and then Robinson followed that up with a 35-yard run to put the Lancers up 7-0. That was as close as the game would get.
Robinson cashed in on a 58-yard scoring run, a 15-vard score and a 2-yard run to end the night with 161 yards rushing and four TDs. In doing so, the highly recruited standout passed former Arizona Player of the Year Cam Denson's career TD record at Salpointe. Denson finished his career with 32 touchdowns and Robinson has 35 with a whole year ahead of him still.
Senior athlete Mario Padilla finished the night with 79 yards rushing including a 33-yard TD. Robinson and Padilla joined Williams with Southern Player of the Week honors and are also on the Ed Doherty Watch List.
Ransom is right there with his many Division I college offers and he displayed why he can't just be called a DB when he ripped off a 71-yard TD reception from Devin Green. Green also hit Xavier Farhang from 26-yards out on the night. Lancer lineman Sergio Sanchez rounded out the scoring with a 25-yard fumble return in final moments of the first quarter.
Robinson also set a new Lancer single-season rushing record with 2,245 yards. Former Tolleson standout Marcus Thomas has the 4A Career Rushing Record with 5,878 yards and that has stood since 2002. Robinson has 4,646 career rushing yards to date. He has one more game this year to cut into the 1,233 yards needed to set a new 4A standard but the Sabercats will surely be waiting.
As a sophomore, Robinson rushed for 164 yards with a TD in the 28-7 loss to Saguaro in the 2017 4A title game held at Arizona Stadium. It was a game that got away due to mistakes against a team that makes very few mistakes.
The Sabercats were held to 65 yards rushing on 32 attempts but former QB Max Massingale threw for 231 yards and two TDs. An avoidable penalty due to a lineman down field negated one chance by the Lancers and a fumble turned a first-and-goal situation into another opportunity for the Sabercats. Saguaro is a program that probably doesn't need more opportunities.
"We have to do what we do and be the team that we are," Bene said about the championship rematch against Saguaro. "It's obviously one of the best programs in the country but we have another chance to go up against them again. This game is exciting for players like Ransom because he didn't play last year but we all have to believe in what we do best to be successful."
The Lancers are on a 21-2 record in the 4A Conference dating back to the 2016 season with the two setbacks coming against Saguaro. The Sabercats beat Salpointe 24-3 in the 2016 semifinals and, as noted, 28-7 in the 2017 championship game.
The two wins over the Lancers is part of a 49-0 run against teams from Arizona dating back to early September of 2015 and it's all part of a streak of five straight championships and the 11th overall. Jason Mohns is now 85-10 since taking the Saguaro program over in 2010 and Bene has 173 wins with Salpointe including the 2013 state champion, also played at Arizona Stadium.
---