Rattler, Mannion put Pinnacle on the map
December 1, 2018 by Andres Acuna, Arizona State University
---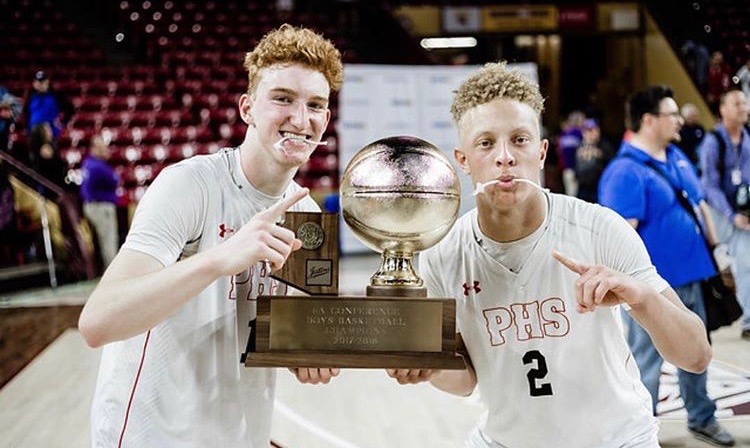 Before Pinnacle High School had two of the best athletes in the country in the same grade, it was only known by many in the Desert Valley conference and by colleges around Arizona and California. That all changed when Spencer Rattler and Nico Mannion arrived as students and became Pioneers.
Rattler, a five-star quarterback who started all four years under center at Pinnacle, is ranked as the nation's top pro-style quarterback in his class. Earlier this season, Rattler broke Arizona's state record for most passing yards, a mark formerly held by Emanuel Gant of Tempe High.
Recruitment for Rattler came at a relatively young age in comparison to other high school football players around the country.
Rattler earned his first offer following his freshman football campaign. It came from his home town team, Arizona State, which was then coached by Todd Graham.
After that first offer came, there was a snowball effect for the 6-foot-1-inch quarterback.
"Right after freshman year, after Oklahoma offered, it just blew up from there," Rattler said.
After receiving the scholarship offer from Oklahoma, Rattler had national attention on him from almost every college in the nation. Schools like Alabama, Notre Dame, Michigan State, Miami, Texas and Texas A&M all offered scholarships to Rattler. These college football juggernauts all believed in Rattler's ability even though he was still so young and had so much more to learn.
Rattler is committed to play Oklahoma. With the departure of Heisman hopeful Kyler Murray after this season, the starting quarterback position will be up for grabs.
The decision for Rattler to commit to Oklahoma was made quite early in his recruitment process. Rattler verbally committed to Oklahoma at the end of his sophomore football season.
Rattler felt like his connection with Oklahoma's head coach Lincoln Riley was too good to pass up.
"He was just real genuine," Rattler said. "I could tell he was real right when I met him. We've always clicked and had a good relationship since then."
Although the Sooners seem to have brought in another superstar quarterback in Rattler, he is a different player than what former Heisman trophy winner Baker Mayfield was in regard to their recruitment processes.
Rattler was getting scouted by colleges when he was in 8th grade.
"The first time I ever talked to a coach was like 7th or 8th grade," Rattler said.
Even Rattler's high school head coach Dana Zupke knew that Rattler was extremely gifted before he even stepped onto the field and started a game for the Pioneers on a Friday night.
"My first real inkling that he was going to be a next-level guy was before he took an official varsity snap. This was for 7-on-7," Zupke said.
Rattler did not let any of the pressure on the field or national attention go to his head. He attributes his level-headedness to his parents.
"My family kept me humbled throughout the entire process," he said. "We knew that we wanted to make the right decision. Once we felt the right fit, we just pulled the trigger."
That pressure is not what a normal high school athlete encounters.
Rattler had a Netflix show, QB1, following him for every meeting, practice and game almost all season. His national ranking also brought ESPN film crews out to practice and also aired a game that Pinnacle played later on in the season.
All of this attention was brought to Pinnacle because of Rattler, and his head coach says that he handled it better than he could have ever imagined.
"Spencer is a big deal," Zupke said. "It's kind of like a superhero. I don't think adults in particular, or even his peers totally fathom the amount of responsibility that a kid like Spencer has."
The attention that was brought to Pinnacle also led to some of his former teammates getting recognized by big-name colleges because of their abilities to get open and Rattler give them a perfect pass.
JD Johnson, Pinnacle's backup quarterback, got plenty of playing time at the end of games after the Pioneers were steadily in the lead, and that extra time that Johnson was given earned him scholarship offers to schools like South Carolina and the University of Arizona, to name two.
This attention added an element to Rattler's life that will follow him until he is done playing football, or maybe even after that. He will be in the spotlight as soon as he arrives in Norman, Okla.
After he graduates in May, Rattler will head straight to Norman and begin taking summer classes and will also attend the Sooners' football summer training program.
As soon as he arrives in Norman, Rattler intends to put himself in a position to try and earn playing time as a freshman.
"My goal is to go in prepared and ready," he said. "I am going to be mentally and physically ready to go. I want to compete and fight for that job."
Nico Mannion's recruitment process was not much different than Rattler's. Mannion, a 6-foot-3 shooting guard, is ranked the 12th best player in his class currently, and, so far has led the Pioneers to an undefeated start through their first six games.
One of the few differences though, was that Mannion reclassified after this last school year. Last year Mannion was a sophomore, this year he is a senior.
Mannion reclassified to get into college faster, because he felt he was ready to take the next step and play at the collegiate level.
Mannion's father, Pace,, played in the NBA for the Golden State Warriors, Utah Jazz, New Jersey Nets, Milwaukee Bucks, Detroit Pistons and Atlanta Hawks, and also played over 10 seasons in Italy, where he met Nico's mother, Gaia, who was an Italian national volleyball superstar.
Mannion and his parents spent their summers in Italy, where Mannion holds dual citizenship.
The past two summers, however, were different for Nico.
The summer before his sophomore year, Mannion tried out for the 16u USA basketball team, but did not make the final cut.
After that happened, his birth country's national basketball team called and asked him if he wanted to play for their 16u team instead. He took the opportunity and ran with it.
In a game against Russia during that summer, Mannion opened the eyes of many, scoring a game-high 42 points.
The following summer Mannion took another step forward and began playing for the Italian senior national team. In the first game, he only played nine minutes. In the second game, however, Mannion played a game-high 29 minutes.
Mannion went 3-for-10 from the field, but showed glimpses of his athletic ability and basketball knowledge during the game. Mannion's highlight of the game was a tough left-handed finish over a towering defender.
At the same time, while playing for the senior Italian national team, Mannion was taking online summer classes in order to skip a grade and reclassify as a senior for the 2018-19 school year.
Others knew that Mannion was a step-ahead of the rest of the players in his grade before he did though.
"I probably knew from when he came to one of our camps in 7th grade and I knew he was going to be a really good player," said Pinnacle head coach Charlie Wilde. "Just from a skill level back then."
Mannion's first offer came after his 8th grade season from California State University-Northridge. Soon after that, Arizona State and Grand Canyon University both offered him scholarships during his freshman year.
"After my freshman year, that summer, and my whole sophomore year was a long year. It was a lot of phone calls and a lot of tournaments," Mannion said.
This past August, Mannion narrowed his list down from his top 10 to his top four. Those schools included: Duke, Marquette, Villanova and Arizona.
Almost one month later, he narrowed his list down further to just two choices: either Marquette or Arizona.
Finally, on Sept. 14, Mannion announced his decision to stay in-state and attend the University of Arizona and play under head coach Sean Miller. Mannion signed his national letter of intent on Nov. 14.
"My in-home visit was what pushed me off the edge to choose Arizona. That is what sealed the deal for me," Mannion said. "It just felt like home."
When Mannion first posted a list of schools that had offered him scholarships, there were 18 major Division I basketball programs listed. As his list got shorter, Mannion said it was easier for him to make the decision of which schools to cut from his list.
"Some of them just cut themselves out honestly, whether it be communication or another player committed there. My final two were very hard though," Mannion said.
Along with the success that Mannion has brought the basketball team during his time at Pinnacle, he has also brought national media attention to the school, just like his great friend and old teammate Spencer Rattler did on the football field.
There are multiple basketball media outlets that travel and record almost all of Mannion's games to put on their YouTube channels.
Almost all of the time Pinnacle is named in the title of the video.
This attention caught the attention of ESPN, which will be televising one of Pinnacle's non-conference games in December against San Joaquin Memorial high school, from Fresno, Calif. on ESPN2. The game will be played at Chaparral High School in Scottsdale.
---