6A football: Chandler runs past Perry for three peat
December 1, 2018 by Les Willsey, AZPreps365
---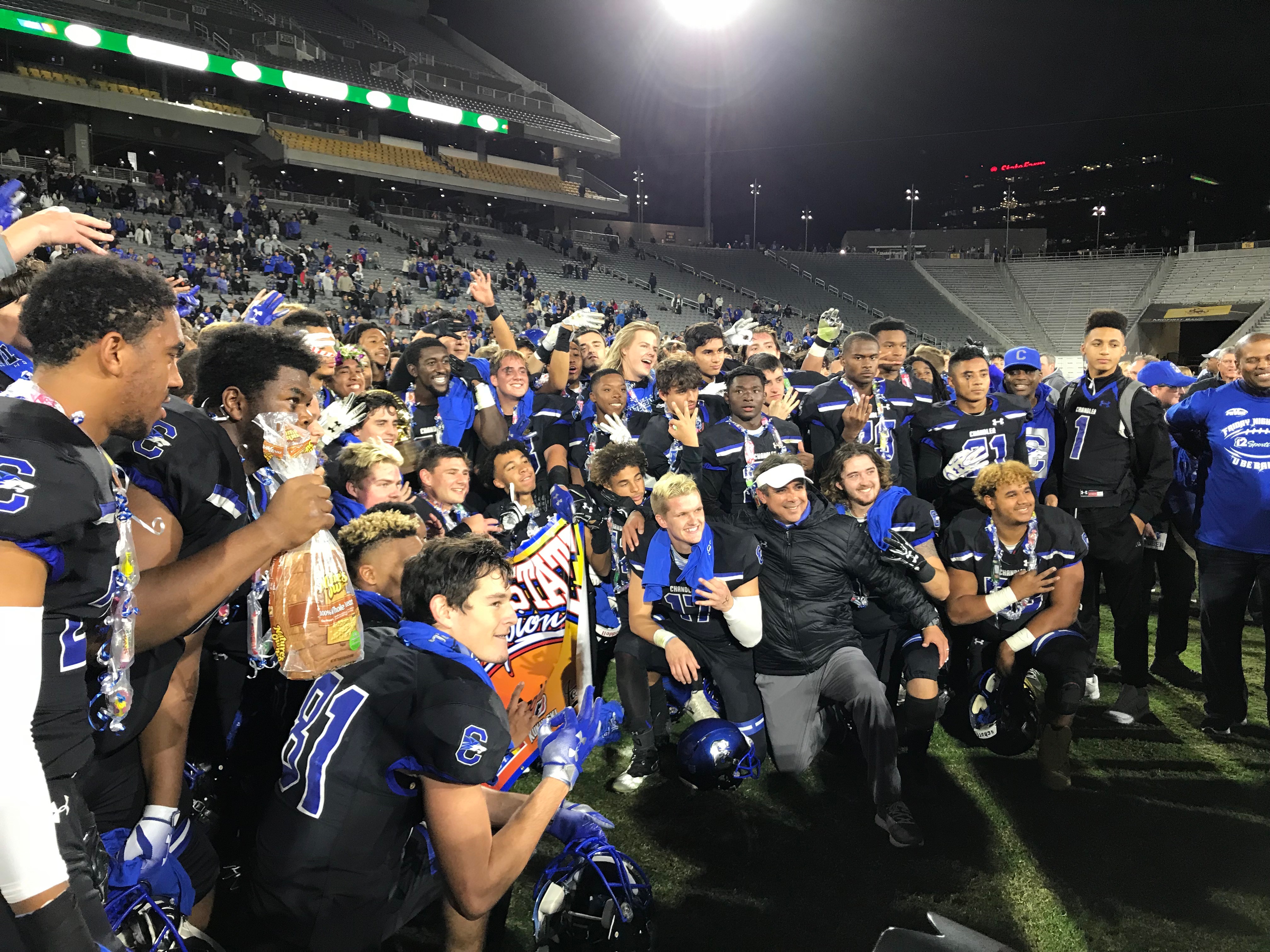 Chandler's scare in the semifinals two weeks ago proved to be a one-off. The Wolves sported a return to the look of invincibility lacking their last time out.
Chandler (13-1) sliced and diced Perry on its first four possessions in the first half and it set the tone for a 65-28 victory over #6 Perry and a threepeat at Sun Devil Stadium. Chandler's win was its 13th in a row while Perry finished runner-up for the second year in a row. The Pumas finished 11-3 and are now 0-9 in games with Chandler.
Chandler's threepeat, all with quarterback Jacob Conover at the helm, also gives the Wolves (13-1) four titles in the last five years. Chandler's record in those four seasons is 51-6 with the losses coming to Mountain Pointe (3), Centennial CA (2) and IMG Academy, (FL). Conover wasn't as prolific in this one as in past title games, but didn't need to be with running back Decarlos Brooks rushing for six touchdowns - on runs of 1, 1, 4, 58, 2 and 1.
"Our plan wasn't necessarily to run, just execute," Brooks said as his teammates and Chandler High community celebrated around him.
Chandler coach Shaun Aguano chimed in to what transpired for his offense.
"We wanted to try and run the ball and dominate up front," Aguano said.
Mission accomplished. The Wolves rushed for 454 yards overall, nine yards a carry.
But the ground game indeed was sharp as it's been all year. Brooks, a senior, ground out three first-half touchdowns on shorts runs and Conover added the fourth on a fourth-down keeper. to pace a 27-7 advantage at halftme. Brooks finished with 33 carries for 334 yards -- a season best for yardage and his fifth 200-yard rushing effort-plus of the season. He also passed the 2.000-yard mark for the season.
Perry definitely didn't want to spot Chandler a couple scores, which has happened often since they began playing in 2013. But it transpired again and a Pumas' fumble on its second possession that might have cut the deficit to 14-7, ended up resulting in a 21-0 hole. Too much to climb out of when facing the Wolves in this day and age.
Chandler's defense wasn't upstaged in the opening half, either. They limited Perry to 140 yards, neutralized quarterback Chubba Purdy in making big plays through the air or with his feet. And they stifled leading receiver Colby Dickie to one catch for 14 yards. Dickie finished with six catches for 50 yards.
Perry tried to instill some hope starting the second half with a quick, 50-yard march capped by Jaden Burns 33-yard TD run. It cut the deficit to 27-14. That lasted 10 seconds.
That man Brooks responded by bolting 58 yards to paydirt on Chandler's first play after the kickoff. Chandler added a field goal next time out to swell the lead to 37-14 with 9:09 left in the third period.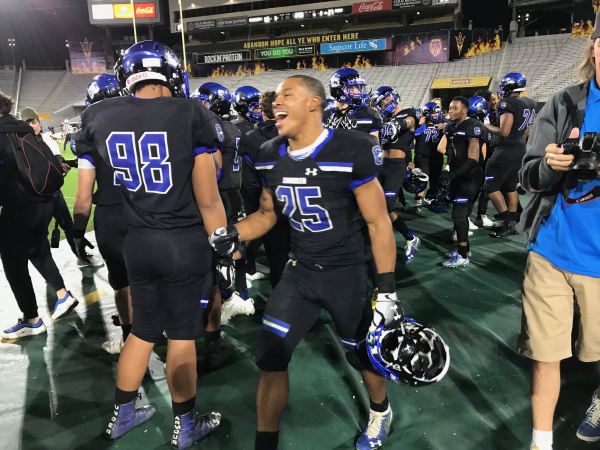 Chandler's Decarlos Brooks unwinding in the waning moments of Wolves' threepeat (AzPreps365 photo)
Finally Purdy and Dickie got rolling and united for a 4-yard scoring play that pulled Perry within two scores, 37-21, with still 7:41 on the clock in the third. It was a 96-yard drive highlighted by an 81-yard run by Purdy.
Two more scoring drives by Chandler to close the third period bumped the lead to 51-21. An additional two TDs made it 65-21 and initiated a running clock for the final seven minutes.
Chandler amassed 652 yards of offense and did not commit a turnover. The Wolves defense garnered four takeaways -- three interceptions and a fumble recovery. They also sacked Purdy four times. Purdy managed 300 yards of offense by the end of the night (138 rushing and 162 passing), but was the culprit on all the Pumas' turnovers.
---