BOYS HOOPS: Amphitheater out to a quick start
December 6, 2018 by Andy Morales, AZPreps365
---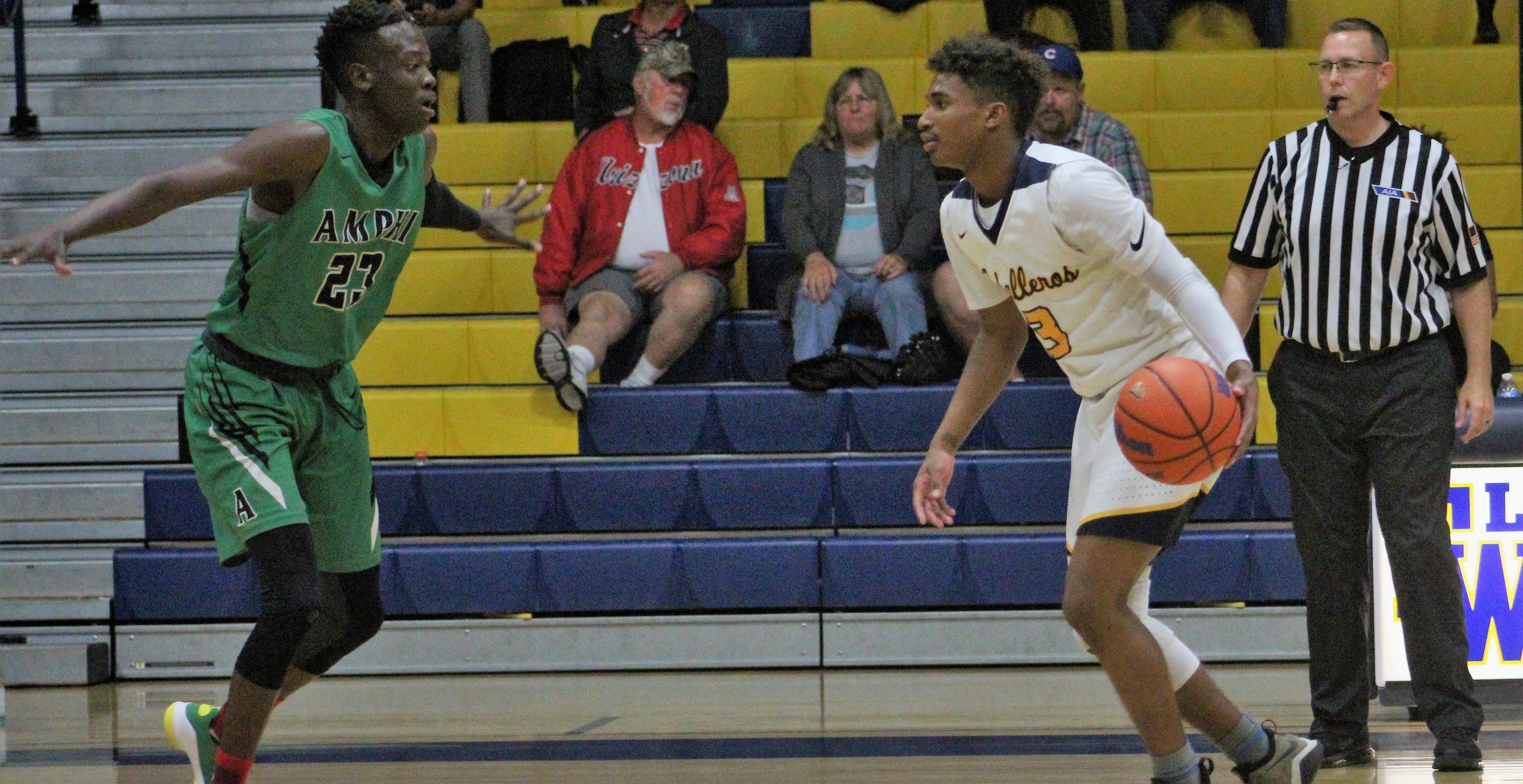 Amphitheater improved to 6-1 on the year and 4-0 in power-ranking games thanks to a 63-47 win at Flowing Wells (1-7, 0-5) Thursday night. The two teams played a much closer game two weeks ago at the inaugural Dick McConnell Thanksgiving Classic held at Pima Community College, where the Panthers prevailed 85-82 in overtime, but this game was decided midway through the third quarter.
Up 33-29, the Panthers went on a 9-0 run to take a 42-29 lead over the Caballeros to start the third off and the quarter finished with the Panthers up 51-35. Flowing Wells started the game with a 10-4 lead and held on for a 27-23 lead with 3:30 left in the first half but a 10-1 run put the Panthers in control.
Amphitheater senior Jackson Ruai finished with a game-high 22 points and the guard set the tone early with a dunk 5 seconds into the game. Daelyon Clark added 19 points to help pace the Panthers. Flowing Wells junior Khalid Whitaker scored 17 points to lead the Caballeros, Santiago Chavez added 14 and Nick August scored 10.
The Panthers will host Sahuarita (5-2, 2-0) Friday night. Looking ahead, the Panthers will be taking part in the Sabino Holiday Classic held over the Winter break. Flowing Wells will host Tanque Verde (0-5) next Tuesday and the Caballeros are also scheduled to take part in the winter tournament held at Sabino.
Amphitheater is expected to challenge Palo Verde (6-1, 4-0) for the 4A Gila Region title. The Titans beat Catalina Foothills 59-55 last Friday night and the Falcons are now 7-1 overall and 4-1 in power-ranking games. It was the first loss to Palo Verde since January of 2014. Salpointe (7-0, 2-0) is expected to take the 4A Kino Region over Catalina Foothills.
Flowing Wells plays in the 5A Sonoran Region where Mountain View Marana (5-4, 3-1) and Cholla (5-2, 3-1) are expected to fight for control.
---